Bachelor in
Professional Bachelor in General Practice Nursing
SMK University of Applied Sciences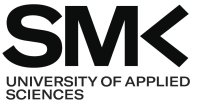 Introduction
The General Practice Nursing study program is science and evidence-based practice teaching.
The trained nursing specialist will have a deeply holistic approach to health, will be able to provide safe, high-quality services to society, apply modern technologies in professional activities, and help clients to form positive attitudes to improve health and quality of life.
The goal of the General Practice Nursing program is not only to provide care for sick patients and prevent the progression of disease but also to take care of public health promotion.
We welcome applications from students from all around the world and from a wide variety of educational systems. We do not take into consideration an applicant's race, religion, national origin, sex, or country citizenship in determining admission to the study programmes of the SMK University of Applied Sciences.
Program Outcome
After studies you will be able to:
Assess the nursing needs of the patient, family, and community and plan the nursing process in a responsible manner;
Prepare patients for instrumental tests and examinations and medical intervention procedures in a responsible manner;
Identify life-threatening conditions, and assess and tackle them in an effective way;
Assess and perform nursing activities and procedures;
Develop healthy lifestyle habits and behaviors of the patient, family, and community.
Curriculum
You will study:
Anatomy, Physiology;
Microbiology, Virology, Immunology;
General Nursing;
Pharmacology;
Geriatric Nursing;
Clinical Nursing;
Community Nursing;
Obstetrical Nursing;
Child Nursing;
Physical and Rehabilitative Medicine;
Mental Health Nursing;
Surgical Care;
Intensive Care.
Career Opportunities
Primary, secondary, and tertiary level health care institutions;
Institutions providing social services;
Nursing homes for healthy and disabled people of different age groups;
Private health care institutions;
Hospices and palliative care institutions;
Disabled and old people's homes
Nursing homes, special care facilities;
Educational establishments and boarding houses for children.