MSc in
Master of Science in Health Systems Management (MS HSM)
American Sentinel University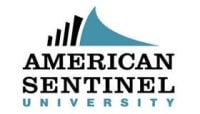 Introduction
Program Overview

The online Master of Science in Health Systems Management (MS HSM) is designed for professionals seeking the skills and knowledge necessary to develop and manage information systems resources in healthcare enterprises. The student will acquire the skills needed to analyze information needs, design solutions, and manage information storage, transfer, and retrieval in healthcare environments.
The MS in Health Systems Management program courses are open for enrollment once a month.
Program Objectives

Graduates of the program are expected to be able to:
Utilize information systems tools, techniques, and methodologies applicable to healthcare systems.
Manage healthcare information systems development projects that meet health administration needs.
Develop reporting and support capabilities for healthcare decisions.
Ensure information policy and strategy are consistent with the clinical, ethical, legal, and financial requirements of healthcare institutions.
Evaluate all aspects of the healthcare environment and integrate strategic thinking into the operations of the organization.