Rewarding career
Renee Allara trained as a disability assistant after recovering from a car accident. The accident affected Renee's hearing, which made her realize just how inaccessible the world can be for people with disabilities. She now spends her days supporting school children with disabilities in and outside of the classroom. For Renne, the best part of her job is working one-on-one with the children, where she can give them the support that the mainstream education system does not provide. "I interpret the information they are learning and give it to them in a form that makes sense to them," says Renee. "Everyone has their own learning style, and you need to adjust to the student. When this is provided, they succeed in their courses."
It's about inclusion
Disability studies is part of a broader political mission of building more inclusive societies. Essentially, it is about creating equality of opportunity, where everyone has a chance to build a life that works for them. Patsie Frawley, an associate professor of healthcare at Deakin University, says, "Working in the disability or community sector means you can advocate for the human rights of people with disabilities to make sure these aspirations become a reality."
As you can progress through your career, you will be able to apply for senior roles in care organizations. This will give you a chance to work on initiatives dedicated to raising public awareness, and encouraging governments to allocate additional resources to support those living with a disability.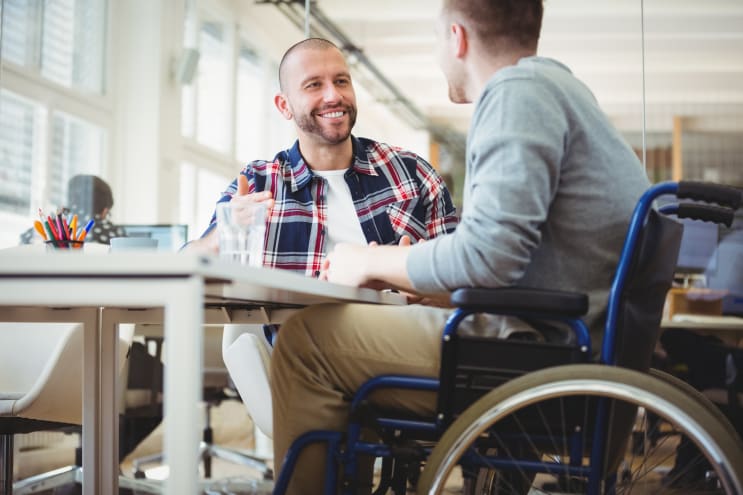 A rising demand for disability professionals
The disability sector is a broad area with a wide range of career opportunities. Disability studies graduates can start careers in social work, mental health, education, healthcare, government, and the nonprofit sector. What's more, experts predict an industry job growth rate of more than 10% over the next decade. That means long term job security for anyone beginning a career in disability support. Opportunities for social workers and healthcare coordinators are set to rise by 11% and 20%, while the demand for home health aides will increase by more than 35% in the coming years. Home health workers help individuals with disabilities with their day-to-day living activities, including cooking meals, personal hygiene care, shopping, and managing finances.
Flexible and varied role
Working in this field is not a typical 9-5 career. You won't be spending much time behind a desk, and no two days are ever the same. Duties include assisting with general household tasks, helping them stay in touch with loved ones, and lending an empathic ear during challenging times. You could also be responsible for arranging day trips and other outings, ensuring fulfilling and engaging social lives.
As a disability services worker, you could work shifts. This involves working across a seven-day rota, including some weekend, evening, and even overnight shifts. You may also be required to do some on-call work, responding to any emergencies, or providing last-minute cover for other staff members as needed. Not everyone enjoys shift work. For others, it offers a greater sense of flexibility, giving them the chance to balance their career with other responsibilities, like raising a young family. It also provides more opportunities to study part-time, gaining additional qualifications that could take your career to the next level.
It's time for a change
Disability studies is a field many people enter later in life. In fact, undergraduate courses attract a significant number of mature students embarking on a second career that is more personally rewarding. Many are inspired by the idea of helping others, driving social change, or taking on additional responsibility and becoming part of a wider community.
Mona Ismail is a former graphic designer who works as a communication technology design officer with Scope, one of the UK's leading disability charities. She says, "I like being part of the solution that empowers [people with disabilities] to express themselves."
Leonard Makore has a similar story. The former machine technician completed a graduate certificate in disability studies, followed by a postgraduate qualification in disability and inclusion. Leonard is now a placement manager at Wallara, a leading support service that helps adults with disabilities find permanent employment.
Raising awareness
Around 49 million people in the USA are living with a disability. The UK has 13.9 million people with disabilities, while 1 in 12 Irish people have some form of physical or mental impairment. Many people would be surprised by the size of these numbers. Moreover, few of us outside the disability professions genuinely appreciate the important contribution people with disabilities make to their local and national communities.
A 2014 report found that 91% of people with disabilities were employed or had worked in the past, while an earlier survey found that large numbers of people with disabilities wanted to work more. Understanding facts like this is a vital part of what experts call disability awareness.
Disability awareness is about educating the public about the issues disabled people face on a daily basis. It attempts to broaden society's understanding of what it means to be disabled, encouraging us to avoid making assumptions and expand our definition of what we consider 'normal.' For example, a large number of people live with hidden disabilities, including renal failure, diabetes, and sleep disorders. They can require just as much support as those with visible impairment but are often stigmatized because their disabilities are not immediately apparent.
An evolving field
Disability studies is continually evolving, with the dedicated, conscientious individuals working in the area always looking for ways to provide better care and expand rights and freedoms.
Now, thankfully, many of its ideas are entering into mainstream political discourse. US senators are currently working on a wide range of policy changes that could profoundly improve the quality of life for millions of people living with disabilities. Measures include additional support for people caring for disabled family members, more inclusive education models for schoolchildren with disabilities, and new laws to stop employers paying disabled people below minimum wage.
Legislators drafted the proposals based on direct feedback from the disabled community. Rebecca Cokley, a director of the Disability Justice Initiative at the Center for American Progress, says, "Candidates are actually listening to disabled people. This is how policy should be made. It matters who's at the table." And Jason Dorwart, a theater professor at Oberlin College, who has quadriplegia, was also impressed by this new approach, "It is the most comprehensive thing I have seen in 20 years," he said.
Enrolling on a disability studies program is the perfect option for anyone who is motivated by helping others and enacting social change. It's your pathway to a challenging, varied, and rewarding career.