Summer course - Medical School Preparation ( for ages 16-18)
Program Description
Overview
This course is designed for students who are considering applying to British medical schools, who might like to know more about the different courses available and the specific application processes, and who would like to receive some personalized advice on how to start writing their personal statements.
This course will advise students on medical school application best practices, demystifying the process and addressing any concerns they may have. It will guide students through what they need to know before applying, from a discussion of why Medicine might be the course and career for them to the differences between various medical schools and their application processes, with a focus on Oxford and Cambridge.
ORA also offers this programme in London, as well as in Cambridge.
ORA also offers an Introduction to Medicine course for students aged 13-15.
Academic Content
Below is a list of topics covered during the course.
Medicine as a Career
The course guides students through their decision to study medicine. Students are asked to consider how their personal experience of education to date might be useful in their future medical school applications. Students are provided with tips on how to work on certain areas of their experience in order to prepare for medical school. This is to ensure that studying medicine is compatible with the students' skills, strengths, chosen high school subjects and career aspirations.
UK Medical Schools
Each and every course differs in structure, teaching methods, hospital training, intercalated degree, location, and reputation, amongst other things. The course provides students with a comparative analysis of UK medical schools to help them carefully tailor their application to their chosen school and its particular entry requirements and application procedures.
Medicine at Oxford and Cambridge
The course highlights the aspects in which medicine courses at Oxford and Cambridge are different from other medical schools as well as how the application process and requirements differ from other universities. The requirements and rationale for medical degree admissions interviews will also be explained.
Personal Statement
With so many well-qualified students applying, a well-written personal statement is necessary to stand out from the crowd. Students work closely with their teacher and will have a first or second draft of their statement ready by the time they leave Oxford. Previous students have identified the assistance with the personal statement as one of the best aspects of the programme.
Advice on BMAT and other tests
Students learn why it is important to take the test, and what actually gets "tested" in the exam. In class, students discuss the answers to sample BMAT/UKCAT questions. Students practice critical thinking and analysis as well as reasoned argument, which is useful for both the aptitude sections and their interviews.
Interview Technique
Students whose paper application is successful will almost certainly be called to interview. During the course, students participate in mock interviews to prepare them for this, during which they practice good communication and presentation skills and learn useful tips on how to approach potential questions.
Practical Skills Workshops
A particular highlight of the course is the opportunity that students have to gain practical "hands-on" experience in a Medical Skills laboratory. These sessions allow students to practice using medical equipment and performing medical procedures, from using a stethoscope, testing sensation and examining the eyes to blood-taking and cannulation.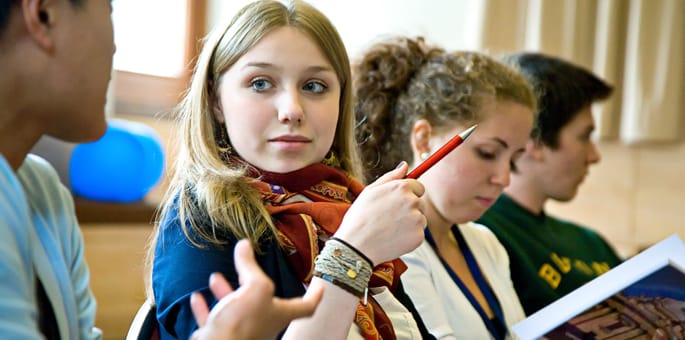 Learning Objectives
The course aims to:
provide an introduction to the study of medicine at the university level, including the structure of different UK medical schools, with a particular focus on Oxford and Cambridge;
inform students of entrance requirements and the application processes of UK medical schools;
instruct students on the structures of entrance exams and exam technique;
provide a practical introduction to some basic medical practices;
provide an overview of the ethical considerations involved in practicing medicine
At the end of the course students will be able to:
explain what studying medicine at university level involves – both practically and theoretically;
identify the medical schools to which they would like to apply;
understand how best to prepare for their application, including writing an effective personal statement;
identify the characteristics of successful applicants;
understand the structure of entrance exams and know how best to prepare for them.
Who is the Medical School Preparation course for?
The Medical School Preparation summer course is geared towards students aged between sixteen and eighteen who want to apply to medical school and ultimately become a doctor. If you've set your sights on studying medicine, the Medical School preparation summer programme helps you prepare a strong application for this incredibly competitive and challenging university course, as well as introducing you to how medicine is taught at various UK universities, including Oxford and Cambridge. If you've not yet decided where you want to apply, this programme will help you make the right decision. What's more, the course introduces you to what it's like to study medicine and pursue a career in this field, and it should help you confirm to yourself that medicine is definitely what you want to study.
Medical school is a very specific university choice, and as such, this course is only really suitable for those who already know that this is what they want to study. If you have only a passing interest in medicine or simply want to learn a little more about it to improve your general knowledge, you would be better off choosing our Broadening Horizons course, which covers Medical Biology among a wide and fascinating selection of other academic subjects.
How will the Medical School Preparation course help me achieve my ambitions?
To be successful in applying to medical school and ultimately forging a career in medicine, you'll need to put in some groundwork before you submit your application, and Medical School Preparation course helps you do just that. The course will be an invaluable headstart for your application to study medicine at the university, as well as providing you with relevant experiences that you will be able to discuss in your personal statement and interviews. Some of the aspects of the course that will help you prepare a strong application, and set you on the right path for achieving your ultimate goal of becoming a doctor, are outlined below.
Preparing for your BMAT exam
The BMAT exam – also known as the BioMedical Admissions Test – is a crucial part of your application to medical school, but if you've never seen or done one before, the style of questions can be confusing. The last thing you want is for your dreams of a career in medicine to be cut short at the entrance exam stage, so diligent preparation is key. During your time at Oxford Royale Academy, we'll familiarise you with what to expect during the exam, and give you plenty of opportunity for practicing the test under exam conditions. This thoroughly prepares you for the real thing, boosting your confidence and giving you a headstart over your fellow applicants. We can also explain how the UKCAT (UK Clinical Aptitude Test) works and how you can prepare for it.
Writing your medical school personal statement
It's common for prospective medical school students to come to us with very little idea of what to write in their personal statement, which many see as the most daunting aspect of completing the UCAS form. What's more, with so many exceptionally well-qualified students applying to study medicine, it can be difficult to know how to make your personal statement stand out from the crowd. That's why we've worked lots of personal statement guidance into our Medical School Preparation programme. As well as learning more about what medical schools are looking for in your personal statement, you can get personalized advice on how to write your personal statement and actual practice at writing the first draft. You can then take this away with you to refine further when you get home and go back to school.
Preparing for medical school interviews
The entrance exam and personal statement aren't the only significant hurdles you'll need to overcome in applying for medical school. You'll also have interviews to contend with, and this can be a nerve-wracking experience. At Oxford Royale Academy, we'll teach you different interview techniques and give you the opportunity to sit mock interviews. These are designed to give you the experience of likely question styles, as well as highlighting areas for improvement in your answers, which gives you the chance to work through any problems long before you get to the real thing.
Getting a feel for what it's like to be a medical student
The aspect of the Medical School Preparation course that our students tell us they most enjoy is the practical workshops, which teach you how to perform basic medical procedures, such as blood tests and how to use a stethoscope. These enjoyable but informative workshops introduce you to the kind of tasks you'll learn when you're a medical school student, as well as giving you a flavor of the jobs you'll one day do when you're a fully fledged doctor. What's more, you'll spend some time considering, in a debate with your fellow students, the ethical problems that can arise when studying or practicing medicine. You'll find that this is all excellent background experience to fall back on, as well as being interesting and relevant material to cover in your personal statement and medical school interviews.
Why attend the Medical School Preparation course now?
Medicine is an extremely competitive course, and only the most gifted of candidates will be successful in their applications. This means that you'll need to do everything you can to catch the eye of the medical school admissions tutors and show them that you have what it takes to succeed on this challenging course. In choosing to join Oxford Royale Academy's Medical School Preparation course, you're taking a powerful step towards achieving your ambitions. If you're applying for medical school within the next academic year or two, this is the time to devote a couple of weeks of your summer holiday to studying this valuable medicine preparation course.
Transferable Life Skills
Attendees on the Medical School Preparation Programme are encouraged to work on important key skills during their time with ORA. We believe that the experience of being away from home, living and studying in a college of the University of Oxford or in Yarnton Manor, enables our students to develop a suite of transferable skills that go beyond those available to students in their own school environment. Vital for future success in any career, these skills include:
developing strengths in independence, self-regulation, and self-assessment;
confidence in dealing with a wide range of new people and situations;
responsibility for own learning, time management, and working with others;
communication skills in speaking, listening and presenting effective arguments in a variety of different contexts.
Our Students
Every summer, ORA welcomes hundreds of the world's brightest, most academically gifted students to our Oxford courses. In 2016, attendees came from 108 different nations, each bringing with them unique cultures, perspectives and stories to share with their new friends. For the Medical School Preparation programme, over 150 students from 50 nations attended.
Our Teaching Faculty
At Oxford Royale Academy we are committed to providing our students with the most qualified and high-caliber teaching faculty available. All Oxford Royale Academy teachers are passionate about their subjects, and are looking forward to passing their knowledge on to their students this summer!
Guest Lectures and Debates
At ORA, we go the extra mile to enhance the study abroad experience of our students. As part of this, every year our dedicated Events Team organizes a series of fascinating guest lectures. In 2014, these took place in the Examination Schools of the University of Oxford, allowing ORA students to experience a lecture in the same environment as a University undergraduate. Guest speakers come from a wide range of backgrounds and specialisms, including the worlds of online media, television, and academia. Our students also have the opportunity to watch and participate in a number of debates, which take place on campus. These range from formal Panel Debates involving teaching faculty and other staff, to informal discussions about current "hot topics" led by Counsellors.
Coach Excursions
The United Kingdom has a rich cultural heritage, and a course with Oxford Royale Academy is the perfect way for a young learner to explore this. All ORA courses include coach excursions to places of historical and social significance in the UK. On the Medical School Preparation Programme, attendees will board the ORA coach to two such destinations. Last summer, coach excursions for students aged 16-18 included visits to Blenheim Palace and London.
Extra-Curricular Activities
At ORA, we never forget that our students are on holiday! Included with every ORA course is an extra-curricular timetable, carefully designed by our dedicated Events Team to ensure our students have fun, make friends and get the most out of being in Oxford.
College Life
All ORA courses are residential in colleges of the University of Oxford or in our stunning nearby 17th-century manor house, Yarnton Manor. This means our students have the fantastic opportunity to spend part of their summer living and studying in the environment of one of the best universities in the world. Oxford is quite unlike anywhere else. With a unique ensemble cast of architectural marvels famed the world over, the city feels incredibly ancient, yet continues to be home to some of the most progressive and innovative thinkers of the twenty-first century. Oxford Royale Academy's summer programmes are designed with the academic rigor of their prestigious environment firmly in mind. The experience of living and studying in an academic environment in Oxford is particularly valuable for our students aged 16-18, as they begin to consider their academic lives beyond high school. Many attendees on our courses are so impressed by the architecture and atmosphere of Oxford and of their College, they are inspired to apply to study as undergraduates at the University of Oxford. The Medical School Preparation Programme for 2017 is residential in Balliol College, of the University of Oxford or at Yarnton Manor. Please click on the links for more information.
Eligibility and Pre-requisites
Students on the Medical School Preparation Programme:
Must conform to our Age Policy.
Must be fluent or near-fluent English language speakers – if you are unsure whether your English level is suitable for this programme, please contact our Registrations Team on admin@oxford-royale.co.uk and they will be able to assist you.
Must be able to fulfill the basic requirements of the programme, in terms of attendance at lessons, meals, and events. Please contact our Registrations Team for more detailed information.
Should check the pre-requisites of each option they select before enrolling, to ensure they possess the necessary knowledge to benefit from the subject matter discussed in the classes.
Last updated Feb 2018
About the School

Oxford Royale Academy students sleep, eat and study in a college of the University of Oxford — just like the University's undergraduates. This gives our students the rare opportunity to experience the ... Read More
Oxford Royale Academy students sleep, eat and study in a college of the University of Oxford — just like the University's undergraduates. This gives our students the rare opportunity to experience the magic of life in a College of the University of Oxford.
Read less