Program Description
The course of Psychology Celso Lisboa is aimed to enable psychologists and educators to intervene in the social field, providing an integrated training in terms of multidisciplinarity, flexibility and creativity, from a current view of psychology.
Training of Psychologists
The psychology course of Celso Lisboa form the general professional with expertise in emphasis in Corporate Psychology and Clinical Psychology. From the 7th period students can choose between two emphases: Clinical Psychology (EC) and Institutional Psychology (EI).
PROFESSIONAL MARKET:
Psychologist formed by Celso Lisboa can act on:
Clinic - promoting preventive actions and the adjustment of man to his social environment
Organizations and institutions - managing the human factor and its relationship with work and professions;
Hospitals - promoting the welfare of patients and the humanization of health teams;
Educational area - researching and developing the teaching-learning process in different dimensions (affective, social and cognitive);
Legal area - family courts, child protection agencies, prison systems and institutions for juvenile delinquents;
Sports area - evaluating the motivational and emotional conditions of the athletes, coaches and teams in team and individual sports;
Academic research - conducting research in public and private institutions, as well as engaged in teaching at the college level.
DURATION: 10 semesters
Schedule: Morning and Night
Start of Classes: 02/22/2016
Last updated Mar 2020
About the School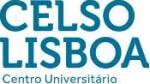 Celso Lisboa nasceu na cidade do Rio de Janeiro no início do século 20.
Celso Lisboa nasceu na cidade do Rio de Janeiro no início do século 20.
Read less