Online Masters International in monitoring clinical trials
Home ›
Master ›
Online Masters International in monitoring clinical trials
Program Description
A WHO SHOULD
This program of professional specialization is geared towards Higher Degree, preferably in the area of ​​Health Sciences (Biology, Pharmacy, Medicine, Chemistry, etc.) who want a quick labor incorporation into positions of responsibility related to the clinical development and medical departments -scientists, both pharmaceutical companies and the international and local professional structures of any Contract research Organization (CRO) or presence in a global market and contributing to the proper implementation of international clinical research protocols.
OBJECTIVES
The CESIF International Master in Clinical Trials Monitoring has as main objective to acquire a solid foundation of knowledge needed in various matters relating to the International Clinical Research in humans and its different phases and processes and deepen the comprehensive understanding of drug development and current processes for commissioning up, monitoring and control of low clinical research existing quality procedures and all for phase clinical research cycle.
Knowledge of Scientific Bases: Structure and Clinical Research environment.
Participating agencies and actors involved in the development of clinical trials.
Design and Testing Phases of Clinical Trials Types clinical- and research studies.
Analysis of the international regulatory environment.
Stages of clinical trials.
Monitoring of Clinical Trials and methodology.
Pharmacovigilance in ECCE.
Data- biometry and Management Analysis of results.
labor positions and career development within clinical research.
DURATION
1,500 hours. 90 hours of virtual classes, 20 hours of virtual tutorials, 950 hours of personal work and 440 hours devoted to the preparation of the Final Project.
DOCUMENTATION
For the duration of the course, each student will have access through the Virtual Campus, to all relevant documentation to the areas scheduled. It all contents of study and supporting materials necessary for the proper development of the course is included.
TUTORIALS
Each student will carry out various practical work related to the main areas of the course to be subsequently evaluated by the Program Manager.
PROGRAM OF CONTENTS
The program of the International Master in Clinical Trials Monitoring is divided into 9 blocks in order to cover all necessary aspects for complete formation of the student.
1 SCIENTIFIC BASIS: STRUCTURE AND CLINICAL RESEARCH ENVIRONMENT
Basic Principles for the development of scientific, clinical and management positions in industry concepts.
In this first module will work on acquiring the basics and related preclinical development in toxicology, pharmacology, pharmacokinetics, and dosage as well as the basics of effective and proper safety clinical development and the scientific method Clinical Trials.
2. PARTICIPATING AGENCIES AND ACTORS IN CLINICAL TRIALS
Introduction to the Pharmaceutical Industry environment at the national and international levels related to clinical research and medical and clinical operations departments.
Knowledge of the different actors, organizations, activities, functions and responsibilities of the master target positions. They will be addressed in detail the organizational structures and professionals involved in the development and management of clinical trials.
3. DESIGN AND PHASES OF CLINICAL TRIALS
Introduction to knowledge in the different types of clinical trials and research projects as well as their different stages of development and management procedures and implementation.
Detailed knowledge of the different elements in the type of study design, objectives and therapeutic area.
Types of ECCE and research projects. Design and types of clinical trials.
Clinical trials Phase I, Phase II, Phase III, Phase IV.

<li>    Observational studies.</li>
<li>    Epidemiologic studies.</li>

4. REGULATORY ENVIRONMENT
ethical and legal issues at the local, European and international level.
We will address the current and applicable to the development and approval of the Clinical Trials documentation. essential documents for the development and approval processes of different types of study: Legislation FDA, EMEA and AEMPS. GCP, ICH, the Declaration of Helsinki ...
5. STAGES OF CLINICAL TRIALS: SELECTION OF CENTERS / COUNTRIES AND RECRUITMENT
We will raise and discuss in detail the implementation of studies, Units Start Up- contracts. Protocols and methods of data collection, management and procedures to be followed with research teams and selected centers. Analysis of informed consent and patient information document.
6 MONITORING EECC - METHODOLOGY
We undertake this key area of ​​the Master with a thorough analysis of the importance of monitoring clinical trials in the development of new drugs.
Students will work with great depth methodology and monitoring all processes and procedures for the proper conduct of clinical research. Monitor responsibilities in the studies. Documentation of the study protocol and case report CRD / CRF Managements data with the Clinical Research Ethics Committees and Health Authorities, meetings of researchers:
Home visits.
Follow-up visits / Monitoring.
Closing visits.
preparation before visits.
Data Collect.
Medication management.
Preparation, management and reporting of visit.
Identification of Adverse Events and Serious Adverse Events.
Audits and prevention of bad scientific practices in the different phases of the study.
Monitoring systems based on risk (RBM).
Monitoring and meetings with research teams.
Preparation and management of audits and inspections in clinical trials.
Pharmacovigilance in ECCE
the legal framework governing the safety of drugs under study and the reporting and monitoring of adverse / serious events, drug interactions, and the manufacturing process of periodic safety update reports will be addressed in detail.
Management and communication procedure for Adverse Events and Serious Adverse Events. The importance and significance of Pharmacovigilance in clinical trials.
8 BIOMETRICS AND DATA MANAGEMENT
Participants will acquire the knowledge and tools necessary for statistical data processing, scientific communication and publication of results. Biostatistics and their application in clinical trials. Role of statistics departments and procedures.
9. MEDICAL CLINIC RESEARCH AFFAIRS
We will approach in detail the various activities of Medical Affairs in the medical-scientific in the pharmaceutical industry and key positions related as figures Medical Advisor and Medical Scientific Liaisons, and the functions of the department of scientific support to Marketing, Relationship departments between the Medical Department and Department of Clinical Operations. Interaction related to clinical trials.
PROFESSIONAL CAREER ASSISTANCE
Within the educational philosophy of CESIF and as a training supplement, CESIF ON LINE offers its students after satisfactory completion of their training period, the possibility of having the services of a Professional Career Assistance (specialized in Online Job Search Consultant) which periodically send each student those job offers that fit your profile and are considered attractive for the development of his career.
PROFESSIONAL OUTINGS
The pharmaceutical sector includes a dynamic job market in positions related to clinical research and medical-scientific activities, both pharmaceutical companies and companies performing contract research (CROs).
Professionals working in this field perform highly qualified functions ahead and have an attractive and competitive professional development. The Master allows access, among others, the following sectors:
pharmaceutical laboratories.
Contract Research Organization (CRO).
Hospitals.
Among the functional areas include:
Department of clinical operations: clinical trials, project coordination and biometry.
Scientific Department: Pharmacovigilance, Medical Affairs, Medical Marketing and Pharmacoeconomics.
Last updated Apr 2017
About the School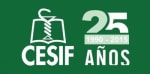 CESIF es una institución privada nacida en 1990, cuya actividad está centrada en las industrias farmacéutica, parafarmacéutica, biotecnológica, alimentaria, química, cosmética y – en general – en todo ... Read More
CESIF es una institución privada nacida en 1990, cuya actividad está centrada en las industrias farmacéutica, parafarmacéutica, biotecnológica, alimentaria, química, cosmética y – en general – en todos los sectores afines relacionados con la sanidad.
Read less