Nursing Associate Degree
Home ›
Nursing Associate Degree
Program Description
Nursing Associate Degree
Associate Degree Nursing is designed to prepare men and women for general staff registered nursing positions which involve direct care of patients. There are two routes of entry into the program: one for beginning students and one for Licensed Practical Nurses. Individuals considering enrollment or currently enrolled in the nursing program should be aware that prior felony convictions may prohibit eligibility for licensure upon completion of the program. The program is approved by the Iowa Board of Nursing and accredited by the Accreditation Commission for Education in Nursing (ACEN) (formerly the National League for Nursing Accrediting Commission, Inc.).
Entrance Requirements
The applicant must complete the application process through the health professions counselor located in the Student Development Office. The ADN program offers two starts: Summer and Fall Terms. All applicants must complete a high school diploma or equivalency program. The date of formal application to the program will be the date the applicant submits a complete application to the ADN program. Final acceptance to the program will be when the applicant has successfully completed all of the prerequisites for the ADN program. The date of application will be factored in if two or more applicants compete for a vacancy. Completed applications are reviewed starting in December for the next academic year.
Prerequisites
An ACT composite score of 20.
The following required courses must be completed with a grade of C or higher.
BIO-102 Introductory Biology (3 s.h.) and
BIO-103 Introductory Biology Lab (1 s.h.)
CHM-151 College Chemistry I (4 s.h.)
MAT-156 Introduction to Statistics (3 s.h.)
PSY-111 Introduction to Psychology (3 s.h.)
A cumulative 2.5 GPA is required for these courses. A minimum overall 2.0 NIACC GPA is required to enter the program and must be maintained throughout the program.
Nurse Aide Training: Submit proof of completion of the 75-hour State of Iowa approved Certified Nurse Aide Program or equivalent. Submit proof of successful completion of Nurse Aide written and skills tests for placement on the Direct Care Worker Registry. A transcript indicating the applicant passed both tests, or a Registry card will serve as verification.
High School Course Recommendations/Computer Technology
Mathematics:
One full-year course (2 semesters) of high school Algebra II
Science:
Biology: two semesters of high school/college preparatory biology
Chemistry: two semesters of high school/college preparatory chemistry
Four to six semesters of high school English and four to six semesters of Social Studies are strongly recommended. Since the NCLEX-RN licensing exam is a computerized test, two semesters of high school computer classes or one semester of a computer application class are also strongly recommended. An application to the ADN program, high school transcript, high school equivalency scores (if applicable), all college transcripts, and results of the ACT must be in the applicant's folder before the admissions committee takes action on acceptance into the Associate Degree Nursing program. Upon acceptance, a physical examination providing evidence of current immunization and sound physical and mental health is required. The prescribed course requirements scheduled for the freshman year must be taken in the sequence and timelines indicated. However, the support courses (noted with an * in the curriculum) may be taken prior to enrolling or during the time the student is in the nursing program.
Note: If support courses are being taken in the sequence with a nursing course, both the support courses and the nursing course must be successfully completed to continue in the program. Students must attain a C grade in all nursing courses and prescribed courses. An overall 2.00 GPA in the prescribed curriculum and a minimum overall cumulative college grade point average of 2.00 is required for graduation from the ADN program.
Students who withdraw from the program must make formal application for reentry and upon acceptance will be considered on a space-available basis. Readmission criteria is addressed in the ADN Student Handbook. Reentry requirements include current physicals/immunization records, current Healthcare Provider (CPR) Certification offered by the American Heart Association, and current evidence of TB testing within the academic year. Options will be discussed on an individual basis for students unsuccessful at any level of the program. Any transfer student applying for admission, who has been enrolled in a nursing curriculum other than NIACC, will be required to meet with the Division Chair to discuss placement in the curriculum. Course syllabi and clinical site information from the transferring institution will be required for review.
The student will also be requested to provide written authorization allowing contact with instructors from the transfer institution regarding class and clinical performance. A letter of reference regarding theory, clinical, and overall student conduct will be required from the chair of health programs at the transfer institution. Information acquired from these contacts will be considered in acceptance and proper placement into a NIACC nursing curriculum.
Students should be aware that they will travel a distance for various clinical experience and that some clinical experiences will be scheduled during evening/night hours and weekends. Online access for web-enhanced course assignments is required. Computer labs on campus are available during designated hours. Drug testing may be required by individual agencies. Criminal background checks and adult/dependent abuse checks will be required for all incoming students and students re-entering the program.
Results of the background and abuse checks will be reviewed by the State Department of Human Services to determine eligibility for clinical enrollment in the program, but does not guarantee licensure upon program completion. Costs for requirements will be the responsibility of the student. For graduates wishing to obtain a baccalaureate degree in nursing, the ADN program provides a foundation for completion of BSN programs in Iowa. The University of Iowa College of Nursing offers the RN to BSN Progression Program in the North Iowa area.
Career Opportunities
Hospitals, nursing facilities, and clinics
Health maintenance organizations
Private offices and clinics of doctors and dental surgeons
Government agencies and the military
Visiting nurse associations
Community Healthcare agencies
Temporary staff agencies
Entrepreneurial ventures
Last updated Nov 2017
About the School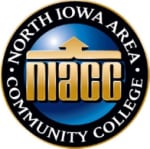 North Iowa Area Community College (NIACC) is a nationally-ranked, two-year institution located in North Central Iowa that serves students of all ages and abilities. Starting in 1918 as Mason City Juni ... Read More
North Iowa Area Community College (NIACC) is a nationally-ranked, two-year institution located in North Central Iowa that serves students of all ages and abilities. Starting in 1918 as Mason City Junior College, NIACC has the distinct privilege of being the oldest Iowa community college. In 2018, NIACC will be celebrating the College's 100 year anniversary of providing an education to our students...
Read less