Medical Laboratory Technician Diploma Program
Home ›
Diploma ›
Medical Laboratory Technician Diploma Program
Program Description
The Medical Laboratory Technician program prepares men and women to work under the supervision of the medical laboratory scientist, pathologist, or another qualified physician in a medical laboratory. A technician performs tests that aid in the diagnosis and treatment of disease. Specific tasks which the Medical Laboratory Technician might perform include the collection of blood and other specimens, preparation and examination of stained slides of blood cells or bacteria, microscopic examination of urine, blood, and other body fluids, grouping and typing of blood, and the analysis of body fluids for chemical components. The first two semesters of the program may be taken at NIACC and the completion of the program is taken at Hawkeye Community College, Waterloo, Iowa. The final semesters of the program are provided in the clinical setting, which may occur in a location of the student's choice. This placement, however, is dependent on a space available basis in the agency of choice. Graduates of the Medical Laboratory Technician program are eligible for the national certification examination. Medical Laboratory Technicians may continue their education at the college level and become Medical Laboratory Scientists.
Entrance Requirements
Students must make formal application for the Medical Laboratory Technician (MLT) program at Hawkeye Community College. Students may prepare for the program and complete two semesters of the MLT program while attending NIACC. Applicants must be high school graduates or the equivalent to being eligible for admission to the MLT program. Applicants must then satisfy at least one of the following routes of requirements for entry into the program.
Route 1: Score at least the following standard score on each COMPASS assessment (43 on Algebra, 82 on Reading, and 65 on Writing) or receive a standard score of 19 on each of the ACT subtests of Math, Reading, and English. Students must also have completed one year of high school algebra, chemistry, and biology.
Route 2: Successfully complete the following NIACC courses with a 2.00 GPA.
BIO-102 Introductory Biology AND
BIO-103 Introductory Biological Lab
ENG-015 Elements of Writing
MAT-063 Elementary Algebra
RDG-125 College Reading Strategies
Route 3: Successfully complete 4 out of the following 6 courses at HCC or NIACC with a minimum grade point average of 2.75.
HSC-120 (NIACC) Medical Terminology I
MAT-110 (NIACC) Math for Liberal Arts
MLT-101 (NIACC) Intro to Lab Science
MLT-110 (HCC) Fundamental Lab Techniques
MLT-120 (NIACC) Urinalysis
MLT-130 (HCC) Hematology
The required related courses may be taken prior to enrolling or during the time the student is enrolled in the program. However, it is recommended that the curriculum be followed once the student is enrolled. Students who withdraw from the program will be readmitted on a space available basis. Preference will be given to those students who have been academically successful.
Diploma Earned
Upon successful completion of the Medical Laboratory Technician curriculum, the student is awarded an Associate in Applied Science Degree by Hawkeye Community College and is then prepared to work in hospital laboratories, clinics, physicians' offices, public health agencies, research institutions, and the Armed Forces. The program is accredited by the National Accrediting Agency for Clinical Laboratory Sciences.
Costs
Tuition is based on the number of credit hours and legal residence and is subject to change or modification.
Financial Aid/Scholarships
Financial assistance is available in the form of grants, scholarships, loans, and part-time employment (work study). Students apply for financial aid by completing the Free Application for Federal Student Aid (FAFSA).
Career Opportunities
Medical Laboratory Technicians work for:
Hospitals and medical laboratories
Offices and clinics of physicians
Blood banks
Health maintenance organizations
Public health agencies
Pharmaceutical firms
Research and testing laboratories
The Federal Government
Last updated Nov 2017
About the School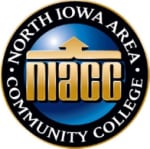 North Iowa Area Community College (NIACC) is a nationally-ranked, two-year institution located in North Central Iowa that serves students of all ages and abilities. Starting in 1918 as Mason City Juni ... Read More
North Iowa Area Community College (NIACC) is a nationally-ranked, two-year institution located in North Central Iowa that serves students of all ages and abilities. Starting in 1918 as Mason City Junior College, NIACC has the distinct privilege of being the oldest Iowa community college. In 2018, NIACC will be celebrating the College's 100 year anniversary of providing an education to our students...
Read less