Master's Degree in Welfare Technology
Home ›
Master ›
Master's Degree in Welfare Technology
Program Description
Master's Degree
Master of Engineering (60 ECTS)
Master of Health Care (90 ECTS)
Intake: 10
Important Dates
Application period: 13 March – 3 April 2019
Entrance exam: 24–26 April 2019
Studies begin: Autumn 2019
Studies take: Approximately 2 years
Apply at studyinfo.fi
You have to fill in the application form at Studyinfo during the application period:
Master of Engineering, Welfare Technology, Pori
Master of Health Care, Welfare Technology, Pori
Degree Programme in Welfare Technology organizes its entrance examination during 24–26 April 2019. The examination cannot be replaced with any other entrance examination or test result, and the examination result doesn't replace any other examination result. The result is valid only in the application round of Spring 2019.
The entrance examination is organized online. It consists of written exam based on given material and an instructed video presentation. The written exam contains three different types of assignments. Minimum 40% of maximum points in each assignment is required for pass. All examination material is available at the examination platform. Applicant has three hours for reading the material and answering the questions in the written exam. The video presentation should be approximately three minutes long.
The applicant is required to have a computer, webcam and a reliable Internet connection for taking the exam. Detailed information about the entrance examination and instructions for completing the examination will be sent to eligible applicants by e-mail by 17 April, 2019.
In the entrance examination applicant is required to get at least 40 points out of the maximum 100 points to be eligible for student selection. Students are selected solely in the order of examination points. If there are applicants with the same examination score and if at least one of these applicants would be entitled for selection, all applicants with the same score are selected as students.
Deepen your expertise
Master's Degree in Welfare Technology provides you with specific skills in concepts, methods and knowledge of the field. As a result, you can work in tasks where you can apply these skills in professional problem situations, research and innovation tasks and in management. In addition, you are able to assess and develop your personal skills, work practice and knowledge of the field. You also develop skills in international interaction and communication.
The degree programme involves multidisciplinary and international cooperation, where experts from different fields are combined to produce new, innovative solutions and operational models in the field of welfare technology. The master's degree title in social services and health care depends on the previous degree.
We Offer You
Innovative programme in Welfare technology in a multi-professional setting with close links to working life.
A wide range of courses with flexible study modes to fit around your needs.
An international network of experts and project partners.
Study Arrangements
Tuition in the Master's Degree Programme is organized so that studying can be combined with full-time work.
This course seeks to address the shortage of people who can operate at the interface of care service deliveries, business and technical subjects in order to develop competences required to transform service deliveries, restructure organisations and streamline service processes.
The career-enhancing is designed to build on your previous experience and education and allow you to tailor your learning to suit your individual career development, industry background and requirements of your organisation. Elective studies allow you to enhance your prospects in the fields of management, ICT or indoor environment.
What will you study?
Based on your bachelor degree, Your studies consist of: Advanced Studies in Welfare Technology (20-30 ECTS), Research and Management Studies (5-25 ECTS) to meet your career prospects in management, ICT or indoor environment according, Elective Studies (5 ECTS), and Master's Thesis (30 ECTS). Blended Learning approach with online teaching enables combining work and study with flexibility alongside working or even from abroad.
Our students find employment
After graduating from the Master's Degree Programme in Welfare Technology, you can work in expert and management tasks or in RDI activities in enterprises, the public sector or other organizations. Most of our graduates work in different kinds of management and development tasks.
Research
The Master's degree Programme in Welfare Technology has close connections with the following research groups at SAMK: Well-Being Enhancing Technology, Automation and Accessibility.
Master's Thesis
The Master's Thesis is a development task closely connected with the employment market. It combines the development needs of the commissioner and the student's own career development with advanced professional studies. The thesis is planned and carried out in cooperation with a representative from the employment market. In particular, the topics and development tasks of the theses are connected with the economic life of the region, SAMK's research groups and CoastAl projects.
Studies: Enabling life technologies course for master's students
Course is implemented regarding future challenges and possibilities, working life cases, and activating teaching approach and blended learning. The course contents are processed by means of case studies, service design principles and ideating visualisation, productisation and commercial aspects, too. Students and teachers come from different industries and fields of practice which is seen as an innovation resource in this course. Main themes this year are user orientation, gamification and data analytics.
This course is carried out in collaboration with Tampere University of Technology university (TUT), Sataedu and working life partners: Kuori Ltd, Dyme Solutions Ltd, Evantia Ltd and Junet Ltd.
Last updated Feb 2020
About the School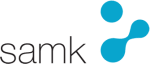 Satakunta University of Applied Sciences (SAMK) is located on the western coast of Finland, in the Satakunta region. There are about 6,000 students in total and more than two hundred international stu ... Read More
Satakunta University of Applied Sciences (SAMK) is located on the western coast of Finland, in the Satakunta region. There are about 6,000 students in total and more than two hundred international students studying in our campuses every year.
Read less