Master of Science in Public Health
Home ›
MSc ›
Master of Science in Public Health
Read more about this program on the school's website
Program Description
The degree program Public Health aims to provide competencies for students wishing to pursue a career in public and private health sectors as well as in non-governmental organizations. The MPH degree is the most widely recognized professional credentials for leadership in public health. The program is intended for graduates already holding a bachelor's or master's degree, who are seeking to broaden their understanding and knowledge in the field of public health.
Course details
Public Health
2 years
MSc in Health Sciences
120 ECTS credits
4,200 EUR per year
Taught in English
After graduation, you can
Work in public health care services in local, national and international public health centers and other institutions;

Work in the inter-sectorial field within NGOs and public health projects, actions and initiatives;

Play leadership and managerial roles in the health care system;

Continue your education by entering Ph.D. programs;

Pursue a professional career in research and teaching in the fields of communicable and non-communicable disease epidemiology, health care service research, preventive medicine, and other areas.
Structure of the program
what you will learn each year
Year 1:

Introduction to Public Health and Health Care System, Environmental Health, Health Ethics and Law, Health Informatics and Research, Applied Epidemiology.

Year 2:

Health Policy and Strategy, Health Economics, Management of Changes, Health Psychology and Human Relations, Methods of Data Analysis, Preparation and Defence of Master's Thesis.
Why study Public Health at LSMU?
Studies at the largest School of Public Health in the Baltic countries.

Diploma recognized in the EU, USA, and other countries.

The multicultural environment and student community: international students from 70 different countries make up nearly 17% of the total student population at LSMU.

Possibility to spend a semester or a year abroad with the Erasmus+ exchange program.

Support system for students' adaptation mentoring, tutoring and psychological counseling.
Admission
International students could be admitted into the English program of the Lithuanian University of Health Sciences if they provide the legalized high school or college certificate and transcript (officially translated into English) and meet the Entrance Exam requirements. Good grades in biology, chemistry, and physics will give preference. Good knowledge of the English language is obligatory.
Items to be submitted (in English or with an authorized English translation):
Matriculation / School Leaving Certificate confirmed by the governmental authorities (see below "Legalization of Educational Documents");
Transcripts of high school/ senior secondary school courses verifying successful completion of General Biology and General Chemistry. For Health Psychology program - Mathematics and General Biology;
Certificate proving the knowledge of the English language: TOEFL – minimum 65 points (iBT); IELTS – above 5.5 points; the certificate confirming the knowledge of a foreign language at minimum B2 level (CEFR) or similar. If you are not able to present any certificate proving the knowledge of the English language you will have to take an English language test prepared by the University. The English language test will be given on the same day as the test in Biology/Chemistry;
Motivation letter;
Brief CV;
Passport or ID copy;
Health Certificate based on complete medical examination;
Three passport-type photographs (3x4 cm);
Application fee 150 EUR (nonrefundable).
Testimonials

"University gives an opportunity to study and helps with studies in different ways. What I like most is that we have studies in cycles, which allows me to focus on one subject in a period. I have also lots of practical work with patients and different cases which gives me lots of experience. All this makes me feel confident about my future as a dentist." - Baktash Wejdan
Last updated Apr 2020
About the School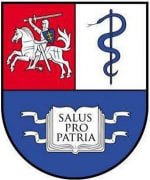 The University is the largest institution of higher education for biomedical sciences in Lithuania, successfully integrating studies, research, and clinical practice. LSMU consists of two main academi ... Read More
The University is the largest institution of higher education for biomedical sciences in Lithuania, successfully integrating studies, research, and clinical practice. LSMU consists of two main academies: Medical Academy and Veterinary Academy.
Read less