Master of Science in Pharmaceutical Biotechnologies
Home ›
MSc ›
Master of Science in Pharmaceutical Biotechnologies
Program Description
Course description
The purpose of the Master of Science in Pharmaceutical Biotechnologies (two years, 120 CFU) is to endow students with a sound scientific knowledge for modern pharmaceutical research and health biotechnologies.
The organization and the needs of the research in the pharmaceutical field have changed dramatically in recent years. Modern research in both academic and industrial setting is intensely devoted to the study and development of biopharmaceuticals, including the development of biologics and monoclonal antibodies of new conception. Currently, the pharmaceutical scientist requires a thorough education and expertise in molecular biology, genetics, recombinant DNA techniques and bioinformatics, with a solid background in chemistry, pharmacology and advanced pharmaceutical technology. The professionals working in pharmaceutical R&D and production must possess a sound interdisciplinary knowledge, including the specific technical and regulatory issues dedicated to the research, development and monitoring of innovative drugs and biosimilars.
The Master of Science focuses on transferring knowledge, endowing students with strong technical skills (hard skills) and interpersonal skills (soft skills), building at the same time those competencies needed to face the changing pharmaceutical marketplace. Graduates in Pharmaceutical Biotechnologies will acquire a solid knowledge in biochemistry, molecular biology and protein engineering, immunology, pharmacology and pharmaceutical technology, and in those disciplines required to design, analyze and formulate innovative drugs such as biologics and drugs employed in targeted therapies. The knowledge of the physicochemical properties of molecules and macromolecules enable students to apply the analytical methods required for the identification, purification and characterization of biopharmaceuticals during production and quality control.
Strengths: innovative teaching approach; critical approach to science (not only theory!); students have an active role in organizing events, projects and investigations; excellent Teacher/Students ratio; high student satisfaction score (>8.5/10); high employability rate (90%, in Italy); most students graduate with full marks and pursue a PhD abroad.
Course structure
Advanced Reactivity And Modelling
Advanced Molecular Biology
Molecular And Experimental Pharmacology
Structural Biochemistry
Bioinformatics And Computational Biology
Drug Discovery And Development
Pharmaceutical Nanotechnology
Protein Engineering
Proteomics And Biochemical Methodologies
Biologics And Biopharmaceuticals
Delivery And Formulation Of Biotechnological Drugs
Diagnostic Microbiology And Molecular Immunology
Career opportunities
Graduates in Pharmaceutical Biotechnologies will operate in various areas of academic and industrial research at national and international level. They will be able to tackle problems related to the study and development of drugs and diagnostics and will work in several fields associated with the production and quality control of the pharmaceutical, biopharmaceutical, diagnostic and scientific instrumentation, as well as the cosmetic and nutraceutical industries and those interested in human and animal nutrition.
Entry requirements
To enroll, candidates must meet specific curricular and educational background requirements, pursuant to art. 6, par. 2 of DM no. 270/04.
The curricular requirements to be met are:
a degree from classes L-2 Biotechnologies, L-13 Biological Sciences, L-27 Chemical Sciences and Technologies, L-SNT3 – Technical health professions ex DM 270/04 or a degree from classes 1- Biotechnologies, 12- Biological Sciences, 21- Chemical Sciences and Technologies, SNT3 - Technical health professions ex DM 509/99
or
50 ECTS in the following areas (SSD): BIO/09 Physiology, BIO/10 Biochemistry, BIO/11 Molecular biology, BIO/12 Clinical biochemistry and Clinical Molecular Biology, BIO/13 Applied Biology, BIO/14 Pharmacology, BIO/15 Pharmaceutical biology, BIO/16 Human Anatomy, BIO/17 Histology, BIO/18 Genetics, BIO/19 General microbiology, CHIM/01 Analytical Chemistry, CHIM/02 Physical chemistry, CHIM/03 General and inorganic chemistry, CHIM/04 Industrial Chemistry, CHIM/06 Organic chemistry, CHIM/08 Pharmaceutical chemistry, CHIM/09 Applied Pharmaceutical Technology, CHIM/10 Food chemistry, CHIM/11 Fermentation Chemistry and Technology, MED/03 Medical genetics, MED/04 General pathology, MED/07 Microbiology and Clinical microbiology, VET/01 Anatomy of Domestic Animals, VET/03 General Pathology and Veterinary pathological anatomy, VET/05 Infectious diseases of domestic animals, VET/07 Veterinary Pharmacology and Toxicology.
In case of candidates with an Italian qualification different from those of DM 509/99 or DM
270/2004 or with a foreign qualification, curricular requirements will be checked by the admission commission.
Language requirements
Last updated Sep 2019
About the School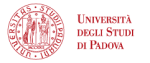 The University of Padova is one of Europe's oldest and most prestigious seats of learning; it is a multi-disciplinary university that aims to provide its students with both professional training and a ... Read More
The University of Padova is one of Europe's oldest and most prestigious seats of learning; it is a multi-disciplinary university that aims to provide its students with both professional training and a solid cultural background. A qualification from the University of Padova is a symbol of having achieved an ambitious objective, one that is recognised and coveted by both students and employers alike.
Read less