Master of Science in Medical Biotechnologies
Home ›
MSc ›
Master of Science in Medical Biotechnologies
Program Description
Course description
This study course is for students who wish to become specialised graduates with an advanced biomedical knowledge concerning the links between the structure and the purpose of biomolecules and bio-systems operating at cellular and tissue level of the human body, in both physiological and pathological conditions. The wide knowledge of the techniques is based on a solid practical activity in laboratories during the internship.
Subject to the educational aims of Class LM-9, the acquired knowledge allows specialized graduates to assist physicians in the diagnostic and therapeutic tasks involving the manipulation of cells, genes, and other biosystems requiring applicants to learn special skills in experimental biotechnology (e.g. Diagnosis and gene therapy; therapy through the use of genetically engineered cells; rational design and development of new medicines based on models of molecular targets known or derived from pharmacogenomic knowledge; preparation of nano-biotechnological tools for advanced diagnostics imaging and drug delivery; modulation of the immune response; diagnostics based on innovative processes of science and medical laboratory techniques; immunotherapy to targeted cells); organize and coordinate laboratory activities for advanced research or for diagnostic examinations requiring the use of biotechnological methods and the manipulation of cells or biotechnological materials; organize and coordinate the experimental protocols of clinical research involving the use of materials or biotechnology techniques; design and perform with autonomy research in biotechnology applied to medicine; lead and coordinate, also in governance, development programs and surveillance of biotechnology applied to human beings, taking into account the ethical, technical, environmental and economic implications.
Course structure
First year - First Semester: Advanced Biomedical Technologies Or Laboratory Activities 1: Cellular And Molecular Therapies Or Laboratory Activities 2: Molecular And Systems Biology, Laboratory Medicine Technologies And Molecular Diagnostics, Pharmaceutical Biotechnology: Design And Analysis Of Biopharmaceuticals, Proteomics And Bioinformatics (only for the General Curriculum), Seminar
First year - Second Semester: Molecular Medicine Curriculum: 6 Months At Ulm University: GLP/GSP Bioethics, Molecular Oncology, Trauma Research And Regenerative Medicine
General Curriculum: Cell And Organ Physiology And Medical Pathophysiology, Genetics, Immunology And General Pathology, Nanobiotechnology
Second year - First Semester: Experimental Models In Vivo And Vitro, Pharmacology And Molecular Therapies, Stem Cell Biology And Molecular Biology Of Development, Proteomics And Bioinformatics (only for the Molecular Medicine Curriculum)
Second year - Second Semester: Thesis Work
Career opportunities
Biotechnology physicians will be able to head research laboratories in a predominantly technological and pharmacological environment and coordinate, as well as in terms of management and administration, program development and the monitoring of biotechnology applied on human beings with emphasis on the development of pharmaceutical products and vaccines, taking into account the ethical, technical, and legal implications and environmental protection.
To work in industry (pharma, biotech companies) for new diagnostics, molecular therapeutics, regenerative medicine and vaccines
To work in academia as a researcher in one of the many fields of Molecular Medicine
To be an entrepreneur in Biotech start up companies as a result of scientific discoveries
Graduates will be able to assist doctors in the diagnostic and in the therapeutic phases when those imply the manipulation of cells, genes and other bio systems and when specific biotechnological experimental competences are required.
Entry requirements
Please note that Applicants wishing to enrol in the Master's degree course in Medical Biotech are expected to meet specific curricular requirements and have specific skills and abilities in: - Mathematics – Statistics - Bioethics – Sociology – Ecology – Patent Laws - Chemistry – Biochemistry-Physics - Biology - Pathology – Microbiology – Genetics - Immunology. Applicants must also prove they have a B2 level of English (as per the Common European Framework of Languages) which needs to be officially certified so that they may use English fluently, both written and orally, including the use of subject-specific lexis.
Documents required:
a) Curriculum vitae: it must include all the studies and subjects done including their grades, any training experience done or period spent studying abroad.
b) Letter of intention;
c) Transcript of records of the qualification awarded, preferably including ECTS statistics;
d) Certificate stating command of English at a B2 level.
All applications lacking one or more of the previous documents will not be taken into consideration. Once it has been determined that candidates meet the minimum requirements to enrol in the course, the ranking list will be drawn up based on assessment of the documentation submitted. Should more candidates have the same merit, the youngest candidate will be given priority.
Language requirements
C1 or Intermediate level of English which enables the user to use English fluently, both when speaking and writing, also using sector-specific lexis.
Last updated Sep 2019
About the School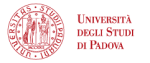 The University of Padova is one of Europe's oldest and most prestigious seats of learning; it is a multi-disciplinary university that aims to provide its students with both professional training and a ... Read More
The University of Padova is one of Europe's oldest and most prestigious seats of learning; it is a multi-disciplinary university that aims to provide its students with both professional training and a solid cultural background. A qualification from the University of Padova is a symbol of having achieved an ambitious objective, one that is recognised and coveted by both students and employers alike.
Read less