Master of Science in Health Informatics (MSHI)
Home ›
MSc ›
Master of Science in Health Informatics (MSHI)
Read more about this program on the school's website
Program Description
USF's Master of Science in Health Informatics program is focused on training the next generation of informaticists in the art and science of health data analytics. Healthcare and technical professionals learn everything from the basics of programming to cutting-edge statistical and machine learning methods in interprofessional, project-based classrooms.
Health Informatics uses mathematical, scientific, technological, heuristic and cognitive methods for modeling and solving complex and heterogeneous problems. Students proceeding through the Health Informatics program will develop an understanding of the ways in which information (meaningful data) is converted into knowledge (justified belief) and be able to develop theories that further biomedical research and improve healthcare delivery systems.
The Curriculum consists of 36 units and can be completed in as little as one (1) year by full-time graduate students. Candidates with a demanding career and personal commitments may complete the program at their own pace, typically between two to three years.
Real-world problems in the classroom: Classroom projects engage interdisciplinary teams of students to tackle real-world problems from faculty research or industry partners. Health Informatics operates the intersection of healthcare and computer science and is a great fit for students with a variety professional and academic backgrounds to apply their knowledge in the rapidly evolving healthcare economy.
Programming and Data Analytics Skills: A strong data science foundation within a clinical and healthcare is woven through all of our core courses. All students, regardless of background, learn programming skills in the context of working with healthcare data.
Entrepreneurial Perspective and Innovation: Located in the epicenter of the global digital revolution, our program engages with the Silicon Valley startup community. While this is not a business program, we are at the heart of the world innovations. Hence, all accepted students must be prepared to do some innovation, entrepreneurial and intrapreneurial work as part of their health economics and consumer health courses. Interested students are given startup mentoring opportunities.
Internship and Practicum Opportunities: Students are required to complete a Capstone Experience consisting of original research, a substantial project in health and biomedical informatics, or an internship with an industry partner. We provide support for students in finding their internships and projects. Our graduates have an impressive job placement rate of over 95% and have found challenging opportunities in the healthcare sector.
Advanced Clinical Training: Clinically trained students are able to take graduate-level nursing courses that fully count toward an advanced nursing degree including Doctor of Nursing Practice (DNP) or Master of Science in Nursing (MSN) at USF. In addition, as a board-certified subspecialty in the US, our program will be invaluable to pre-medical/pre-health students applying to medical school and hoping to stand out with graduate training in health informatics.
International Students: International Students may be eligible to work for 36 months in the U.S. after completion of the Master of Science in Health Informatics (MSHI) program via the OPT program and STEM extension.
The School of Nursing and Health Professions is focused on developing students who can positively influence healthcare environments by promoting health, wellness, holistic, patient-centered care, patient advocacy, a spirit of inquiry and evidence-based practice, balanced with a humanistic approach, professional and ethical decision making, increased access to care, especially for vulnerable populations, an effective health infrastructure and lifelong learning.
Required for graduation: 36 units - 16 units of Core courses + 16 units of Electives and a Capstone Project or Thesis.
1. CORE
HS 610: Perspectives on Health Informatics
HS 611: Semantic Organization of Health Information and Data Standards
HS 614: Clinical Decision Support and Health Data Analytics
HS 616: Statistical Computing for Biomedical Data Analytics
2. ELECTIVES
Students are required to take 16 units (4 units for each course) of electives and can emphasize subspecialties within health data or biomedical/clinical informatics.
Download a sample curriculum pattern

SUGGESTED ELECTIVES FOR HEALTH DATA SCIENCE FOCUS
HS 608: Computer Science for Health Informatics Professionals
HS 612: Biosignal Analysis
HS 618: Advanced Health Data Analytics
HS 630: Bioinformatics
SUGGESTED ELECTIVES FOR CLINICAL INFORMATICS FOCUS:
HS 620: Digital Health Entrepreneur
HS 621: Business case for Medical Information
HS 622: Consumer Health Informatics
HS 625: Practicum I: Lab Design and Flow
ACCEPTED ELECTIVES OUTSIDE HEALTH INFORMATICS
PUBLIC HEALTH ELECTIVES FOR HEALTH DATA SCIENCE FOCUS
MPH 621: Epidemiology
MPH 626: Population Health Informatics: Systematic Application to Public Health
MPH 646: Population Health Informatics: Systemic Application to Public Health
MPH 653: Research Methods in Public Health and Epidemiology
NURSING ELECTIVES FOR CLINICAL INFORMATICS FOCUS
NURS 602: Principles of Epidemiology
NHP 702: Epidemiology
NURS 614: Healthcare Systems Leadership
NURS 629: Financial Resource Management
NURS 648: Healthcare Policy and Ethics
3. CAPSTONE PROJECT | INTERNSHIP
Students must complete at least 4 units (1 course) of a capstone project. This can be a traditional master's thesis, a substantial biomedical software project, or an internship with a medical center, hospital, or digital health company. Students must complete all core courses and most elective courses before beginning their capstone project.
The Master of Science of Health Informatics is an interdisciplinary program that studies the design, development, and adoption of IT-based innovations in healthcare. Health Informatics operates at the intersection of clinical-biomedical, statistical and computational sciences and offers a variety of specializations to a broad range of candidates with backgrounds from nursing, medicine, other clinical specialties, biomedical sciences or computational and statistical sciences. Regardless of background, students may choose to focus on quantitative aspects of informatics such as health data analytics, biosignal, and image processing or statistical computing, or they may choose to emphasize clinical, managerial or consumer health entrepreneurship.
Applicants must have earned a baccalaureate degree from an accredited program and show evidence of excellent academic achievement and preparation for a rigorous graduate program. Our current students come from diverse academic backgrounds. Some enter the program with clinical or biomedical science backgrounds, others with more computational or statistical backgrounds. Admission to the MS in Health Informatics program is based on a holistic appraisal of your ability to successfully undertake master's study and of your contributions to the discipline.

Application Materials
All application materials should be uploaded through the online application form. The School of Nursing & Health Professions Office of Graduate Admissions does not accept mailed materials.
Applicants can check their application status online or by contacting the School of Nursing & Health Professions Office of Graduate Admissions at sonhpadmissions@usfca.edu.

Application Requirements
A completed online application and fee.
Bachelor's Degree: A Bachelor's degree is required. While no specific undergraduate degree is required, a degree in a quantitative field such as engineering, business, computer science, statistics, mathematics, or information technology, or a clinical degree (MD, Nursing, Doctor of Physical Therapy) with some programming and math is ideal. Alternatively, strong work experience with data or analytics may be used.
Unofficial transcripts from all colleges/universities attended. Official or unofficial transcripts should be uploaded through the online application form. Transcripts must reflect the name of the institution attended, degree earned, grades earned, and GPA. Applicants should ensure that all transcripts are readable once uploaded. Submission of official transcripts is ONLY required for admitted students who decide to enroll. For non-U.S. transcripts, applicants please submit translated transcripts.
Recommended grade point average of 3.0 or higher.
2 letters of recommendation preferably from academic references or references in industry or government who are familiar with the applicant's professional accomplishments. At least one should attest to the applicant's quantitative abilities. In the online application form, enter the names and e-mail addresses for recommenders. They will receive an e-mail from USF with instructions to upload their letter.
Professional résumé
Evidence of quantitative aptitude and reasoning: Every applicant must demonstrate aptitude for quantitative reasoning through excellent performance in undergraduate mathematics, calculus or statistics coursework (grade of B or higher), high scores on standardized (GRE) tests, a Computer Programming course (usually Java, C/C++, or Python) or specific work experience.
Knowledge of and commitment to healthcare: Previous coursework or work experience in clinical healthcare, biomedical sciences, or public health is viewed very favorably. We welcome physicians, pharmacists, nurses, and other health professionals to our program. Pre-medical and pre-health professions students have found that our program a valuable stepping-stone to Ph.D. programs, Medical School, or graduate healthcare fields.
Statement of career goals and professional aspirations. Please respond to the prompt: "Why do you want to pursue a graduate program in Health and Biomedical Informatics?"
For international students only:

Certification of Finances form or Letter of Support
Bank statement(s) that indicate funds for the total costs
A copy of passport copy
English Language Exam: Official TOEFL, IELTS or PTE scores
International Transcripts: Your transcripts need to be in the original language of your university, AND in English translation.
Refer to the International Graduate Student Admission page for test score requirements and additional information.
International Students may be eligible to work for 36 months in the U.S. after completion of the Master of Science in Health Informatics (MSHI) program via the OPT program and STEM extension.
*Note: The GRE test is not required for admission consideration. However, submission of GRE scores is highly encouraged for applicants, for those without outstanding professional or academic experience. We consider primarily the quantitative score. Applicants should submit unofficial GRE score reports by uploading a copy of their report to the Educational Background section of the USF online application.
Graduates with a Master of Science in Health Informatics are prepared to:
Lead the development and application of emerging information technologies to improve all aspects of healthcare delivery.
Utilize health information technology for decision support, knowledge management, strategic planning, and outcomes assessment.
Master the "language" of health care, navigate the rules around using medical data and utilize relevant information to assess changes in the healthcare system.
Assure that healthcare information technology advances patient information security and confidentiality and promote ethical health care decisions.
Effectively interface between the technology developers and the clinical user community.
The demand for Health Informatics workers is projected to grow at twice the rate compared to the overall employment rate. The need for health informatics specialists is prominent in both government and private enterprises to standardize and optimize the collection and sharing of data among electronic health recording systems, ensure data security and integrate care to share information, coordinate care and provide efficient effective services to patients. Our graduates are well-prepared for current and future challenges in the field. They're equipped with a deep understanding of the healthcare industry and the technical skills to work with computer scientists, programmers, doctors, nurses, psychologists and other healthcare professionals. Additionally, our program emphasizes building strong entrepreneurs and advocates for Health Informatics through various curriculum offerings.
Our graduates have an impressive aggregate job placement rate of 95% and have found exciting and challenging opportunities in large hospitals, medical centers research institutions, startups, government health agencies and global health organizations.
Positions have included Clinical Data Analyst, Director of Clinical Informatics Research, Statistical Analyst, Senior Programmer Analyst and Advanced Research or Clinical training (MD, DNP, Ph.D. in Biomedical Informatics).
International Students - International Students may be eligible to work for 36 months in the U.S. after completion of the Master of Science in Health Informatics (MSHI) program via the OPT program and STEM extension.
Master of Science in Health Informatics from University of San Francisco on Vimeo.
Last updated Jun 2018
About the School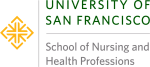 The School of Nursing and Health Professions follows the University of San Francisco's mission to provide a liberal arts education rooted in the Jesuit tradition of diversity, justice and global persp ... Read More
The School of Nursing and Health Professions follows the University of San Francisco's mission to provide a liberal arts education rooted in the Jesuit tradition of diversity, justice and global perspectives.
Read less