Master of Science in Food Science
Home ›
MSc ›
Master of Science in Food Science
Read more about this program on the school's website
Program Description
The master program Food Sciences aims to educate qualified professionals able to use food research results at food factories and develop new products complying with the demands of customers and satisfying their needs for healthy nutrition. In addition, graduates get competences in human resource management, organization of production process and confidence for quick self-adjustment to continuously changing the market.
Course details
Food Science
2 years
MSc in Agricultural Sciences
120 ECTS credits
3,500 EUR per year
Taught in English
After graduation, you can
Establish own business in catering, food production;

Work in biotechnology sector-related companies;

Be employed at food factories as a Master of production, technologist; quality manager, supervisor of product development, project manager in the food and agriculture-related organizations, production supervisor, food quality inspector;

Food safety control sector or Agri-food consulting services.
Structure of the program
what you will learn each year
Year 1:

Food Biotechnology; Formation of toxic compounds during the food processing; Organisation of food research, quality management, and assurance; Nutrition and health; Applied statistics; Functional Food.

Year 2:

The new food product development, production planning, food ethics; Dietetic nutrition peculiarities; Applied Organizational Psychology; Small Business Management; Food additives in innovative technologies; Industrial Practice; Master thesis.
Why study Food Science at LSMU?
Extensive interdisciplinary studies based on fundamental and applied research.

Diploma recognized in the EU and other countries.

Possibility to join various research projects via student scientific clubs.

Two industrial practices at the selected food establishment to develop practical skills.

The multicultural environment and student community: international students from 70 different countries make up nearly 17% of the total student population at LSMUSupport system for students' adaptation: mentoring, tutoring and psychological counseling.

Possibility to study abroad according to the Erasmus+ exchange program.

Student work - 20 hours/week allowed without any permits.

Residence permit extended for 6 months after graduation to look for a job in Lithuania or EU.
Admission
International students could be admitted into the English program of the Lithuanian University of Health Sciences if they provide the legalized high school or college certificate and transcript (officially translated into English) and meet the Entrance Exam requirements. Good grades in biology, chemistry, and physics will give preference. Good knowledge of the English language is obligatory.
Items to be submitted (in English or with an authorized English translation):
Matriculation / School Leaving Certificate confirmed by the governmental authorities (see below "Legalization of Educational Documents");
Transcripts of high school/ senior secondary school courses verifying successful completion of General Biology and General Chemistry. For Health Psychology program - Mathematics and General Biology;
Certificate proving the knowledge of the English language: TOEFL – minimum 65 points (iBT); IELTS – above 5.5 points; the certificate confirming the knowledge of a foreign language at minimum B2 level (CEFR) or similar. If you are not able to present any certificate proving the knowledge of the English language you will have to take an English language test prepared by the University. The English language test will be given on the same day as the test in Biology/Chemistry;
Motivation letter;
Brief CV;
Passport or ID copy;
Health Certificate based on complete medical examination;
Three passport-type photographs (3x4 cm);
Application fee 150 EUR (nonrefundable).
Testimonials

"Studying medicine at the LSMU gives you not only an opportunity to become a doctor but also to live in a new environment, see a different culture, learn a new language, and interact with people from all over the world. Besides you can travel around Europe during your holidays. Make your own 6-year-long adventure!" - Ariel Krutouz
Last updated Jun 2020
About the School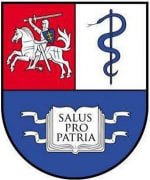 The University is the largest institution of higher education for biomedical sciences in Lithuania, successfully integrating studies, research, and clinical practice. LSMU consists of two main academi ... Read More
The University is the largest institution of higher education for biomedical sciences in Lithuania, successfully integrating studies, research, and clinical practice. LSMU consists of two main academies: Medical Academy and Veterinary Academy.
Read less