Read more about this program on the school's website
Program Description
An interprofessional degree for tomorrow's public health leaders. Study public health in classrooms that extend well beyond campus borders, into a city famous for its forward-thinking approach to public health advocacy and community outreach.
The Master of Public Health program prepares future public health leaders to address pressing public health issues at the local, state, national, and global levels. The MPH promotes community engagement, professional collaborations, evidence-based practice, and public health advocacy. Graduates gain the knowledge and skills to improve population health while identifying and assessing the health needs of underserved populations in their communities and around the world, with an emphasis on preventative strategies and practices.

The MPH degree at USF is:
Authoritative - CEPH-Accredited Program
Flexible - All classes offered in an evening, blended-learning format. Classes offered in San Francisco, Sacramento or Online
Interprofessional - Award-Winning and World Renowned Faculty from Public Health, Nursing, Behavioral Health
Hands-on Practical Experience - up to 300 hours of fieldwork placement in a public health organization
Top Ranking - Ranked as one of the top MPH programs in the country
Public health refers to all organized measures (whether public or private) to prevent disease, promote health, and prolong life among the population as a whole. Beyond just the prevention and eradication of particular diseases, Public Health focuses on the entire spectrum of health by focusing on the political, economic and social conditions - what we call the social determinants - that promote the health of populations.
The Master of Public Health (MPH) Program is an interprofessional degree offered by the School of Nursing and Health Professions through its Department of Population Health Sciences. The MPH is designed for students interested in learning the practical aspects of public health and developing critical leadership skills needed to promote population health and prevention of diseases. The program is particularly well suited for candidates eager to develop practice-oriented skills and competencies to promote population health. Candidates complete coursework in a myriad of fields, including epidemiology, biostatistics, community and behavioral health, environmental health, and public health policy and leadership.
The Master in Public Health (MPH) program focuses on developing public health leaders and generalists who will advance public health, social justice, and well being and promote community engagement, professional collaborations, evidence-based practice, and public health advocacy.
The MPH program is offered at our Main Campus in San Francisco, at USF's Sacramento Campus, and online. It can be completed as a two (2) year part-time program in five or six semesters.

OPPORTUNITIES FOR FOCUS AREAS
Students in the MPH program can work with faculty who specialize in areas such as public policy, environmental health, epidemiology, and biostatistics.

Program Options

Master of Public Health Program San Francisco Main Campus
Classes are hybrid — meaning a combination of on-campus class time and online coursework when not in class
Courses are offered in the evening beginning at 5 p.m
The MPH San Francisco Main Campus program is an interprofessional degree which includes coursework in fields of epidemiology, biostatistics, community and behavioral health, environmental health, and public health policy and management
Ideal if you're eager to develop practice-oriented skills and competencies to promote population health
Online Master of Public Health Program
You have a flexible asynchronous schedule meaning you can log on at any time to complete coursework
Online coursework has expected deadlines and includes the option of logging into a virtual class at specific times
Online courses also require a residency which means you must attend two out of three webinars or seminars in person or virtually during the semester.
SAN FRANCISCO MAIN CAMPUS & ONLINE CURRICULUM | 6 SEMESTERS: 45 CREDITS
MPH 611: Introduction to Public Health and Health Promotion | 3 credits
MPH 612: Biostatistics in Public Health | 4 credits
MPH 621: Epidemiology | 4 credits
MPH 622: Communicating for Healthy Behavior and Social Change | 4 credits
MPH 635: Social Justice, Health Policy, Ethics, and Public Health Law | 4 credits
MPH 636: Public Health Program Planning, Management and Evaluation | 4 credits
MPH 632: Environmental and Occupational Health Issues in Public Health | 4 credits
MPH xxx: Elective 1 | 2 credits
MPH xxx: Elective 2 | 2 credits
MPH 631: Public Health Systems Leadership and Administration | 4 credits
MPH xxx: Elective 3 | 2 credits
MPH xxx: Elective 4 | 2 credits
MPH 641: Public Health Fieldwork Internship (300 minimum hours) | 4 credits
MPH 642: Public Health Capstone Seminar | 2 credits

The course list is a sample curriculum pattern and is subject to change.

ELECTIVES | 2 CREDITS EACH
MPH 601 Introduction to Public Health for the Advanced Practice Registered Nurse (APRN)
MPH 602: Global Public Health - Emphasis on Latin America
MPH 624: Maternal and Infant Child Health
MPH 625: Grant Writing for Public Health Programs
MPH 626 Population Health Informatics: Systematic Application to Public Health
MPH 628: Aging and Public Health
MPH 630: Disaster Preparation and Response
MPH 633: Introduction to Community-Based Participatory Research
MPH 634: Public Health Law: Research and Drafting Legislation
MPH 637: Public Health Policy: Issues, Theories, and Advocacy
MPH 638: Strategic Planning and Implementation
MPH 645: Sexual Health in Public Health Practice
MPH 646: Advanced Epidemiology with Statistical Software Applications
MPH 647: Adolescent Health
MPH 648: Project Management in Health Care
MPH 653 Research Methods in Public Health and Epidemiology
MPH 654: Global Health Policy
MPH 655: Global Health
MPH 656: Agriculture, Food and Nutrition
MPH 657: Health Economics and Public Health Change
MPH 658: MPH Mobile Applications: Mobile Application Development for Public Health
MPH 659: Essential Tools for Making Public Health Change
MPH 693: Cultural and Linguistic Preparation for Healthcare
MPH 694: Cultural and Linguistic Preparation for Healthcare

Master of Public Health Program Sacramento Campus
Courses are offered year-round one (1) evening per week over the course of two (2) years
With a focus on health policy leadership, the MPH in Sacramento Campus is an interprofessional concentration
Includes a clinical component that draws from expertise in the School of Nursing and Health Professions and the School of Management in the domains of public health policy, management, and leadership and global health to train a new generation of population health leaders
Is particularly suited to aspiring leaders in health administration and public health policy, as well as candidates aspiring for entry into doctoral programs in medicine, nursing, and allied fields of health
Fieldwork Hours
In addition to the classroom experience, students are required to complete a fieldwork requirement of 300 hours at a health-related organization. Fieldwork hours can also be completed at a community agency, hospital, or a health center in the Bay Area, Sacramento, nationally or abroad. These hours are generally completed during daytime work hours but can vary by field placement. Students work with the Fieldwork Coordinator to figure out an organization that best fits their needs.

Additional Program Options
DUAL DEGREE PROGRAM FOR MS PUBLIC HEALTH AND BEHAVIORAL HEALTH
If you are interested in gaining solid knowledge base in public health as well as additional skills in health education and behavioral health, then you might want to consider our MPH-MSBH dual degree option. The courses are inter-professional, practice-oriented, and emphasize applied skills. Through the dual degree, you will learn to plan, design, implement and lead evidence-based health care and community programs. By pursuing the dual degree option, you will also earn two degrees with a substantial savings in both time and cost.
Admission to the Master of Public Health (MPH) program is based on an overall appraisal of the applicant's preparedness for graduate-level study.
Employment background, previous academic coursework and preparedness, research interests, and long-term professional goals are all factors that are considered as part of admission to the MPH program.

Application Materials
All application materials should be uploaded through the online application form. The School of Nursing & Health Professions Office of Graduate Admissions does not accept mailed materials.
Applicants can check their application status online or by contacting the School of Nursing & Health Professions Office of Graduate Admissions at sonhpadmissions@usfca.edu.

Application Requirements
The following requirements are considered in the review of applications:
A completed online application and fee
Completion of a bachelor's degree (in any field) from an accredited institution
Unofficial transcripts from all colleges/universities attended. Official or unofficial transcripts should be uploaded through the online application form. Transcripts must reflect the name of the institution attended, degree earned, grades earned, and GPA. Applicants should ensure that all transcripts are readable once uploaded. Submission of official transcripts is ONLY required for all admitted students who decide to enroll. For non-U.S. transcripts, applicants please submit translated transcripts.
Grade point average of 3.0 or higher
Personal statement of interest and goals (2 to 3 pages)
Two letters of recommendation. Applicants are required to submit letters of recommendation from individuals who can attest to their competence and ability to be successful at a graduate level of study. In the online form, enter the names and e-mail addresses for recommenders. They will receive an e-mail from USF with instructions to upload their letter.
Professional résumé. We are interested in the progression and mix of responsibilities in your work and volunteer experience and your skills. Experience should be for college and beyond (no high school).
No course prerequisites to the program. However, competency in precalculus math and the basic biological and social (psychology, anthropology, sociology, economics) sciences is helpful.
Fluency in a second language is helpful as well, but not required.
No GRE required
For international students only:

Certification of Finances form or Letter of Support
Bank statement(s) that indicate funds for the total costs
A copy of passport copy
English Language Exam: Official TOEFL, IELTS or PTE scores
International Transcripts: Your transcripts need to be in the original language of your university, AND in English translation.
Refer to the International Graduate Student Admission page for test score requirements and additional information.
PROGRAM GOAL I – EDUCATION
To educate individuals for professional careers in public health by offering a high-quality educational program focused on identified core competencies in public health using innovative and effective pedagogy (e.g. Ignatian Pedagogy), taught by well-qualified faculty and practicing professionals, while incorporating faculty, student, and community feedback for continuous improvement.
PROGRAM GOAL II – DISCOVERY
To enhance public health knowledge in the local, national, and global public health communities through evidence-based public health practice.
PROGRAM GOAL III – SERVICE
To provide faculty leadership and expertise in forms of managerial and programmatic support that enhances student learning through active service to local, national, and global public health communities.
PROGRAM GOAL IV – WORKFORCE DEVELOPMENT
To provide the pedagogy to prepare public health professionals who implement socially just strategies to identify, prevent, and solve community health problems with a focus on the needs of vulnerable populations.
Upon completion of the MPH program, the graduate will be able to:
Assess, monitor, and review the health status of populations and their related determinants of health and illness.
Demonstrate the ability to utilize the proper statistical and epidemiologic tools to assess community needs and program outcomes.
Identify and prioritize the key dimensions of a public health problem by critically assessing public health literature utilizing both quantitative and qualitative sources.
Specify approaches for assessing, preventing, and controlling environmental hazards that pose risks to human health and safety.
Apply theoretical constructs of social change, health behavior and social justice in planning community interventions.
Articulate the relationship between health care delivery and financing, public health systems, and public policy.
Apply evidence-based principles to the process of program planning, development, budgeting, management, and evaluation in public health organizations and initiatives.
Demonstrate leadership abilities as collaborators and coordinators of evidence-based public health projects.
Identify and apply ethical, moral, and legal principles in all aspects of public health practice.
Develop public health programs and strategies responsive to the diverse cultural values and traditions of the communities being served.
Effectively communicate public health messages to a variety of audiences from professionals to the general public.
Advance the mission and core values of the University of San Francisco.
MPH graduates work in a wide variety of settings. You will find MPH degree holders at every level in community health agencies – municipal, state, and federal.
They work in community-based non-­governmental organizations (NGOs) or larger multi-­state or national outreach groups. They may be employed by school boards, Departments of Public Health, State task forces, community hospitals, the Environmental Protection Agency (EPA), or maternal and child health agencies.
International public health specialists may work for national agencies, or intergovernmental groups, such as the United States Agency for International Development (USAID) or the United Nations Development Organization (UNDP).
Academic institutions may employ MPH graduates to conduct research in public policy, public health law, environmental health or epidemiology.
In the corporate world, MPH graduates may be employed at biotech firms, in corporate wellness initiatives, at managed care organizations, project management or data analysis or coordinating services for healthcare providers.
Last updated Jun 2018
About the School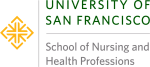 The School of Nursing and Health Professions follows the University of San Francisco's mission to provide a liberal arts education rooted in the Jesuit tradition of diversity, justice and global persp ... Read More
The School of Nursing and Health Professions follows the University of San Francisco's mission to provide a liberal arts education rooted in the Jesuit tradition of diversity, justice and global perspectives.
Read less