Master of Public Health and Behavioral Health
Home ›
Master ›
Master of Public Health and Behavioral Health
Read more about this program on the school's website
Program Description
Why get a dual degree in public and behavioral health?
The MPH-MSBH dual degree has been designed to prepare practitioners who are committed to eliminating health disparities, working with vulnerable populations, and creating social and physical environments that promote good health for all. This program is ideal for students who want a broad, in-depth knowledge base in public health with an emphasis on behavioral health skills. Courses are practice-oriented and applied skills are emphasized. Dual degree students graduate with the knowledge to design, implement, and lead evidence-based health care and community programs.
On completing the dual degree program, graduates will have two degrees: Both the Master of Public Health and the MS in Behavioral Health. By pursuing this dual degree option, students will achieve substantial savings in time and credits over completing these two degrees separately.
The dual degree requires approximately 60 units. Full-time, dual degree students should be able to complete their coursework in 6 semesters (24 months). Students may complete the program in as little as 5 semesters or can attend on a part-time basis and spread the program over three years. The course sequence can be adjusted on an individual basis.
If you have specific questions about the MPH-MSBH dual degree program, contact the program adviser, Dr. Kelly L'Engle (klengle@usfca.edu).
The dual degree program accepts new students for a fall semester start. Current USF MPH or MSBH students should talk with their advisers if they wish to extend their schooling and earn a second degree. Applications to the dual degree program should be made through the MSBH application. If you have questions about the application process, contact Tamara White (twhite3@usfca.edu).
MPH-MSBH dual degree has been designed to help students understand and address the social, emotional and environmental determinants of health and wellbeing. The program stresses the needs of underserved and at-risk populations.
The Dual Degree program has a substantive focus on how to develop evidence-based interventions that have a high likelihood of success, use behavior change theory and holistic models and frameworks, and are based on community needs and assessment. MSBH coursework provides a foundation in effective behavioral health approaches that can be used in primary care, chronic disease self-management, and community settings.
The program teaches students how to implement and monitor programs; set up budgets, timelines, and tracking tools; and write a grant proposal. Dual degree students also learn about ethics and policy and their roles in program development. Further, there is a major focus on research methods, epidemiology, and statistical analysis. Students take a class in each of these areas to learn and hone skills for conducting research and evaluation activities.
Semester 1 – Fall Academic Year 1
BH612 – Introduction to Community Health Concepts – 2 units
BH614 – Foundational Skills for Behavioral Health Practice – 1 unit
MPH612 – Biostatistics – 4 units
MPH622 – Communicating for Healthy Behavior and Social Change – 4 units
Semester 2 – Spring Academic Year 1
MPH621 – Epidemiology – 4 units
MPH636 – Public Health Program Planning, Management & Evaluation – 4 units
BH624 – Chronic Conditions: Biopsychosocial Aspects & Interventions – 3 units
MPH Elective #1 – 2 units
Semester 3 – Summer Academic Year 1
PsyD728 – Integrated Behavioral Health in Primary Care – 3 units
MPH631 – Public Health Leadership and Administration – 4 units
*MPH635 – Social Justice, Health Policy, Ethics, and Public Health Law – 4 units
MPH Elective #2 – 2 units
Semester 4 – Fall Academic Year 2
BH603 – Applied Research Methods – 3 units
BH623 – Team Leadership & Interprofessional Collaboration – 2 units
MPH632 – Environmental and Occupational Health – 4 units
Semester 5 – Spring Academic Year 2
BH615 – Project Management & Quality Improvement – 2 units
BH626 – Behavioral Health Fieldwork I – 2 units
*BH621 – Legal, Ethical & Professional Issues in Behavioral Health – 2 units
MPH Elective #3 – 2 units
Semester 6 – Summer Academic Year 2
BH640 – Behavioral Health Informatics – 3 units
BH646 – Behavioral Health Fieldwork II and Capstone – 3 units
MPHElective #4 – 2 units

Total Units to Graduate – 58-60 Units
*BH621 [2 credits] may be taken in place of MPH 635 [4 credits]; if this option is selected then a policy elective is required.
Admission to the Dual Degree Program in Public Health and Behavioral Health is based on an overall appraisal of the applicant's preparedness for graduate-level study.
Employment background, previous academic coursework and preparedness, research interests, and long-term professional goals are all factors that are considered as part of admission to the program.

Application Materials
All application materials should be uploaded through the online application form. The School of Nursing & Health Professions Office of Graduate Admissions does not accept mailed materials.
Applicants can check their application status online or by contacting the School of Nursing & Health Professions Office of Graduate Admissions at sonhpadmissions@usfca.edu.

Application Requirements
The following requirements are considered in the review of applications:
A completed online application and fee
Completion of a bachelor's degree (in any field) from an accredited institution
Prerequisites: College-level courses in both psychology and statistics or research methods are required. Applicants can meet these prerequisite requirements if they took AP courses in these subjects during high school. Applicants applying to the MSBH or the MPH/MSBH dual degree programs prior to taking these prerequisites can be admitted on a conditional basis. Note that admitted students must complete conditional admission requirements prior to full admission and start of classes.
Unofficial transcripts from all colleges/universities attended. Official or unofficial transcripts should be uploaded through the online application form. Transcripts must reflect the name of the institution attended, degree earned, grades earned, and GPA. Applicants should ensure that all transcripts are readable once uploaded. Submission of official transcripts is ONLY required for all admitted students who decide to enroll. For non-U.S. transcripts, applicants please submit translated transcripts.
Grade point average of 3.0 or higher
Personal statement with three (3) required parts. Please write a separate essay for each prompt:

Part 1: What do you consider the most pressing concern in healthcare today? Why? Please present at least 3 reasons to support your claim.
Part 2: Tell us about your interest in working in public and/or behavioral health with underserved populations. Please include relevant information about your values, work history, life experience and education that have led you to pursue a graduate degree.
Part 3 For applicants to the dual degree program ONLY: What drives your interest in the dual degree program? What particular skills do you hope to learn? How does the dual degree relate to your career goals?
Part 4 (Optional): Is there anything else you would like the admissions committee to note about you and your application materials?

Two letters of recommendation. Applicants are required to submit letters of recommendation from individuals who can attest to their competence and ability to be successful at a graduate level of study. Letters should discuss the applicant's ability to succeed academically and should speak to his or her potential for professional growth in the field of behavioral health. In the online form, enter the names and e-mail addresses for recommenders. They will receive an e-mail from USF with instructions to upload their letter.
Résumé
We are interested in the progression and mix of responsibilities in your work and volunteer experience and your skills. Experience should be for college and beyond (no high school).
For international students only:

Certification of Finances form or Letter of Support
Bank statement(s) that indicate funds for the total costs
A copy of passport copy
English Language Exam: Official TOEFL, IELTS or PTE scores
International Transcripts: Your transcripts need to be in the original language of your university, AND in English translation.
Refer to the International Graduate Student Admission page for test score requirements and additional information.
Last updated Jun 2018
About the School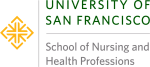 The School of Nursing and Health Professions follows the University of San Francisco's mission to provide a liberal arts education rooted in the Jesuit tradition of diversity, justice and global persp ... Read More
The School of Nursing and Health Professions follows the University of San Francisco's mission to provide a liberal arts education rooted in the Jesuit tradition of diversity, justice and global perspectives.
Read less