Master of Medical Radiation Science (with specialisations)
Home ›
Master ›
Master of Medical Radiation Science (with specialisations)
Read more about this program on the institution's website
Program Description
Advance your medical radiation science expertise and skills to further your career in a rapidly evolving industry with the Master of Medical Radiation Science (with specialisations) from Charles Sturt University. A flexible postgraduate degree for practising professionals, this course is offered across five specialisations: Computed Tomography, Magnetic Resonance Imaging, Radiographic Image Interpretation, Nuclear Medicine and Molecular Imaging.
If you prefer to gain a deeper holistic knowledge of the field, Charles Sturt University also offers a generic Master of Medical Radiation Science, supporting radiographers, radiotherapists and nuclear medicine scientists.
Course highlights
Each specialisation and the generic course in this master's program offers you the choice between two study pathways – the research or the coursework option.
Join the research cutting edge:
Our research option includes the study of subjects relevant to the specialisation, a research proposal and project. You'll complete a paper that is suitable for submitting to a publication/journal for peer-reviewed publication.
Build expertise in your area of interest:
Our coursework option offers you the opportunity to focus on theory and practice subjects specific to your specialisation. Designed for practising medical radiation scientists to advance both their technical expertise and academic understanding of the chosen specialisation, this course is offered online.
Choose your pathway:
On completion of 64 points of study (including any credit granted), you may elect to exit the course with a graduate diploma. The Graduate Diploma of Medical Radiation Science does not include research project subjects generally found in the master's degree.
Learn from industry leaders:
Designed, developed and delivered in partnership with industry leaders, this course responds to emerging sector requirements and expectations.
Specialisations
Students in this course can choose from one of five specialisations or a generic stream.
Computed Tomography: Recent advances in computed tomography (CT) have made this well-established imaging modality an even more important tool in patient management. The Master of Medical Radiation Science CT specialisation has been developed for those working in the field of CT. This specialisation covers all aspects of modern CT practice. Students have the opportunity to research an aspect of CT for their final project.
Magnetic Resonance Imaging: This specialisation explores the rapidly evolving field of magnetic resonance imaging (MRI) and is designed to support practitioners working within the clinical MRI environment. The specialisation provides a theoretical grounding in the principles and applications of MRI scanning to include instrumentation, underpinning physics, safety, patient care, scan techniques, service provision and emerging developments. The course will prepare students to respond to the ever-increasing diagnostic capabilities of this exciting modality.
Molecular Imaging: This is a new specialisation that explores the burgeoning field of molecular imaging. It caters specifically to the medical radiation scientists engaged in imaging across the modalities that comprise molecular imaging: PET, SPECT, CT, MRI and ultrasound. Medical imaging and nuclear medicine students will learn the principles and applications of imaging and hybrid imaging technologies in the assessment of biological activity in the body at the molecular level, including oncology, neurological and cardiovascular diseases. Recent innovation and development in imaging technology, radiopharmacy (molecular probes) and image-guided therapy are the prime focus of this specialisation and will provide you with a sound platform of knowledge to apply clinically in molecular imaging.
Nuclear Medicine: The Nuclear Medicine specialisation has been developed for those working in the field of nuclear medicine. The course covers all aspects of modern nuclear medicine practice including advanced instrumentation, radiopharmacy and procedures and CT for nuclear medicine. Elective subjects include areas such as clinical education and management. Students have the opportunity to undertake original research into an aspect of nuclear medicine.
Radiographic Image Interpretation: This specialisation will meet the needs of students working in Australia and overseas. It is designed to give students an in-depth appreciation of medical images, in order to enhance their radiographic practice and allow them to make more informed decisions regarding radiography. This specialisation will also better equip students to give informal verbal radiographic opinions to referring clinicians, within the scope of professional codes of conduct. It will prepare the student for a radiographic reporting role if that is appropriate for the country in which they are working. This specialisation may be done entirely by coursework or may include the research project subjects.
Generic course: If you choose to study the generic stream of the Master of Medical Radiation Science, you can tailor the program to best suit your individual professional needs and preferences. This flexibility allows you the option of selecting a range of electives from two groups. Group A includes subjects specific to the Master of Medical Radiation Science such as processes of pathology, image-guided therapy, digital imaging technology, MRI, CT and image interpretation subjects. Group B offers a wide range of subjects from the allied health, marketing and information technology areas such as clinical issues in health, clinical teaching techniques, perspectives on health care systems, ethics, law and medical science, marketing management, systems analysis, ethics and information technology. You will have the option to complete the degree entirely by coursework or by including a research project if desired. In addition to being available to radiographers and nuclear medicine technologists, the generic course is also open to radiotherapists.
Career opportunities
With this degree, you could influence practices and standards of care and treatment within your own public or private health service. The Master of Medical Radiation Science (with specialisations) could also lead to a career in research, where you could extend and evolve industry capability through detailed investigations into various technologies and the impact of these on patient treatment and diagnosis. Or you could move into policy development and combine your professional experience with your academic insights to advance the scope of industry practice.
Credit and pathways
If you've studied before, you may be able to fast-track your postgraduate degree with Recognition of Prior Learning (RPL). If you've completed the relevant tertiary study, you could be awarded credit for your postgraduate degree. Get in touch to see if you're eligible for credit based on your previous qualifications or industry experience.
Master of Medical Radiation Science (with specialisations)
Standard Charles Sturt University Credit Policy applies
Subjects
For each 8 point subject, you are enrolled in, you should expect to spend 10 to 12 hours per week working on assignments and assigned readings, tutorial assistance, individual or group research/study, forum activity, workplace learning, and attending lectures, residential schools, or examinations.
If you are studying four subjects per session, this is equivalent to a full-time job. The workload for some subjects may vary as a result of approved course design.
Graduation requirements
As a Charles Sturt University student, throughout your course, you have a responsibility to continue to develop skills in English language, literacy and numeracy as appropriate to your discipline. This ongoing development will enable you to effectively participate in your course and graduate prepared to enter the workforce.
To graduate students must satisfactorily complete 96 points.
"I have and will continue to recommend CSU to future students, as I believe it has a great balance to help students succeed in their ambitions."
Megg Powell - Charles Sturt University graduate
International students
Gain an internationally recognised qualification with Charles Sturt University at one of our vibrant regional campuses, or study online from the comfort of your own home - anywhere in the world!
Please note: if you choose to study online with Charles Sturt University, the course study mode will not meet necessary requirements for granting Australian student visas.
Entry requirements
All students enter the Master of Medical Radiation Science (with specialisations), once admitted to the course they can elect to transfer to a specialisation or remain in the 'generic' course (i.e. complete without a specialisation). Student can only complete one specialisation.
To be eligible for admission to this course students must:
hold a minimum of an AQF 7 degree in medical radiation science;
have registration as a Medical Radiation Scientist with the Australian Health Professional Regulation Agency. International students should provide evidence of registration with local authorities;
have completed a minimum of 1-year full-time employment as a medical radiation scientist.
Applicants considering the computed tomography (CT) and magnetic resonance imaging (MRI) specialisations are expected to have had clinical experience with these modalities.
English language requirements
You can normally meet the English Language Proficiency (ELP) requirements for entry to most Charles Sturt University courses by doing one of the following:
Providing evidence of having completed a sufficient standard of study in English.
Obtaining Academic IELTS within the last 2 years, with a minimum overall score of 6 and no individual score below 5.5.
Obtaining a qualification deemed to be equivalent to Academic IELTS (and its minimum scores) by Charles Sturt.
Support
When it comes to postgraduate study, we understand that having the right kind of support is key to your success. You'll enjoy flexible learning that allows you to fit study into your life, at a time that suits you. Our team are only a phone call or email away and you can even use our online chat for any questions you may have. We can also help you connect with scholarships, grants, loans, and assistance that can make further study affordable. At Charles Sturt University, we're with you every step of the way.
Key points
Charles Sturt University is Australia's leading regional university. Charles Sturt campuses are small, friendly communities, based in vibrant regional Australian locations.
Charles Sturt University is #1 for graduate employment, More Charles Sturt grads get jobs faster than grads from any other university in Australia. (Good Universities Guide 2020/21).
Charles Sturt's approach to teaching and learning combined with hands-on experience ensures graduates have the best opportunities to kickstart careers in their chosen profession.
Last updated Jan 2021
About the School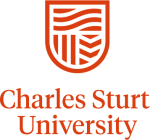 Join the university with the highest graduate employment rate in Australia* – more Charles Sturt University grads get jobs faster than grads from any other uni. Employers know Charles Sturt grads are ... Read More
Join the university with the highest graduate employment rate in Australia* – more Charles Sturt University grads get jobs faster than grads from any other uni. Employers know Charles Sturt grads are skilled, confident and ready to get to work.
Read less