Master in Pharmaceutical & Biotech Management
Home ›
Master ›
Master in Pharmaceutical & Biotech Management
Program Description
What is Master in Pharmaceutical & Biotech Management about?
The Master in Pharmaceutical & Biotech Management is a cutting-edge programme covering the most recent developments in the pharmaceutical, biotech and life science industry. EADA offers you the opportunity to join a top-ranked business school in the city centre of Barcelona, one of the European hubs of the sector.
At EADA, you learn qualitative and quantitative skills that provide added value to your profile in the industry. Classes are small and diverse, and participants learn from experienced faculty using the case study method.
The core courses take place in the first and second trimesters, with the opportunity to discover where your interest lies during the professional concentrations offered in the third trimester: Pharmaceutical, Consumer Healthcare, Biotechnology, Medical Devices, and eHealth.
The courses at our Barcelona City Centre Campus are combined with leadership modules at our Residential Training Campus. During these modules, you develop the critical thinking skills and leadership abilities that make you an asset to any organisation in the industry.
Key Facts
Enjoy the Barcelona lifestyle
As the only top-ranked business school in the Barcelona city centre, EADA is where you want to be. We offer a unique learning environment, with the hustle and bustle of one of the most beautiful cities in Europe waiting to be explored just a few steps away.
10 MINUTES BY FOOT TO PLAZA DE CATALUÑA
15 MINUTES BY BIKE TO THE BEACH
Get your hands dirty
Our practical methodology means that you are not passively taking notes as lecturers drone on and on. You actively participate in engaging class discussions, sharing your insights and debating innovative solutions to real sustainable business problems – all under the guidance of our expert faculty.
100% OF FACULTY WITH EXPERIENCE
+80 CASE STUDIES PER YEAR
Stand out from the crowd
At EADA, you stand out just by being yourself. Small class sizes and individual follow-up make the most of your unique potential. Joint activities with other programmes allow you to integrate into the larger EADA community without losing that personal touch.
25-30 PARTICIPANTS PER CLASS
+300 MASTER PEERS FOR NETWORKING
Develop the leader in you
Anyone can be a boss, but it takes blood and sweat to become a true leader. Our intense leadership development programme takes you from the reflection phase right through to implementation, preparing you to be a self-aware, effective leader of change.
14-HECTARE RESIDENTIAL TRAINING CAMPUS
4 LEADERSHIP MODULES
Internationalise your profile
There is no better preparation for your future career than spending a year at EADA, with multicultural, multidisciplinary teams analysing how to create sustainable business models through innovation. Your global perspective may start here, but this is just the beginning.
+85 NATIONALITIES REPRESENTED
70% INTERNATIONAL FACULTY
Hack your dream career
With a curriculum focused on the industry and regular networking and recruiting opportunities, our grads are uniquely prepared for what lies ahead.
+350 PARTNER COMPANIES & ORGANISATIONS
+120,000 ALUMNI CONTACTS ALL OVER THE WORLD
Programme structure
PHASE 1 - 1st trimester (Sept. - Dec.)
Orientation module
Precourse: financial statements, statistics, and economics
Precourse: Career Services
Case Method
Beginner Spanish course (optional)
Collbató Residential Training Campus
Self-leadership Foundations
Leading Individuals & Teams I
Barcelona City Centre Campus
Corporate Financial Management
Drug Discovery & Development / Portfolio Management
Finance
Government Affairs
Health Economics & Quantitative Management
Healthcare Value Chain
PHASE 2 - 2nd trimester (Jan. - Mar.)
Collbató Residential Training Campus
Leading Individuals & Teams II
Barcelona City Centre Campus
Industrial & Operations Dynamics in Life Sciences
Market Access
Marketing & Sales
Pricing
Regulatory Affairs
Supply Chain
International Week
Negotiation Week
International Business Trip
PHASE 3 - 3rd trimester (Apr. - Jun.)
Collbató Residential Training Campus
Barcelona City Centre Campus
Professional concentrations
Pharmaceutical
Consumer Healthcare
Biotechnology
Medical Devices
eHealth
Participants take all of the professional concentration courses.
Final Project
Tutorials throughout the year, presentation between June and Sept.
PHASE 4 - 4th trimester (Sept. - Dec.)
Exchange programme (optional)
One-term exchange with + 30 partner schools around the world. Double degree option from Aston Business School (U.K.), EDHEC (France), EBS (Germany) and HHL (Germany).
Students applying to take part in the exchange programme must complete the admission process (in some cases including GMAT, TOEFL, etc.) with the participating school.
Admission rounds (2019-2020 academic year)

The EADA MBA has several admissions rounds, and we recommend applying for the earliest possible round, as soon as your application package is complete. You must fill out the online application form, upload all of the required documents, complete the admission test and the interview before the deadlines listed below to be considered for an admission round.
We recommend completing your application package on the online admissions platform 2 weeks before the admission round deadline to ensure that you have time to complete the interview and admission test.
Applying early will ensure that candidates have ample time to complete the visa process as well as any supplementary language work required. For candidates interested in scholarships, we strongly recommend applying for the first or second admission rounds.
After the last admission round deadline, EADA will have a rolling admission policy, and any remaining places will be filled on a first-come-first-served basis.
Fill the application form displayed on this page so we can inform you about the details of the admission process for this program.
Last updated Mar 2020
Keystone scholarship
Discover the options our scholarship can give you
About the School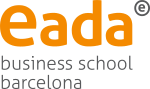 As the only top-ranked, accredited business school in the Barcelona city centre, EADA has over 60 years of experience providing business training programmes. We are committed to a practical approach g ... Read More
As the only top-ranked, accredited business school in the Barcelona city centre, EADA has over 60 years of experience providing business training programmes. We are committed to a practical approach geared to applying knowledge to the real day-to-day company world.
Read less