Master in Dental Technology
Program Description
Goethe University Frankfurt, positioned among the top international research universities, offers a wide variety of academic programs, a diverse group of research institutes, and a focus on interdisciplinary approaches to solving complex problems.
The new Master's degree program "Master in Dental Technology" (MDT) was introduced in April 2019 at the Goethe University Frankfurt am Main in order to offer advanced academic training in the field of dental technology. It is a 120 ECTS program with an international focus, which is conducted primarily in English.
The MDT is designed for Dental Technicians (Bachelor/ "Zahntechnikermeister) and dentists who want to acquire a highly advanced qualification in the field of dental technology. Within the program, students gain a deep understanding of assessment procedures, planning and scientific evaluation of complex treatments requiring dental restorations. The program focusses on synergy potentials of different treatment regimes as well as digital optimization of existing therapy options, putting emphasis on scientific aspects. In addition, dental technicians will be trained to perform non-invasive treatment steps on patients. All training will be performed on phantom heads.
Upon successful completion of the Master's course, graduates will be awarded the academic title "Master of Science (MSc.) in Dental Technology"
Program structure & content
The course is a three-year part-time program of study at Goethe University, which is structured and taught completely independently of extra University institutions and companies with regard to both content and finance.
This blended learning Master's course has a modular structure and will be conducted primarily in English. The course is divided into 17 obligatory modules and a written master thesis.
Find more information about the modules on our website: www.goethe-dental-school.de/mdt
Over a period of 3 years/ 6 semesters, you'll be traveling 4 times to the Goethe University, each time for approximately 7-8 days. During each visit, you'll have face-to-face seminars, lectures as well as hands-on training scheduled throughout the day.
Each student is able to access interactive teaching material via a website in order to monitor and support independent study during the preparation/ processing phase of material for/ from seminars and teaching units that take place at the University campus. Furthermore, all case documentation can be uploaded to the University server so that this can be assessed in order to ensure the quality of each student's practical skills. The unique tutorship supports every student along the way to finish dental restoration cases and master thesis.
Admission Requirements
In Order to be able to take part in the Master's study course you will require the following:
Excellent English skills on B2 Level (e.g. TOEFL, min score 87)
University graduates:
First Academic Degree (B or equivalent)
Dentists additionally License entitling you to practice dentistry in your country
3 years of professional work experience
Professionally qualified applicants :
Evidence of qualifying as a "Zahntechnikermeister" or equivalent degree abroad
4 years of professional work experience
After your application, we will invite qualified candidates to participate in a personal interview. The purpose of the interview is to gain a better understanding of your personality, professional experience, expectations, and motivations. Additionally, professionally qualified applicants have to complete a separate examination to determine suitability for the course.
Last updated May 2019
About the School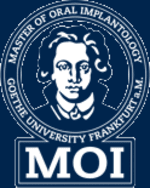 Frankfurt University is a lively, urban, and cosmopolitan university that provides an excellent atmosphere in which to research, study, think, and create. The university was founded in 1914 through pr ... Read More
Frankfurt University is a lively, urban, and cosmopolitan university that provides an excellent atmosphere in which to research, study, think, and create. The university was founded in 1914 through private funding. Thus, the university owes its establishment to the link – which is characteristic for the city of Frankfurt – between dynamic research, the legacy of the Enlightenment, and the conscious commitment of the citizens of Frankfurt to the fundamentals of international trade and industry.
Read less