Master's in Healthcare Administration
Home ›
MSc ›
Master's in Healthcare Administration
Program Description
America's healthcare systems, including providers, suppliers, insurance organizations, and policy organizations face a number of challenging imperatives in today's healthcare environment. Administrators and managers require a deeper understanding of the implications of these imperatives as well as models of new ways of thinking and creating solutions.
The Felician University Master of Science in Healthcare Administration (MSHA) enables students to develop strategic leadership approaches to solving problems in organizations as well as advancing their professional careers while building awareness of the various aspects of the dynamic healthcare environment.
The MSHA program focuses on building core competencies including the ability to integrate and apply 21st-century leadership concepts, work in and manage teams, communicate effectively to multiple audiences, make better business decisions, and demonstrate personal and organizational ethical and professional standards. Advanced courses include scholarly project work and an optional executive field placement/capstone.
Using an interdisciplinary approach that examines the healthcare industry from a nursing and business perspective, students increase their strategic thinking, decision making and teamwork competencies through online discussions, major papers, executive summaries, in class discussions, and case presentations, building critical thinkers who dig deeper and question the how and the why. Most importantly, our commitment to ethical decision making is unique – preparing healthcare leaders who reflect the Franciscan mission within a global society and world-class health systems.
Why should I choose the Felician University MSHA Program?
There are many reasons for choosing Felician University for your MSHA program, some of which include:
Felician University is accredited by the Middle States Association of Colleges and Schools
Graduate culture and community is tailored to fit mid-career professionals who desire to compete on a new level of excellence
Optional executive field placement capstone provides the opportunity to work with a healthcare executive mentor
Membership in a cohort enables students to share work experiences and learn about working in a team environment
Participation in a variety of learning activities facilitates the acquisition of knowledge
Interaction with faculty creates a collaborative, scholarly learning environment
Extracurricular events such as monthly guest speakers enrich the learning experience
Convenient schedule of courses that meet one night a week for eight weeks help you complete your degree with minimal disruption to your life
Opportunity to earn your degree in approximately two years lets you achieve your dreams quickly
Admissions Requirements
Graduation from an accredited baccalaureate program
Official transcripts of past collegiate work
Resume
Personal Statement
Note: GMAT or GRE scores may be requested from students if the other pieces of the application are not sufficient to make an admission decision.
What can I do with an MS in Healthcare Administration?
All kinds of things! Employment sectors in the Healthcare Administration field include providers (hospitals, nursing homes, outpatient care centers, rehabilitation centers, group physician practices), suppliers (consulting firms, healthcare management companies, pharmaceutical and biotechnology companies, educational organizations), insurance organizations, and policy organizations (health policy agencies, non-profit organizations with health care as their mission). An MS in Healthcare Administration gives you an understanding of management and leadership issues in health administration at the local, state, and federal level as well as in the nonprofit sector, preparing you for senior management roles.
100% of our 2017 surveyed graduates were either employed or in graduate school six months after graduation.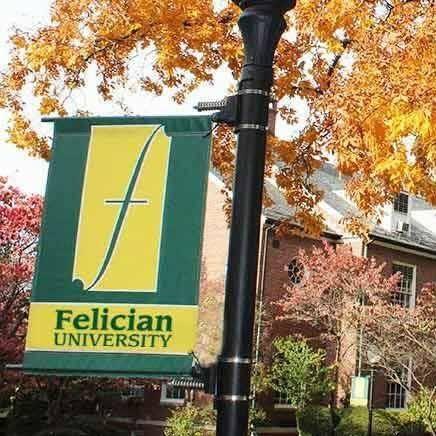 The average salary of Felician graduates is $50,112.
Where do our students and alumni find internships and employment?
Looking for an internship opportunity? Here is where our students have interned while at Felician:
Disney World

Drug Enforcement Administration (DEA)

Federal Bureau of Investigation (FBI)

Irish Repertory Theatre

New York Red Bulls Soccer Club

Pepsi Company

Prudential Financial

United Nations
Here is a sampling of where our Felician graduates are employed:
American International Group (AIG)

AT&T

Dupont

Federal Reserve Bank

Johnson & Johnson

KPMG

Morgan Stanley

Teachers in the area New Jersey schools
Felician University International Students - https://felician.edu/admissions/international-students/
Felician University Academic Programs - https://felician.edu/academics/academic-programs/
Last updated Mar 2020
About the School

Founded in 1942 by the Felician Sisters, Felician University is one of the few Franciscan universities in the country, and the only one in New Jersey. We've built our reputation with an emphasis on se ... Read More
Founded in 1942 by the Felician Sisters, Felician University is one of the few Franciscan universities in the country, and the only one in New Jersey. We've built our reputation with an emphasis on service and respect for humanity, as was the dream of Blessed Mary Angela Truszkowska - the foundress of the Felician Sisters more than a century ago. Even today, we strive to represent those values in everything we do.
Read less