MSc in International Public Health
Home ›
MSc ›
MSc in International Public Health
Program Description
Start dates: Monthly Intakes
Study mode: Online learning
Awarded by: Liverpool John Moores University
Financing: Partial Scholarships Available
MSc in International Public Health*
An improvement in population health is increasingly recognised internationally as a key element of economic and social development and nowhere is this more evident than in emerging countries with growing economies.
This course provides a broad-based understanding of health and its social and environmental determinants with a curriculum informed by key international strategies, the Sustainable Development Goals and the Social Determinants of Health.
The focus of this programme is to facilitate the development of public health practitioners; to enhance their knowledge and skills required for public health practice in their local setting. In addition, to develop a public health mindset and approach which is relevant to their role and country.
LMIC's are increasingly challenged with a double burden of disease; whilst still fighting infectious diseases they are now increasingly faced with the growth in non- communicable diseases (NCD's). Tackling these burdens require a robust evidence base built on sound research, surveillance and intelligence; policy and strategic approaches based on the evidence; health protection measures and health promotion activities at the community level. This programme will introduce these core areas of public health and enable you to apply them to your setting.
Employability
Further your career prospects.
As a graduate of this course, you will probably go on to take up a role in improving the health and wellbeing of individuals, communities and populations. The majority of our international students return to their home country to work in government or NGO health sectors. You may, however, choose to advance your research career or undertake further study to PhD level.
*Subject to validation
Why choose Liverpool John Moores University?
Study online from Liverpool John Moores University for a highly respected Master's degree and get the opportunity to earn a Unicaf Scholarship to advance your career.
Employment
Excellent employability record with 96% (HESA 2017) of our postgraduates in work.
Quality Assurance Agency
The first university to receive two commended judgements from the Quality Assurance Agency.
Quality
Ranked 61st for world-leading and internationally excellent research.
Online learning
E-learning system: Your online course experience will take place on an advanced learning management system designed to facilitate the optimal learning experience for students.
Tutor Support: Your Student Adviser will walk you through the entire process upfront and will be there to support you every step of the way from the first contact to graduation.
Online Classroom: The online learning experience will include extensive participation and interaction with faculty and fellow students.
Maximise your skills and employability
Gain new skills: Learn to communicate ideas at an advanced level, deliver work to a given length, format, brief and deadline, properly referencing sources and ideas and adopting a problem-solving approach demonstrating professionalism.
Future employment: Throughout the Master's degree key aspects will be taught which will help students with their future career.
Improve your chances: A Master's degree can improve your chances of landing a job interview.
Entry requirements
An accredited UK 2.2 Honours degree or international equivalent.
Official transcripts from all universities, colleges institutions attended.
English Proficiency: IELTS 6.0 or international equivalent.
Personal Statement.
Up to date CV.
Two references (academic or professional).
Application process
Firstly, fill the form.
Then, an Adviser from the university you applied for will call you.
Our admissions team will then reach out to you to schedule an interview, to discuss the admissions procedure and to help you with your scholarship application.
Last updated Jul 2020
About the School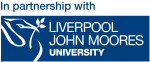 Ranked in the top 400 universities in the world – and in top 100 universities aged under 50 - Liverpool John Moores University offers
Ranked in the top 400 universities in the world – and in top 100 universities aged under 50 - Liverpool John Moores University offers
Read less