MSc Public Health (MScPH)
Home ›
MSc ›
MSc Public Health (MScPH)
Program Description
Public health problems are increasingly global and require global solutions.
With freer movement of people and human and animal foodstuffs, infectious diseases and contaminated products can rapidly become widely disseminated.
Public Health has never been more important, as we seek to prevent disease and ensure citizens have long and healthy lives.
Public health is about looking after the health of individuals and the population as distinct from dealing directly with the consequences of illness and treating sick individuals. The emphasis is on the prevention of disease and tackling the factors that contribute to illness such as environmental and behavioural factors.
The 1-year, full-time postgraduate degree is aimed at those planning to pursue careers locally or internationally and contains modules and research projects focused particularly on public health issues.
Accredited by Malaysian Qualifying Agency (MQA) and Malaysian Ministry of Higher Education (MoHE)
Accredited as a level 9 award on the National Framework of Qualifications in Ireland (NFQ) and is compliant with the European Credit Transfer System (ECTS).
The MSc in Public Health conducted at RUMC in Penang is a UCD programme recognised and awarded by the National University of Ireland (NUI)
Download Brochure: RUMC Postgraduate Programmes
Programme
Offers multi-disciplinary training and development in Public Health
Emphasises the knowledge and tools to analyse the factors that influence public healthin an international environment
Offers study and experience field work within the same country
Supervisors are chosen based on your research area of choice. You may also choose your own research supervisor/s.
Students develop knowledge of:
factors influencing health status
the epidemiological skills of study design and analysis
skills to assess the health status of populations
critical appraisal and problem-solving attribute
ability to work as team members in planning, implementing, monitoring and evaluating health policy
capacity to integrate a range of disciplines effectively
understanding of organisation and financing of health services and their impact on international population health
Course Content
Biostatistics I
Infectious Disease Epidemiology
Applied Research Methods & Data Management
International Health I and II
Fundamentals of Epidemiology
Chronic Disease Epidemiology
One Health
Principles of Management, Health Economics & Health Policy
Environmental Science & Health
Health Promotion
Family Health
Occupational Health for Public Health Professionals
Dissertation
x
Biostatistics II
Graduate Teaching Assistant
Entry Requirements
Medical Degree or Bachelor's Degree with minimum cGPA of 2.50 or
English Language Proficiency
Fees (paid in instalments)
Malaysian: RM 40,000 only International: €9,000
Scholarships & Loans
Students may apply for:
Malaysia Ministry of Health (subject to availability from MOH) – for MOH employees only
Employees Provident Fund (EPF) Withdrawals – http://www.kwsp.gov.my/portal/en/web/kwsp/home
Closing Date: 31st July
Late applicants may be considered should space still be available and still viable for admissions and visa processing (where applicable) to be completed before commencement in September.
Career Progression
positions in their country's public health service
internationally with Global Agencies (WHO, FAO, OHUN)
NGOs involved in health improvement initiatives
Entry qualification for US CDC Epidemiology Investigation Service and similar Field Epidemiology programmes
Research and/or academic public health careers – DrPH or PhD
Quotes from Faculty
"One of the benefits of the course is the broad nature of the subject areas covered and most students become excited about some particular area and often a lifetime interest is triggered. The multi-disciplinary nature of the participants allows for great sharing of knowledge and experience and a mutual respect for people with other competencies. Because of the interactive nature of teaching and group working, lifetime friendships are made." said Dr Mary Codd, Senior Lecturer in Epidemiology & Biostatistics and Associate Dean for Postgraduate Studies with responsibility for over 80 graduate research students.
"Challenges in major public health issues are similar in many jurisdictions with lifestyle-related diseases, infectious diseases and appropriate preventive strategies. This UCD MScPH programme at RUMC benefits from the experiences in developing and developed countries; it is an international programme which attracts students from all over the world," Prof Dato' Dr Abdul Rashid, Public Health programme director and Head of the Public Health programme at RUMC.
Last updated Sep 2018
About the School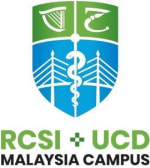 RCSI & UCD Malaysia Campus (RUMC - formerly Penang Medical College) is still the only Irish Medical University in Asia. owned by two world-renowned medical universities in Ireland, the RCSI and UC ... Read More
RCSI & UCD Malaysia Campus (RUMC - formerly Penang Medical College) is still the only Irish Medical University in Asia. owned by two world-renowned medical universities in Ireland, the RCSI and UCD. The University offers internationally recognised programmes with RCSI, UCD and the National University of Ireland. The MSc in Public Health is a postgraduate programme awarded by the National University of Ireland and University College Dublin.
Read less