Read more about this program on the school's website
Program Description
Overview
The Master of Science in Epidemiology provides intensive education and training in the concepts and methods of epidemiology and biostatistics for those interested in careers in research on the determinants of health and disease in populations. The program differs from the MPH in the level of depth and rigorous focus on skills needed for epidemiologic research. It is targeted at health professionals seeking more intensive training in research and provides a pathway to the doctoral degree in epidemiology.
The Department of Epidemiology and Population Health seeks to identify the determinants of health, disease, disability, and death in populations for the purposes of promotion, control, and prevention. As a core discipline for public health, it provides much of the information necessary to develop, implement and evaluate public health intervention, policy and law. The Department of Epidemiology and Population Health offers an MPH concentration and MS and Ph.D. degrees in Epidemiology. The department is also planning a Ph.D. concentration in Outcomes Research.
The mission of the Department of Epidemiology and Population Health is to:
Provide the highest possible quality education and training in the philosophy, principles, and practice of modern epidemiology.
Conduct innovative, interdisciplinary research on the causes and consequences of disease in populations using state-of-the-art methods.
Conduct translational research.
Help build epidemiologic capacity and infrastructure at local, state and federal levels.
Promote interdisciplinary teaching and health research within the school and across the university.
Become recognized as a major provider of education, research and service throughout the region.
Admission Requirements
Students with a prior baccalaureate or more advanced degree in an appropriate field of study, from a regionally accredited university or college, are eligible for the M.S. program in epidemiology. Previous coursework in mathematics and/or statistics and biological or health sciences (for example, biology, biochemistry, anatomy, physiology, and/or microbiology) is strongly recommended. Applicants who are judged to not have sufficient prior coursework or experience in these areas may be required to take additional coursework.
Online application https://louisville.edu/graduate/futurestudents/apply-materials
A one-page personal statement describing the applicant's background and interest in epidemiology
Two letters of recommendation
Undergraduate GPA at least 3.0 on 4.0 scale
GRE not mandate
If applicable, Test of English as a Foreign Language (TOEFL) with a minimum score of 90 iBT or, IELTS with a minimum score of 6.5
The program is designed as a two-year program of coursework and thesis research and preparation. The student is expected to develop and plan his or her thesis research prior to the final semester in which the majority of the actual research is done
Career
Epidemiologists work at both the forefront of public health in the control and prevention of disease, disability and death, and behind the scenes researching risk factors and causes of health problems across populations. Epidemiologists play a key role in public health by collecting data on health indicators in populations through screening and surveillance systems. We detect, investigate and mitigate infectious disease outbreaks, design health, and disease screening and surveillance programs, and disease control and primary and secondary preventive interventions. Most importantly, we generate new knowledge about disease etiology that helps guide health policy and promotion, as well as medical treatment.
Community Partnerships
Partnerships with the James Graham Brown Cancer Center have involved cancer prevention initiatives focusing on areas such as the use of a nicotine vaccine, evaluating the acceptance of the human papillomavirus (HPV) vaccine for cervical cancer prevention and support with epidemiology and biostatistics needs.
Last updated Jul 2020
About the School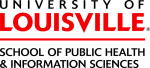 The University of Louisville is a state-supported research university located in Kentucky's largest metropolitan area. It was a municipally supported public institution for many decades prior to joini ... Read More
The University of Louisville is a state-supported research university located in Kentucky's largest metropolitan area. It was a municipally supported public institution for many decades prior to joining the university system in 1970. The University has three campuses. The 287-acre Belknap Campus is three miles from downtown Louisville and houses eight of the university's 12 colleges and schools.
Read less