MS in Biochemical Engineering
Home ›
MSc ›
MS in Biochemical Engineering
Program Description
Overview
Biochemical Engineering utilizes the governing principles of living systems, properties of biological materials and engineering methodology in the processing of biological materials and in the processes using biological agents such as cells, enzymes, and antibodies. The School of Chemical, Materials, and Biomedical (CMB) Engineering offers several graduate programs for students to gain expertise at the frontiers of science and engineering knowledge. The faculty conduct research supported by the USDA, DOE, NIH, NSF, EPA and by industry partners, and have collaborative efforts with numerous centers of excellence at the University of Georgia, including the New Materials Institute, the Regenerative Bioscience Center and the Biomedical & Health Sciences Institute. These collaborations provide students with opportunities to engage with scientists across many science disciplines to tailor their education.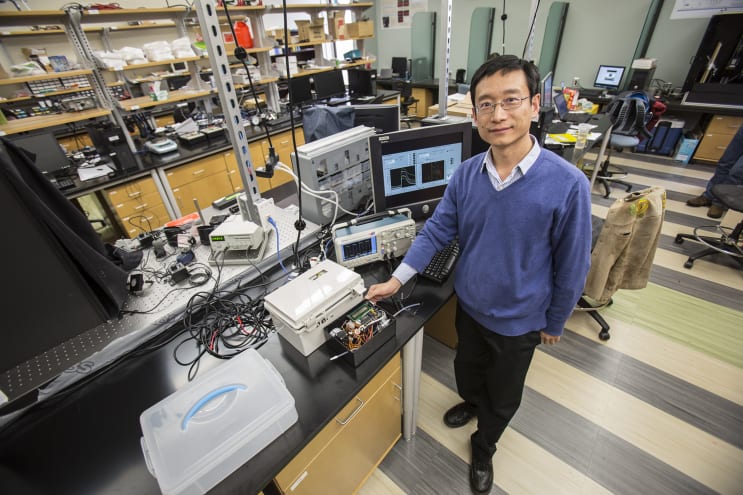 The School of Chemical, Materials and Biomedical Engineering:
Prepares engineers for the future in a learning environment that inspires the integration of discoveries from multiple fields for designing sustainable solutions,
Creates an environment for use-inspired research that is simultaneously motivated by state, national and global needs, and
Provides engineering outreach that extends technical assistance to businesses, industries, and communities, and
Devises new dimensions in research, teaching, and outreach in the University to educate more technologically literate graduates and expedite the translation of discoveries into useful technologies and services for improving the quality of life.
Admission
Students holding a B.S. degree or M.S. in engineering from an ABET accredited program or a B.S. or M.S. in a related field from an accredited institution are invited to apply for admission. Students not having an ABET accredited B.S engineering degree but having degrees in math or physical/biological science or other disciplines may be asked to take additional selected course work to adequately prepare them for their specific engineering studies.
Base requirements for consideration for admission are listed below. Specific degree programs and emphasis areas may add additional requirements:
Completion of a B.S. and M.S. (for Ph.D. applicants) with a minimum GPA of 3.00 (out of 4.00) from an ABET accredited program or program in a related field.
Submission of the online UGA Graduate School Application and submission of:

Official undergraduate and graduate academic transcripts.
A statement of purpose.
Three letters of recommendation.
CV or resume.
General Graduate Record Examination (GRE) Scores. Average Quantitative GRE scores of recently accepted students range near the 80th percentile. Applicants holding a UGA degree may waive this requirement if they meet GPA and undergraduate research requirements.
TOEFL is required for international students whose native language is other than English.
Transcript evaluations prepared by World Education Services (WES) or another approved credentialing agency are required for students who obtained degrees outside of the United States.
In addition, the School of CMB has the following admission guidance and requirements:
Consideration is given particularly to the following components of the application: GRE and other test scores, undergraduate Grade Point Average, the student's Statement of Purpose (SOP), and letters of recommendation.
Quality students who have completed a B.S. degree in a non-engineering field such as Physics, Chemistry or Biology and who have completed mathematics through differential equations will be considered for admission to the School's graduate program. These students typically are required to complete 3-4 additional engineering courses at the onset of their graduate education which will be determined by the School Curriculum Committee in coordination with the College Graduate Admissions and Advisory Committee.
Change of major from M.S. to Ph.D.: a) each GRE score must be at least 150 (verbal and quantitative), b) Ph.D. entrance requirements must be met, c) adequate progress in the M.S. must be demonstrated, d) the undergrad GPA must be at least 3.0 (or its equivalent), and e) a compelling case for the change must be given.
General Program Requirements
M.S. students should form their advisory committee comprised of 3 faculty members within 12 months of starting their M.S. program.
M.S. students should complete their research proposal within 15 months of starting their M.S. program.
The student must make one oral presentation in the School Seminar.
The research is expected to generate significant scholarship (such as publications, patents, conference presentations).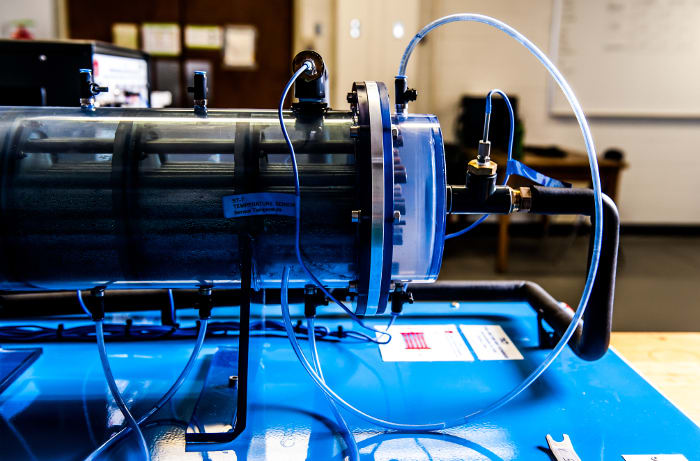 Program of Study
The M.S. in Biochemical Engineering degree requires a minimum of 33 semester hours, which consist of the following on the student's Program of Study:
A minimum of 24 semester hours of coursework:

ENGR 6910: Foundations for Engineering Research (3 credit hours)
BCHE 8970: Bioengineering Seminar (2 semesters, 2 credit hours, 1 credit hour on Program of Study*)
ENGR 8103: Computational Engineering (3 credit hours)
Choose 2 from the following (6 credit hours):

BCHE 8150: Heterogeneous Reactor Design and Bio/Catalysis (3)
CVLE (MCHE) 8160: Advanced Fluid Mechanics (3)
CVLE (MCHE) 8170: Advanced Heat Transfer (3)
ENGR 8180: Advanced Mass Transport (3)

Electives (11 credit hours)

Minimum of 11 additional credit hours of graduate-level coursework selected with the approval of the student's Graduate Advisory Committee. At least 3 credits must be from courses open to graduate students only.
A minimum of 6 hours of Master's Research (BCHE 7000) or Project-based Research (BCHE 7010). A typical student's research hours will exceed this minimum; however, at most 6 hours of BCHE 7000/7010 may be listed on the program of study.
3 hours of thesis (BCHE 7300)
* Only 1 hour of the Bioengineering Seminar may apply on the Program of Study, although the School of CBM requires completion of at least 2 hours.
Last updated Jul 2019
About the School

Understanding that 21st century engineers require more than technical knowledge, we equip students with an understanding of the social and economic impact of their work, the ability to communicate the ... Read More
Understanding that 21st century engineers require more than technical knowledge, we equip students with an understanding of the social and economic impact of their work, the ability to communicate their ideas to a wide variety of people, the ability to work effectively in teams, and the skills to provide leadership in solving society's grand challenges.
Read less