Doctor of Psychology (Psy.D) in Clinical Psychology
Home ›
PhD ›
Doctor of Psychology (Psy.D) in Clinical Psychology
Program Description
On-Campus Program
The Doctor of Psychology (Psy.D.) in Clinical Psychology degree program at Sofia University provides formal training in the science and practice of clinical psychology. In addition to a broad and rigorous preparation in clinical psychology, the program provides training in theory and treatment inspired by positive psychology and both secular and spiritual concepts and interventions. Mindfulness as a source of both clinician self-care and treatment interventions is a core component of the curriculum. After degree completion, you will be prepared for a career as a licensed clinical psychologist, which may include supervisory and program development positions in healthcare settings, substance abuse, and mental health treatment settings, corrections agencies, private practice, teaching, and/or research. The Doctor of Psychology in Clinical Psychology program includes the following: ( Note that items 1, 3,4 and 6 display our integration of traditional clinical psychology training with spiritual and positive psychology).
An accomplished faculty actively involved in clinical research and practice, with an emphasis on spiritual and positive psychology applications
A cohort-based community of learners
Broad and general training in clinical psychology with a unique emphasis on mindfulness and positive psychology
Training in emotional regulation to improve clinical performance that includes meditation
Two years of clinical practicum and one year (1,500 hours) of supervised internship experience
Research and dissertation focused on a clinical psychology topic relevant to the student's interests and related to the domains of mindfulness, spirituality or positive psychology
Program Prerequisites:
A Bachelor's degree or higher from an accredited University. Students without a background in Psychology or related field may be required to take some prerequisite psychology classes.
Last updated Nov 2018
About the School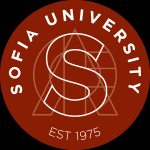 Sofia University has built itself on a foundation of transformative, transpersonal education since 1975.
Sofia University has built itself on a foundation of transformative, transpersonal education since 1975.
Read less