Diploma in Practical Nursing (LPN)
Program Description
Practical Nursing is designed to prepare individuals to work in nursing situations which are relatively stable and unchanging. They are also prepared to assist experienced registered nurses and physicians in nursing situations that are complex and changing. Individuals considering enrollment or currently enrolled in the nursing program should be aware that prior felony convictions may prohibit eligibility for licensure upon completion of the program.
Students should be aware they may need to travel a distance for clinical experience and that some clinical experiences will be scheduled during evening/night hours and weekends. Drug testing may be required by individual agencies. Criminal background checks and adult/dependent abuse checks will be required for all incoming students.
Results of the background and abuse checks will be reviewed to determine eligibility for clinical enrollment in the program. Costs for requirements will be the responsibility of the student.
Entrance Requirements
The applicant must complete the application process through the health professions counselor located in the Student Development Office. Entrance requirements include the following criteria:
Completion of a high school diploma or equivalency program.
Completion of high school with a grade point average of 2.00 or higher. If
enrolled in NIACC courses, must attain an overall 2.00 GPA to enter the PN
program and maintain a 2.00 or higher throughout the time enrolled in the
program.
Completion of one year of high school Biology, with a grade of C or higher,
taken in the last five (5) years.
Completion of one year of high school Algebra I, with a grade of C or higher,
taken in the last five (5) years.
Satisfactory Accuplacer assessment test results in reading, writing, and math
(these are administered by NIACC).
Approved applicants are accepted into the program based on the date of
application.
Nurse Aide Training
Submit proof of completion of the 75-hour State of Iowa approved Certified Nurse Aide Program or equivalent.
Submit proof of successful completion of Nurse Aide written and skills test for placement on the Direct Care Worker Registry. A transcript indicating the applicant passed both tests, or a Registry card will serve as verification.
Applicants who do not meet requirements or those with a poor academic history may meet entrance requirements by successfully completing approved college courses and/or increasing assessment test results in an approved manner. This should be discussed with the health professions counselor.
Course Recommendations
Six semesters of English are recommended prior to applying to the program.
Since the NCLEX-PN exam is a computerized test, a computer class is strongly recommended.
An application to the Practical Nursing program, high school transcript, high school equivalency test scores (if applicable), and all college transcripts must be in the applicant's folder before the Admissions Committee takes action on acceptance into the Practical Nursing program.
After acceptance, a physical examination providing evidence of current immunization and sound physical and mental health is required.
Applicants who have been previously enrolled in an approved nursing program may request consideration for advanced standing.
Students must successfully complete all course requirements for each semester before enrolling in the next semester.
Students who withdraw from the program must make formal application for reentry and upon acceptance will be considered on a space-available basis.
After being accepted into the program, a student may delay entrance into the program no more than one (1) year.
A student will be required to reapply to the program after this period of time. Readmission criteria are addressed in the PN Student Handbook. A student may re-enter the program one time only.
Students must attain a C grade in all nursing courses and at least a C in prescribed support courses to continue sequential progression in the PN program. However, an overall 2.00 GPA in the prescribed curriculum and a minimum overall cumulative college grade point average of 2.00 is required for graduation from the PN program.
If the student wishes to later seek application to the ADN program, see ADN option for Licensed Practical Nurses in the catalog.
Any transfer student applying for admission, who has been enrolled in a nursing curriculum other than NIACC. will be required to meet with the Division Chair to discuss placement in the curriculum after the following items have been received from the transfer institution: course syllabi, clinical placement documentation (hour/sites) reflecting sufficient theory, clinical hours, and experiences comparable to the first year of the ADN curriculum.
The student will also, upon written authorization, allow contact with instructors from the transfer institution regarding theory, clinical, and overall student conduct from the Health Division Chair at the transfer institution. Information acquired from these contacts will be considered in acceptance and proper placement into the NIACC nursing curriculum.
The application process, entrance requirements, and curriculum are provided in the ADN option for Licensed Practical Nurses Brochure
Diploma Earned
Upon successful completion of the Practical Nursing curriculum, the student is awarded a Diploma and is eligible for the NCLEX-PN exam. After passing this examination, the graduate receives licensed practical nurse status and is prepared to work in a beginning licensed practical nurse position under the supervision of qualified personnel. The program is approved by the Iowa Board of Nursing.
Costs
Tuition is based on the number of credit hours and legal residence and is subject to change or modification.
Financial Aid/Scholarships
Financial assistance is available in the form of grants, scholarships, loans, and part-time employment (work-study). Students apply for financial aid by completing the Free Application for Federal Student Aid (FAFSA).
Career Opportunities
Licensed Practical Nurses work indoors for:
Hospitals, nursing homes, clinics, and other healthcare facilities
Health maintenance organizations
Private doctors' offices
Public health agencies
Home health care services
Government agencies
Welfare and religious organizations
Nurses registries and temporary health agencies
Private duty
Licensed Practical Nurses work with:
Patients and their families
Thermometers, stethoscopes, and other medical equipment
Bandages, catheters, and other medical supplies
Patients' records and charts
Various types of medication
Physicians' orders
Appointment books
Last updated Oct 2017
About the School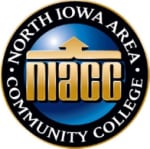 North Iowa Area Community College (NIACC) is a nationally-ranked, two-year institution located in North Central Iowa that serves students of all ages and abilities. Starting in 1918 as Mason City Juni ... Read More
North Iowa Area Community College (NIACC) is a nationally-ranked, two-year institution located in North Central Iowa that serves students of all ages and abilities. Starting in 1918 as Mason City Junior College, NIACC has the distinct privilege of being the oldest Iowa community college. In 2018, NIACC will be celebrating the College's 100 year anniversary of providing an education to our students...
Read less