Diploma in Health and Fitness
Program Description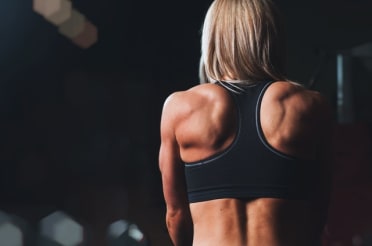 Over the past few years, it's hard not to see on an almost daily basis the latest article, radio or TV spot on the newest trends in weight loss, health, and fitness. Confused? I'm not surprised. The truth is the fundamentals of losing weight and getting in shape have never changed. This course unlike any other is based on over 20 years of real-world personal training methods which have helped thousands of people lose weight, tone up, get fit and finally learn how to control their body for life. Register now to get started.
Course Details
Lesson 1 - How Do You Measure Up?
With so much conflicting nutrition and fitness information coming from the media, people seem to be more confused than ever about how to maintain your weight, stay fit, healthy, and full of energy. In lesson 1, you will find out why it is so important to eat well and exercise regularly to maintain your physical fitness, mental health and the first step of how to enjoy every step of the process.
Lesson 2 - Controlling Your Body Shape
In this lesson, we look at the physical and biological conditions needed to maintain your weight, body shape, and energy levels. We will also look at what changes you need to make to get from higher body fat levels to moderate and lean body fat levels.
Lesson 3 - Healthy Eating for Weight/Fat Loss + Better Body Shape
In lesson 3, we look at the aspects of your diet that may be causing you to keep the weight on. You will learn which parts of your diet need the most improvement, while also increasing your calorie-awareness. We will look at comfort food, why we crave it and how we can change it.
Lesson 4 - We Are Designed to Exercise
With the rise of vehicles, machines, and technology, being sedentary has now become the norm. But our health depends on movement - our bodies work best when they are active. In this lesson, you will learn why exercise is so important to maintain a healthy weight, healthy bones, strong muscles and reduce the risk of disease and depression.
Lesson 5 - Cardio for Fat loss, Improved Energy, and Reduced Stress
So you finally understand what fitness means in a practical sense but how do you develop a plan to start? We will break down one of the most misused types of exercise, Cardio (Cardiovascular Exercise) and the role it plays in your fitness, body shape, and overall energy levels.
Lesson 6 - Strength Training for Fat Loss, Stronger Joints, and Your Dream Body
"But won't weight training make me look too bulky?" Strength training is easily the most misunderstood form of exercise over the past 20 years. In this lesson, we look at how strength training is the most effective exercise for shaping your body, burning fat and the basics of planning your workouts no matter what your starting point.
Lesson 7 - Barriers to Getting Results
Even with the most perfectly designed individual fitness and nutrition program, there are common barriers that can stop people achieving their desired results. In this lesson, we look at overcoming stress, fitting exercise into your life and enjoying the whole process.
Lesson 8 - Tools for Long-Term Success
On your last lesson, we talk about the next step in your Ultimate Body Transformation and what you need to do over the next 12 months to truly achieve your long-term results while loving every minute. As I said in Lesson 1, Aim to Feel 1% Every Day.
Last updated Mar 2020
About the School
Shaw Academy is the largest live online educator in the world, where you learn practical skills that transform your life and those around you!
Shaw Academy is the largest live online educator in the world, where you learn practical skills that transform your life and those around you!
Read less