Course: Patient Care Technician Program (PCT)
Home ›
Courses ›
Course: Patient Care Technician Program (PCT)
Program Description
Program Objective:
The program is designed to prepare students to become a Patient Care Technician (PCT) in the state of Florida. Upon completion of the nursing assistant program, students are eligible to make application to the Florida State Board of Nursing to take the Certified Nursing Assistant (CNA) examination. A Patient Care Technician must become a CNA to practice as a PCT.
Graduates are eligible to take the Certified Patient Care Technician exam through NCCT (not a state requirement).
Program Description:
The program is designed to prepare students for employment as entry-level advanced cross-trained Patient Care Technicians. This program offers a broad foundation of knowledge and skills expanding the traditional role of the nursing assistant for acute and long term care settings. The program is comprised of a sequence of instruction that includes a health science core and six occupational completion points.
A student who completes the applicable competencies at any occupational completion point may either continue with the training program or exit as an occupational completer. The Health Science Core is required for all health programs and options. The six occupational completion points are: Nursing Assistant, Home Health Aide, Patient Care Assistant, Allied Health Assistant, Advanced Allied Health Assistant, and Patient Care Technician.
Students are required to present a negative TB report from a doctor prior to attending clinical externship. Students must provide proof of current CPR certification for healthcare providers or register for a regularly scheduled CPR class and pay the applicable fee.
Curriculum Development
The Patient Care Technician program at the College was designed to satisfy the Florida Department of Education Curriculum Framework for Patient Care Technicians as of July 2009. The 600-hour program addresses the Intended Outcomes (01-36) of the Curriculum Framework cited above. Faculty members continuously review and update the curriculum to satisfy both the stated Framework requirements, as well as student needs.
Estimated Length of Study:
Day classes: 4 months (16 weeks)
Evening classes: 8 months (32 weeks)
(600 Clock Hours)
*Books and materials are included NOT in the cost of tuition. Students must purchase their own uniforms.
Admission Requirements
General Admission/ Application Requirements:
Applicants are encouraged to apply well in advance of the proposed start date of classes. Prospective students are encouraged to visit the College, tour the facility and engage in a personal interview with an admissions representative. This allows the individual to make an informed decision on the available programs of study, institutional policies and procedures and the documentation required to enroll in their program of choice. To begin the application process at Care Hope College an applicant must:
Be at least 17 years, 8 months of age
Complete and sign an application form and pay the non-refundable application fee of $150.00
Provide proof of a Social Security Card
Provide proof of graduation from High School or College by submitting High School Diploma, High School Transcript, General Education Development (GED) or proof of post-secondary education. Applicants with International High School credentials must be translated and evaluated to prove US High School equivalency or higher from a National Association of Credential Evaluation Services [NACES] approved institution.
Provide a valid drivers' license or government-issued photo ID.
Meet program specific admission criteria for the programs offered.
General Enrollment Requirements
To enroll in the programs at Care Hope College the applicant must:
Complete the Admission/Application Requirements
Complete and sign the enrollment agreement
Complete the Reference Form
Pay applicable tuition and fees
Last updated Jan 2020
About the School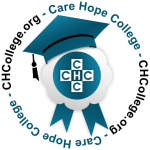 Care Hope College (formally known as Palm Beach Vocational Institution) was established in 1996 as an educational training institution to fill a growing need for quality health education. It was desig ... Read More
Care Hope College (formally known as Palm Beach Vocational Institution) was established in 1996 as an educational training institution to fill a growing need for quality health education. It was designed to develop "hands- on" professional health care workers. The programs are all designed to address the quality preparation of those who provide patient care in hospitals, long-term care facilities and private homes.
Read less