Bachelor's Degree in Physiotherapy (BSPT)
Home ›
BSc ›
Bachelor's Degree in Physiotherapy (BSPT)
Program Description
Core Competence
Physiotherapy is a science-based healthcare profession which utilizes physical approaches in the promotion, rehabilitation, and maintenance of an individual's functional movement potential, psychological and social well being. A challenging and exciting aspect of this profession is the wide scope of knowledge and clinical practice in terms of patient and client groups (i.e. neurological, cardiorespiratory, orthopedics and pediatrics), and healthcare delivery settings (e.g. hospitals, health centers, community-based organizations, industry, and private clinics).
Course Aims & Objectives
The aim of the Bachelor of Science in Physiotherapy (BSPT) Degree Programme is to produce graduates with excellent communication skills who are able to function as independent clinicians and as fully interactive members of the multidisciplinary health care team. The course objectives to provide students with opportunities to:
Acquire a sound scientific foundation and to develop competency in basic clinical skills both of which are essential in order to safely and effectively treat patients.
Develop skills in critical thinking and to evaluate the effectiveness of treatments based on the latest evidence.
Gain basic knowledge, skills and experience in health-care research methodology.
Develop skills in life-long learning and therefore respond to the dynamic nature of the healthcare profession and the changing health needs of the community.
This program achieved full confidence by QQA.
New admissions to this program are temporarily suspended by the HEC.
Employability
As the field is continuously growing dramatically, job opportunities do exist for well-trained physiotherapists. There is a high demand for professionals than the existing supply in the region. Thus, has a good opportunity to be developed as a training hub. The programme had covered special areas which are essential for effective health care delivery and practice. These are communication skills, leadership, ethics, problem-solving, critical thinking, research methodology, health economics, health care management and lifelong learning.
Several curricular and non-curricular activities are being regularly conducted by the College throughout the academic year to enhance the student's knowledge and practical/community-related skills which are required by the job market. The 'College Seminar Programme' at which faculty provide presentations/discussion on their field of interest and research are being offered for the students and staff of Ahlia University. The College of Medical and Health Sciences in cooperation with the University Student Council and Directorate of Student Activities organises extra-curricular activities such as health and wellness-related events, World Health Day Events, medical missions, Career day, Bahrain Physical Therapy Association Events and off-site public and industrial visits.
The significant majority of Ahlia University Physiotherapy Programme students had passed the Bahrain Physiotherapy Licensure Examination from the first attempt which made the Ahlia University Physiotherapy graduates the top choice in job recruitment.
Fast Facts
Qualification: Bachelors of Science in Physiotherapy
Type: Undergraduate
Duration: 4 years
Qualification Name: Science in Physiotherapy
College: College of Medical & Health Sciences
Language of offering: English
Teaching and Assessment
Teaching and learning methods correspond with the discrete set of Intended Learning Outcomes (ILOs) imparted by the course. Methods to enhance student participation on, for example, pre-clinical and early-stage clinical courses span individual or group presentations, exploration of anatomy models in laboratory classes, and practice of basic clinical skills in the laboratory with peer and instructor feedback. Students receive clinical orientation in the second year (pre-clinical) during the courses in Basic Clinical Practice and Electrotherapy with opportunities to observe and practice these skills and related documentation. In clinical courses students' skills in patient assessment, treatment, documentation and application of knowledge are being practised through small group teaching (4-6 students) across each speciality through exposure to clinical cases.
Student responsibility for learning and independent learning is first emphasized early in the programme during the Student Induction/Orientation of the first year and then subsequently through the use of student-led presentations and case studies at the pre-clinical stage and then clinical stage. Finally, all students are required to complete a final year research project PHTH 499 [Research Project in Physiotherapy] which requires the students to choose a research topic and to conduct data collection and report writing under supervision.
Independent learning is further enhanced by opportunities for e-learning available, 24-7 on- and off-site, through platforms (the Moodle, Medline and Access Physiotherapy) giving students access to education and research material. Several Course Syllabus Specifications make use of one or more of these platforms.
Formative and summative course assessment methods are carefully selected to develop learning and to objectively evaluate the academic performance of the students regarding their knowledge/skills in relation to the course aims and ILOs. These are communicated to students through the Course Syllabus/Specification, which is given and explained to students at the beginning of the course, and which contains details on ILOs, assessment methods and marking criteria. The mechanisms for grading students' achievements are transparent and clearly explained to students in instructions, including the marking scheme, in each course assessment used by an instructor. In addition, instructors are required to provide model answers/marking rubrics for final examinations.
All assessments with the exception of the final examination (which is purely summative) are promptly returned to students along with their test scores (as per University Regulations). Students are free to discuss their performance with the Instructor. Final written examinations are being verified and moderated by internal and external assessors. Students can challenge their final grade as per University regulations if they feel their grade is not transparent.
Last updated Oct 2019
About the School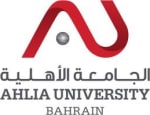 At Ahlia University we are proud of our growing reputation as a provider of quality higher education in the Kingdom of Bahrain and the wider Gulf region. The high quality of education at Ahlia Univers ... Read More
At Ahlia University we are proud of our growing reputation as a provider of quality higher education in the Kingdom of Bahrain and the wider Gulf region. The high quality of education at Ahlia University is at the core of everything we do and the reviews by the Quality Assurance Agency continue to recognise the quality of our teaching and learning.
Read less