Bachelor of Science in Nursing (BSN)
Read more about this program on the school's website
Program Description
BSN
Midway University has a long history of educating professional nurses. Continuing with this tradition, in Fall 2019, the University will launch a new 4-year traditional Bachelor of Science in Nursing (BSN) program.
This pre-licensure program combines general education courses with professional nursing theory, complex critical thinking, and clinical practice. Consistent with the mission and goals of the university, our accredited nursing programs prepare nurses as leaders who can provide health care to individuals, families, groups, and populations of diverse cultures in a variety of settings. After graduation and successful completion of the National Council Licensure Examination (NCLEX-RN), you will be on your way to practicing as a registered nurse in any number of healthcare settings. The BSN degree will also prepare you for graduate education and the continued growth of your nursing career should you so choose.
Career Outlook
How can a Bachelor of Science in Nursing (BSN) degree work for you? The Institute of Medicine (IOM) has issued an industry goal to have 80 percent of the nursing workforce hold a BSN by 2020. In Kentucky, current statistics show that only 34 percent of nurses hold a BSN degree. As more and more employers are making this the standard requirement, the job growth looks strong for graduates with a BSN degree. According to the Bureau of Labor Statistics, nursing jobs are projected to grow 16 percent from 2014 to 2024, much faster than the average for all occupations.
Why Midway?
16:1: Student-to-faculty ratio
Affordability: 90% of students receive some form of financial assistance
Support: Meet faculty face-to-face to get in-person assistance
Get Started
Students interested in this program must first apply and be accepted to Midway University and then apply to the nursing program.
To find out more about this program, contact the Office of Admissions at admissions@midway.edu or apply online.
If you are a current RN and looking to complete your RN-BSN degree, Midway also offers that program online as part of our Adult Undergraduate program as well as an MSN program with both RN(ADN)-MSN or BSN-MSN options.

A Peek Inside Our Program
Course Listings
BSN Admission Requirements
BSN pre-licensure admission requirements for nursing school
To be considered for admission to the BSN program, the student must meet the following criteria:
Accepted to Midway University.
Prior to admission to the BSN Program, applicants must have earned a "C" or better in the required pre-requisite courses listed below:

BIO 190 Anatomy and Physiology I*
BIO 191 Anatomy and Physiology I Lab*
BIO 198 Anatomy and Physiology II*
BIO 199 Anatomy and Physiology II Lab*
ENG 101 College Writing I
ENG 102 College Writing II
CHM 150 Principles of Chemistry
MTH 140 College Algebra
NSG XXX Introduction to Professional Nursing
PSY 260 Human Growth and Development
*Must be taken within the last five years.

Completion of 30 hours of university credit.
A minimum cumulative GPA of 3.0 on a 4.0 scale. The GPA includes all college credits taken as a high school or college student.
ACT composite score of 21 or higher
Current Kentucky Medicaid Nurse Aid Certification (SRNA)
Complete application for admission to the BSN Program during the Spring semester of Freshman year; admission decision will occur during the Summer of Freshman year.

Documentation of hepatitis B immunization; immunity to measles, mumps, rubella and varicella; current negative 2-step tuberculin skin test or T-spot; current American Heart Association CPR BLS certification; letter from health insurance provider verifying current coverage; criminal background check; urine drug screen; and current SRNA.
Three character reference letters of recommendation from professionals such as professors, coaches, ministers, supervisors.
Completion of eligibility criteria does not guarantee admission to the BSN Program. Students who meet the above criteria will be ranked using the Admission Ranking System. Spaces are limited to 20 students and those with the top 20 scores on this ranking system will be selected for admission.
Common Application: We accept online applications on our website or through the Common Application.
Program Criteria Applicable to all BSN and RN-BSN students
Students must meet the following criteria:
Provide transportation to clinical or practicum facilities.
Satisfy all university requirements for graduation.
A minimum grade of "C" is required in all nursing courses.
Last updated Nov 2019
About the School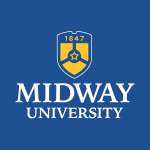 Midway University, located in Midway, Kentucky, is a private, non-profit liberal arts college, founded in 1847 by Dr. Lewis L. Pinkerton, as the first school in the United States to serve orphaned and ... Read More
Midway University, located in Midway, Kentucky, is a private, non-profit liberal arts college, founded in 1847 by Dr. Lewis L. Pinkerton, as the first school in the United States to serve orphaned and disadvantaged women.
Read less