Read more about this program on the institution's website
Program Description
Degree overview
Study at a university that is ranked in the World Top 100 for Nursing(1).
Learn from above world-class researchers in Nursing,2 as well as from industry-experienced clinicians and academics.
Embark on placements from the first year of your undergraduate degree and experience what it's like to work as a nurse or midwife in a clinical setting.
Be supported by learning resources available to you 24 hours a day, seven days a week.
(1)2019 QS World Subject Rankings
(2)2018 Excellence in Research for Australia (ERA)
Snapshot
The healthcare industry is constantly changing with new technologies and approaches to care to improve the detection, diagnosis, and management of chronic and acute illness, as well as having a strong emphasis of keeping populations healthy. Our nursing degree is evolving with these changes, which means you will be guaranteed an industry-relevant, practical qualification that ensures you graduate career-ready.
There is a strong focus on theory and practical experience, and you will do much of your learning in our unique clinician led, authentic hospital and health service on campus. Our state-of-the-art facilities include authentic hospital wards, clinical units and community areas. This simulated hospital environment, known as the Horizon Hospital and Health Service (HHHS), is led by practicing registered nurses and midwives (clinicians), and is the only one of its kind in South Australia.
You will then have the opportunity to further develop these skills when you embark on real-world clinical placements across metropolitan, regional and rural hospitals and health services under the supervision of registered nurses.
Students who undertake activities where interaction with patients/the public is required for their degree, such as field or clinical placements/visits and in University clinics and gyms, must demonstrate they meet mandatory pre-placement conditional requirements. These include criminal history clearance, child related employment clearance, and immunisation requirements. Please visit the Clinical Placement Unit for information on key requirements, and to access the full student checklists.On entry to the qualification, you will be required to confirm that you meet the 'Fitness to Practice in Clinical Placements' requirements.
All students enrolled in a program leading to professional registration must be registered with the relevant National Board. The registration process is undertaken by the Australian Health Practitioner Regulation Agency (AHPRA) with the University providing notification to AHPRA following enrolment in the program.
What you'll learn
This degree prepares you for placement and your professional nursing career with more than 170 hours of learning in our unique clinician led, authentic simulated Horizon Hospital and Health Service (HHHS). You will also complete 1,000 hours in clinical settings across metropolitan, regional and rural hospitals, and health services.
We teach and assess four domains of nursing practice during your studies including:
collaborative and therapeutic practice
critical thinking and analysis
professional practice
provision and coordination of care
The qualification is designed to prepare you to meet healthcare delivery requirements for the 21st century and respond to Australian and international healthcare priorities and trends. Six integrating themes are imbedded throughout the curriculum and represent core approaches that inform contemporary nursing practice:
cultural competence
evidence-based practice
mental health
primary health
professional communication
safety and quality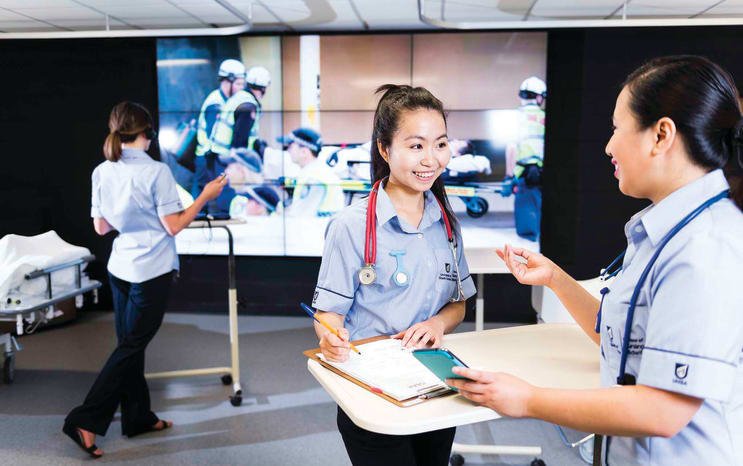 Why Bachelor of Nursing
The University of South Australia has invested millions of dollars in on-campus clinics and facilities. The Horizon Hospital and Health Service (HHHS) is a clinician-led, authentic simulated hospital and health service, at our City East, Mount Gambier and Whyalla campuses. As a nursing student, you can participate in clinical learning and practise within the HHHS throughout your degree, in addition to off-campus clinical placements.
The HHHS is a fully equipped, state-of-the-art clinical learning environment populated by residents of our Horizon City and Community – a virtual health community which is unique to UniSA. It is designed to facilitate, enhance and support your understanding of real-world nursing practice. Residents of Horizon include interactive manikins each with their own persona, as well as real people acting as residents, who have their own personal stories, relationships and health histories.
As part of your studies, you will regularly engage and interact with Horizon residents, both within the virtual environment and in HHHS to develop and practise your nursing knowledge and skills.
State-of-the-art facilities, together with teaching staff who are well above world-class researchers in Nursing*, as well as academics and experienced clinicians means you are assured the very best in academic resources, learning facilities and support.
This degree is also a great option for those wanting the flexibility that comes with online learning and workshops on campus – we offer accessible online learning facilities and dedicated support staff who are with you every step of the way.
*2015 Excellence in Research for Australia (ERA)
Your career
Registered nurses play a key role at the forefront of healthcare service, with their contribution to client care imperative for the wellbeing of today's society. This degree prepares you to deliver the highest quality care to individuals and groups, and also meets and responds to Australian and international health challenges and priorities.
Graduates can work in a wide variety of healthcare settings, such as:
hospitals
primary health and community support services
aged and rehabilitative care
schools
home care
drug and alcohol treatment centres
community health organisations
mental health services
international aid agencies
Graduates may complete the Transition to Professional Practice Program with a participating employer.
Real World Connections
As a student, you will benefit from our strong industry links. You will also learn from experienced clinicians, including registered nurses, on campus, and when you complete clinical placements as part of your study.
These placements provide you with the opportunity to practice your clinical skills, implement your knowledge into practice, learn from industry-experienced professionals in the field, and build valuable networks and relationships.
We also host regular University-wide employee master classes and employment expos, and alumni events in Australia and overseas.
Professional accreditation and recognition
Graduates satisfy the academic requirements for registration with the Nursing and Midwifery Board of Australia. The requirements for registration are determined by the Nursing and Midwifery Board of Australia.
Last updated May 2020
About the School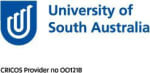 The University of South Australia is a globally connected and engaged university with industry-informed teaching and research that is inventive and adventurous.
The University of South Australia is a globally connected and engaged university with industry-informed teaching and research that is inventive and adventurous.
Read less