Bachelor of Health (Biomedical Sciences)
Program Description
Discover medical research
Does the human body intrigue you? Are you looking for a pathway into medicine? Our Bachelor of Health (Biomedical Sciences) covers physiology, pharmacology, biochemistry, microbiology, immunology and molecular biology topics to equip you for your biomedical career. You will gain skills in medical laboratory techniques, produce scientific reports for biomedical experiments and research. You can choose to study your biomedical degree online or enjoy the USQ on-campus experience.
Pathway to study medicine
Do you aspire to study medicine? Our Bachelor of Health (Biomedical Sciences) will give you broad knowledge to assist you should you wish to seek entry, via the Graduate Medical School Admissions Test (GAMSAT), into medicine.
Professional membership opportunities
You will be eligible to apply for membership to professional organizations including The Australian Society for Microbiology, Australian Society for Biochemistry and Molecular Biology and the Australian Society for Medical Research.
Career outcomes
The Bachelor of Health (Biomedical Sciences) prepares graduates for a career in medical research, public and private research and development laboratories and pharmaceutical and diagnostic companies. You will also gain knowledge and skills to prepare for the Graduate Australian Medical Schools Admissions Test (GAMSAT) or for further study in research higher degrees such as Ph.D. and Masters programs.
Program structure
Residential schools
In addition to the courses listed below, external students will also have the opportunity to come on-campus for residential schools where you will attend face-to-face lectures and tutorials, use the facilities and meet staff and other students.
Courses to be studied
How much will it cost?
Approximate annual costs for your first year of study (8 units) in this program are:
Study Mode/ Cost
Commonwealth supported: AUD 9352
Domestic full fee paying: AUD 20000
Loan to help you pay your fees
You may not have to pay your course (subject) fees upfront. HECS-HELP and FEE-HELP allow you to defer your fees until your income reaches a certain level.
You may also be eligible to receive financial support from Centrelink.
Scholarships and financial assistance
You may be able to apply for scholarships to help with your study costs.
Residential schools
This program includes an on-campus residential school component that involves travel, accommodation and meal expenses.
Entry Requirements
Subject pre-requisite: English (4, SA) or equivalent
Assumed knowledge: Mathematics A (4 SA)
Recommended prior study: in one of Biological Science, Chemistry or Science 21, or equivalent.
As a part of your clinical experience, you will also need to provide the following documents:
evidence of immunity to notifiable and contagious diseases
a signed Qld Health Student Orientation Checklist, Qld Health Placement Deed and a Qld Health Placement Privacy and Consent Deed or a signed SA Health Student Orientation Checklist, SA Health Placement Deed, and an SA Health Privacy and Consent Deed
a signed USQ Student Clinical Placement Policy Declaration.
English Language Requirements
You are required to satisfy the applicable English language requirements. This program requires a minimum of IELTS 6.0 or equivalent.
If you do not meet the English language requirements you may apply to study a University-approved English language program.
Admission pathways
A number of other pathways are also available if you haven't been able to study previously or don't meet the requirements for entry into your program of interest.
*Further admission information
An adjusted Selection Rank is the result of combining additional ranks through special entry schemes for admission.
Special entry schemes for admissions may help you get into the program of your choice by increasing your Selection Rank, through the allocation of additional ranks in certain circumstances.
How to apply
Closing dates
Applying directly to USQ:
Semester 1, 2019 - applications close Monday 18 February, with semester 1 commencing on Monday 25 February 2019.
If you are applying via QTAC, you will need to check the QTAC closing dates.
Credit for previous study or work experience
You may be eligible for credit if you have previously studied or have relevant work experience. This will help to reduce the number of courses that you need to study to finish your program.
Last updated Aug 2018
About the School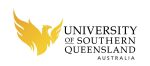 Are you thinking about studying in Australia? The University of Southern Queensland (USQ) prides itself on providing the best support possible to help you reach your study and career goals. USQ studen ... Read More
Are you thinking about studying in Australia? The University of Southern Queensland (USQ) prides itself on providing the best support possible to help you reach your study and career goals. USQ students enjoy small class-sizes, collaborative learning spaces, and a suite of support services to enhance your study experience. With students from more than 80 countries and internationally accredited degrees and programs, you can choose to study on campus, external or online.
Read less