Program Description
Physiotherapists are highly responsible and knowledgeable health care professionals. They help people at any stage of their life to develop, maintain and regain movement and functional ability in case of injuries, diseases, disability, and aging, and thus, help them optimise their quality of life. They also work in public health and prevention.
Based on their extensive knowledge of anatomy, physiology, human movement incl. biomechanics, pathology and a wide range of assessment techniques and treatment approaches, they diagnose health problems, work together with their patients to identify goals, monitor their patients' progress, and support their patients in achieving those goals.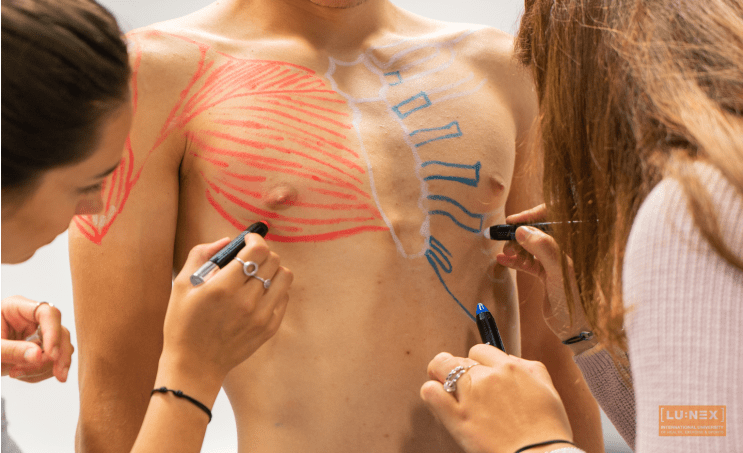 Details
Duration: 3 years (full-time)
Degree: Bachelor
Credits: 180 ECTS
Tuition fee: 750 € per month
Registration fee: 550 €, one-time fee
Language: English
Programme Starts: April and October
Why study Physiotherapy at LUNEX?
Our Physiotherapy Bachelor programme is in accordance with the Bologna Process of higher education, and therefore, recognized throughout Europe. The LUNEX Physiotherapy Teaching Team consists of a truly international group of specialists within their fields who will help you learn and understand.
At LUNEX University, the language of tuition is English. This allows students to engage effectively with the international research evidence-base of the profession and gives them the opportunity to work anywhere in the world. We prepare our students to meet the highest standards of physiotherapy practice and be able to compete and thrive in the labour market internationally.
LUNEX University also offers its students the opportunity to study Physiotherapy in the heart of Europe in a country that is extremely open to people from all over the world and to gain experiences of different countries' health care systems thanks to our international clinical placement partners.
Physiotherapy study programme
The Bachelor in Physiotherapy begins with an introduction week to the study. Students are then progressively guided through the foundations of the profession in subject-specific modules and gain in-depth knowledge of anatomy, physiology and pathology of the neurological, musculoskeletal and cardio-respiratory systems before they learn assessment, treatment and clinical reasoning skills.
Throughout their studies, students learn to study and work independently and scientifically and acquire team-working including interdisciplinary competencies, which will be essential for their future career. This is both during taught modules and in between teaching blocks in order to enhance and deepen their learning.
Students also gain hands-on experience through different practical teaching sessions at LUNEX, as well as working with real patients during three clinical placements. Contact with real people with health problems is often the catalyst for students' choice of topic for their Bachelor's Thesis at the end of their Bachelor studies.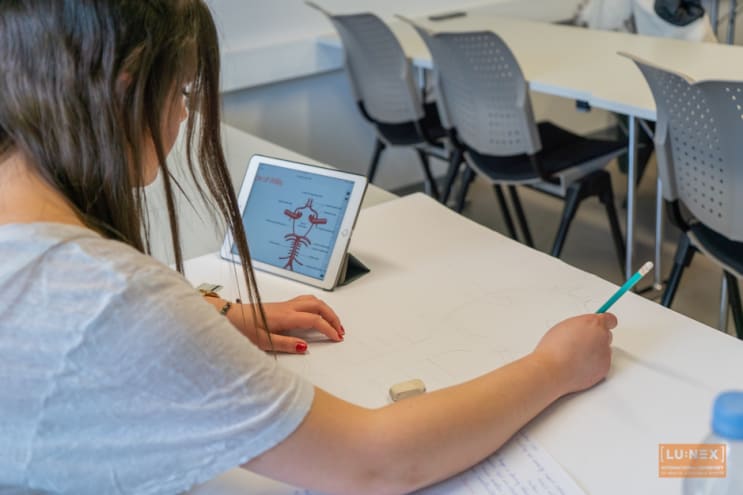 Physiotherapy courses overview:
YEAR 1
- Introduction to the study of Physiotherapy
- Psychology and Communication
- Anatomy
- Scientific Foundations
- Biomechanics
- Core Competencies in Assessment, Reasoning and Treatment Planning
- Basics of Movement Facilitation and Assessment
- Physiology
YEAR 2
- Motor Learning
- Movement and Ergonomics
- Pathology
- Research Methods
- Foundations of Cardio-respiratory Physiotherapy
- Foundations of Neuro-physiotherapy
- Foundations of Musculo-skeletal Physiotherapy
- Assessment, Reasoning and Treatment Planning in specific fields of Physiotherapy
- Evidence-based Exercise Prescription
- Evidence-based Outcome Measurement
YEAR 3
- Foundations Physiotherapy across the age span
- Clinical Placements II-IV
- Clinical Reasoning in Cardio-respiratory and Neuro-physiotherapy
- Bachelor's Thesis
Foundation Programme: an optional preparatory course before starting our Bachelor in Physiotherapy
Before starting the Bachelor in Physiotherapy, each student has the possibility to improve his/her English level and/or to reinforce his/her knowledge in sciences (including chemistry, physics and biology) thanks to our "Foundation Programme". It's a preparatory programme that we have designed with the aim of helping students to improve key knowledge so that they can effectively and successfully engage with our Bachelor's Degrees.
Complete your studies with the Physiotherapy Master's Degree
To practice as a physiotherapist in Luxembourg and throughout Europe, our graduates must pursue their postgraduate studies with a Master's degree. Thus, LUNEX University also offers its students a 2-year Master in Physiotherapy. It enables them to consolidate their theoretical knowledge and practical skills as well as to complete sufficient clinical practice hours in order to meet the professional licensing requirements of different countries.
Employment opportunities for Physiotherapists
After their Physiotherapy master's degree, graduates would have the possibility to work in the following sectors:
Private practices (as an employee or self-employed)
Prevention and rehabilitation centres
Clinics and hospitals
Businesses in the private sector
Sports clubs and confederations
Science and research
Teaching and Research universities
What we offer at LUNEX?
Being taught by world-class experts
100% English courses
Individual guidance tutoring
State-of-the-art equipment
Extensive Clinical Placements Network
International environment
Higher Education Degree in accordance with the Bologna Process
Gaining the theoretical and practical competencies in accordance with the highest European educational standards
Acquisition of training in scientific methods, evidence-based practice, and quality-assurance methods
Substantial practical experience thanks to the constant transfer of theory to applied practice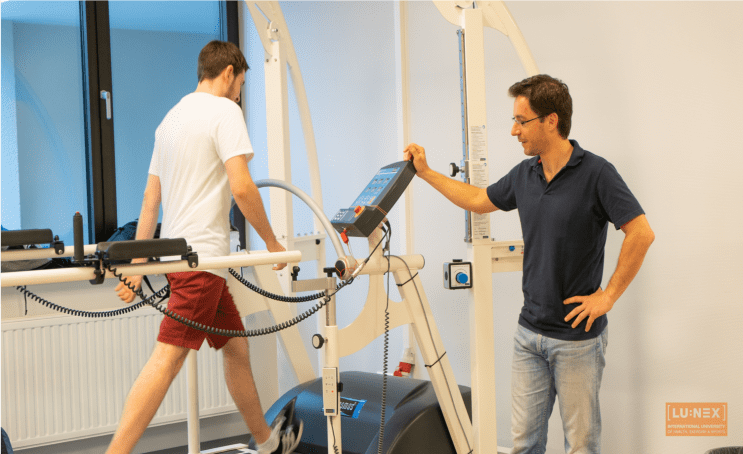 Application Process
Besides being passionate about improving individuals' movement and quality of life, to apply for our Bachelor in Physiotherapy, you must have at least 12 years of school education or equivalent prior education. Then you just have to fill in our online application form and to participate in one of our Application Days, which are composed of admission tests in English and sciences.
There is no application deadline, it is possible to apply throughout the year.
Last updated Jul 2018
About the School
LUNEX University is an international private school which focuses on research and teachings on the closely connected areas of health and fitness, sports, therapy and preventive medicine. At LUNEX, stu ... Read More
LUNEX University is an international private school which focuses on research and teachings on the closely connected areas of health and fitness, sports, therapy and preventive medicine. At LUNEX, students can evolve in an international learning environment and be equipped with new approaches and perspectives on the emerging fields of sports and health.
Read less