Program Description
Taught in English
Practical classes since the first year
International Students mobility in Europe
Pharmacy simulation room on Campus
Direct access to PhD programs
Spanish Language Courses
Testimonial
Roque Roldán, student in Bachelor's Degree in Pharmacy
"This is a very complete degree. It has a theoretical part and a very large practical part. We develop it in UCAM laboratories, and we have also visited other laboratories and have done practice in hospitals".
Student Profile
The Bachelor's degree in Pharmacy offers a multidisciplinary education to future pharmacists. It responds to society's demands and it is well integrated into the public health system. A good pharmaceutical professional can improve a patient's quality of life considerably, not only through pharmaceutical attention and monitoring but also in the areas of public health. The role of a pharmacist is fundamental to guarantee a rational use of medicines and the completion of treatments, as well as being important to achieving the sustainability of the National Health System. Students in this degree will do work experience in the university's laboratories from the first academic year, as well as in pharmacies, companies and hospitals.
The professional practise of a pharmacist involves a high level of knowledge of medicines and a continuous and close relationship with patients. Therefore, future pharmacists should not only have the necessary knowledge but also an interest in:
Science
Excellent organization skills
A capacity and inclination to treat and attend other people.
For students that come from other education systems, or with other diplomas, it is recommended that they have similar knowledge and capacities to those required by the high school diploma in the following subjects:
Chemistry
Physics
Mathematics
Biology
Why UCAM?
UCAM is one of the best places to study Pharmacy, since we have a pharmacy simulation room, in which you can improve your professional skills. Besides that, Pharmacy Faculty has designed a quality Study Plan. Subjects are selected for you to become a reliable professional.
This Bachelor's Degree at UCAM is a five-year course, as it leads to the official qualification required for professional practice.
One of the benefits of a degree in pharmacy is the great employment opportunities that it provides. The students at UCAM can work in different areas like pharmacies, in the pharmaceutical industry, and in related areas such as pharmaceutical marketing, research, public or private health management, and teaching.
Career Opportunities
For pharmacists there are more than 50 professional options. Within these options, some of them are exclusive only to pharmacists: the Pharmaceutical Organization of the National Health System, Technical Direction in Distribution Warehouses, Primary Healthcare Pharmacy, specialisations via FIR (Hospital Pharmacy, Microbiology, Radiopharmacy, Industrial Pharmacy, Galenics etc.), Military Pharmacy, regular pharmacy and Technical Direction of a Pharmaceutical Laboratory.
The professional options of Pharmacy graduates are very broad within the health system. As well as the ones mentioned previously, graduates in Pharmacy can work professionally in:
Apothecary
Industrial Pharmacy (in different areas)
Food Industry
Environmental Heath
Clinical Analysis
Medicine and Drug Analysis
Public Health
Public Administration (Spanish and European Medical Agencies, Food Health Agencies, Environmental Heath, CSIC (the Superior Council of Scientific Investigations), the National Institute of Toxicology, etc.)
Investigation
Teaching
Internship
UCAM offers different training agreements with important corporations and research centres, as part of the training in Pharmacy. While studying Pharmacy in UCAM you will have a close involvement with professional labour market.
Last updated Apr 2020
About the School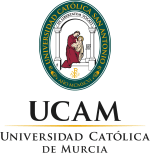 UCAM (Universidad Católica de Murcia) is a private university founded in 1996 with a clear mission: to train students with knowledge and skills to serve society, to contribute to the further expansion ... Read More
UCAM (Universidad Católica de Murcia) is a private university founded in 1996 with a clear mission: to train students with knowledge and skills to serve society, to contribute to the further expansion of human knowledge through research as an integral part of the development of mankind and to participate in the evangelical mission of the Catholic Church in the areas of education and culture.
Read less