Program Description
Thank you for your interest in the Joseph and Nancy Fail School of Nursing at William Carey University. The Bachelor of Science in Nursing (SN) program was developed to prepare the safe, generalist practitioner to enter the ever-changing world of nursing. Graduates are prepared for self-directed practice and continuing growth in professional nursing. Lifelong learning is emphasized as the graduate is prepared to continue education beyond the baccalaureate level. The BSN degree is a fast-paced program where students can complete the program of study in 18 months once admitted to the nursing program. The degree is offered on both the Hattiesburg and Tradition Campuses. Both campuses offer admission during the Fall and Spring terms. Hattiesburg classes are held in the master's wing of the Fail-Asbury Building. Tradition classes are held at the new Tradition campus located on Highway 67 in Harrison County. The School of Nursing is accredited by the Commission on Collegiate Nursing Education, One Dupont Circle, NW, Suite 530, Washington, DC, 20036-1120, (202.887.6792): by the Board of Trustees, and Institutions of Higher Learning of the State of Mississippi.
Standards for Admission - Freshmen
- Complete the application for undergraduate admissions - Send in your $40 application fee - Send in your official ACT or SAT scores - Send in your official high school transcript - Send in proof of measles, mumps, rubella (MMR) immunizations (must have had one MMR shot in the last ten years or two MMR shots in your lifetime.) - If you have taken college classes during high school, call the college and ask them to mail us an official and final college transcript.
Last updated Dec 2017
About the School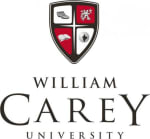 William Carey University is a community of learners which seeks to blend faith and learning with living. Within this unique nurturing and challenging environment students prepare to fulfill their div ... Read More
William Carey University is a community of learners which seeks to blend faith and learning with living. Within this unique nurturing and challenging environment students prepare to fulfill their diverse
Read less