Bachelor in Dental Surgery
Program Description
Mission
The overall mission of the programme is to be recognized for innovative dental education, commitment to cultural diversity, discovery, transfer of scientific knowledge, the superior skills of our graduates and the highest degree of patient care and service.
The dental programme incorporates new and appropriate knowledge, technology and skills which ensure student learning resulting in graduates competent in their respective fields. The goal of the programme is to prepare graduates who possess the knowledge, skills and values to begin the practice of general dentistry.
We will provide innovative, inter-professional educational experiences that develop students as integral members of the health care team and future leaders.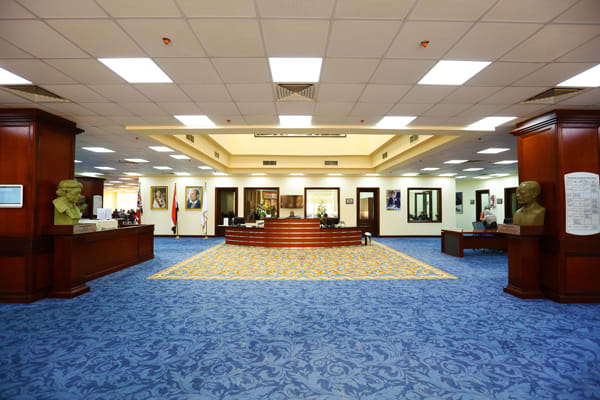 Distinctive features of the programme
The Dental programme is committed to excellence in education, patient care, service and research. It exists to develop dental professionals who will use the knowledge and technology of the 21st century characterized by compassion, leadership, professionalism, creativity, service, and social justice.
New technology is adopted in the teaching process (Endo microscope in Endodontics, CAD/CAM in crown and bridge, and CBCT in Radiology) and central sterilization unit is available for infection control.
Training of students is held on Dummy heads to prepare them for working on patients. Also, training on patients is held in summer period so as students practice and make full use of their free time.
Extra revisions are always done for lagging students and Extra hours are held (4-7pm) for extra clinical practice of students.
An additional advantage of our programme is that Dental modules start directly in degree year 1.
Programme aims
The programme will include the necessary knowledge, skills, and professional approach and have strength in clinical skills. There will be greater emphasis on competencies, a record of achievement and an integrated approach to teaching and learning.
The curriculum will be one that provides adequate training for the graduate to practice sound general dentistry and to instil a commitment to learning throughout his/her professional life. It is designed for students who aspire to understand, analyse, forecast, and influence the dental profession at the aggregate as well as the individual level. It is also designed to produce a caring, knowledgeable, competent, and skilful graduate who is able to assume professional responsibility for his/her patients.
This programme aims to:
Develop a thorough understanding of biological medical sciences to enable the integration and correlation of these basic sciences with clinical dental practice.
Provide knowledge about the practice of dentistry and the development of relevant skills for the constructive use of that knowledge in their range of activities.
Provide students with the tools to apply the knowledge and skills they have acquired to the solution of theoretical and applied problems in dentistry and to exercise judgment in evaluating relevant economic policy.
Develop the analytical learning skills that are necessary for the professional dentist.
Develop an understanding of problems in the dental field, and be able to detect drug interactions in their field.
Develop competence in the diagnosis of oral and dental diseases including an understanding of the relationship between general and oral diseases.
Stimulate students intellectually and lead them to appreciate the programme applications to a range of problems and its relevance to a variety of contexts.
Provide clinical understanding and competence to practice without supervision, yet be able to realize his/her limitations and refer patients to specialist advice and care when indicated
Encourage understanding of dental problems in a multidimensional context and empower the students to be able to justify, critically appraise, systematically analyse, and reflect on their own and others clinical practice and learning.
Enable graduates to apply their transferable skills involving teamwork, managing and evaluating one's own learning and/or making an effective use of it.
Experience in the principles and techniques of working to a deadline and in project management and managing a team.
Enable graduates to independently evaluate/argue alternative approaches and accurately assess/report on own/others work with justification.
Enable graduates to deal with complexity and/or contradictions in the knowledge base and make confident selections of tools for the job in hand.
Enable graduates to continue their professional education and significantly contribute to the wide field of dental care of their patients.
Last updated Feb 2020
About the School

BUE is Egypt's major university delivering British Higher Education with students graduating with both Egyptian and UK degrees. It is the largest face-to-face provision of British Transnational Higher ... Read More
BUE is Egypt's major university delivering British Higher Education with students graduating with both Egyptian and UK degrees. It is the largest face-to-face provision of British Transnational Higher Education in the Middle East, leading in Educational Quality, the Student Experience, and Research and Enterprise.
Read less