Bachelor in Biomedical Science
Read more about this program on the institution's website
Program Description
Students who study biomedical science are problem-solving visionaries. You'll build a base of knowledge and skills in biology, disease research, and technical design to imagine and create medical equipment that improves lives locally, nationally or internationally. You'll learn to use computer skills to show how organs and internal systems work and to test and demonstrate how a body would react to a medical device. Your class and fieldwork will prepare you for work in the laboratory and health-related jobs or to continue your study for an advanced degree.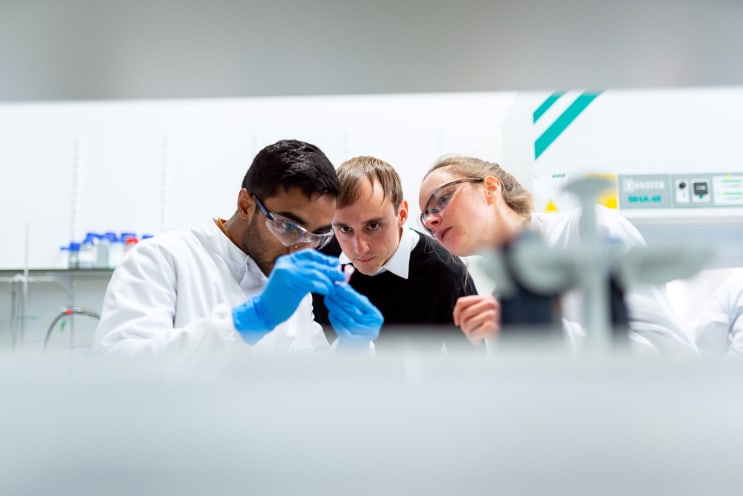 Program Highlights
A strong base of scientific knowledge established through biology, chemistry and physics courses.
Opportunity to participate in field-based or laboratory-based faculty research on a short-term or long-term basis that may culminate in publishing papers and presentations at scientific conferences.
High-demand for graduates who complete advanced work.
Biology Tutoring Center positioned near a new anatomy and physiology suite is open weekdays.
Collaboration on the Integrated Science and Engineering Laboratory Facility (ISELF) molecular mechanisms of disease research.
Program Distinctions
Opportunity to develop relevant skills in classwork, laboratory research, and fieldwork with nationally-recognized faculty members.
The program operates in a state with more than 480 medical device firms registered with the U.S. Food and Drug Administration.
Completes preparation for professional study programs required for health-care degrees such as medical doctor, dentist, and pharmacist.
Notable alumnus: Bruce Johnson '83, professor of medicine at Mayo Clinic, studies how the human body reacts to extreme conditions in locations such as Mount Everest.
Student Organizations
American Society of Microbiology
Medical Professions Association (MPA)
Pre-Dental Organization
Pre-Med Club
Pre-Pharmacy Club (RxC)
Pre-Veterinary Society
Gerontology Club
Student Health Action & Advisory Committee (SHAAC)
University Facts & Statistics
1 of 56 Higher Education Excellence in Diversity (HEED) award winners
31% increase in Honors Program enrollment in fall 2013
39 Education Abroad programs offered
1 million hours of campus, community volunteer service
Top 3% of the most affordable universities in Forbes' "America's Top Colleges" ranking
Popular Careers
Biomedical Scientist
Laboratory technician
Product development
Clinical technician
Forensic scientist
Medical device/Pharmaceutical sales
Physician/Dentist/Pharmacist
Job/Career Titles
Biologist/Scientist
Biomedical Engineer
Chiropractor*
Clinical Technician
Cytotechnologist
Dentist*
Forensic Scientist
Genetic Counselor
Government Lab Services
Health Services Administrator*
Laboratory Technician
Medical Device/ Pharmaceutical Sales
Medicine/Physician*
Occupational Therapist*
Optometrist*
Pharmacist*
Physical Therapist*
Physician Assistant*
Podiatrist*
Product Development
Professor/Teacher*
Public Health*
Quality Control Technician
Research Chemist
Veterinarian*
*Advanced education preferred
Employers
General Industry
Federal and State Government
Hospitals and Clinics
Laboratories
Nursing Care Facilities
Pharmaceutical Companies
Public Health Departments
Research and Biotechnology Firms
Universities and Colleges
Minnesota Employers
3M
Beckman Coulter
BioAmber, Inc.
Boston Scientific
Brennen Medical
Ecolab
Mayo Clinic
Pace Analytical
R&D Systems
St. Cloud Hospital
St. Mary's Hospital
University of MN
Upsher-Smith
Viromed
Xcel Energy
Skills and Traits
Ability to work in a fast-paced environment
Attention to detail
Communication skills
Computer skills
Decision making skills
Desire to help others
Flexibility
Interpersonal skills
Knowledge of scientific methods
Manual dexterity
Multicultural competence
Problem-solving skills
Strong math and science background
Work well on a team
Last updated Oct 2020
About the School
At St. Cloud State, an education is about far more than an education. It will be an opportunity to explore ideas, seek out unique perspectives and embrace new challenges – all of which will help you u ... Read More
At St. Cloud State, an education is about far more than an education. It will be an opportunity to explore ideas, seek out unique perspectives and embrace new challenges – all of which will help you unleash your true potential. You will make life-long memories on our 100-acre campus along the scenic Mississippi River. Futures that begin here might seem unassuming at first, but like the mighty Mississippi River, they quickly gather strength. Growing. Surging. Until they're seemingly unstoppable. If you're looking for choice, we've got that covered. We have more than 200 undergraduate programs of study and more than 60 graduate programs, holding nearly every available national accreditation. Founded in 1869, St. Cloud State has evolved into a comprehensive university. We're on a mission to unleash ideas, unleash imagination, purpose, and promise.
Read less