Program Description
We boast a direct entry (0-6) PharmD program – one of only seven in the nation. This means you're admitted to the pharmacy program on day one. No waiting, no hoops, no denials after you've invested several years of college coursework. You get to be a pharmacist-in-training from the moment you arrive on campus.
Larger institutions just can't provide the individualized attention and opportunity you'll find here. You will set yourself apart from your peers as you become a campus and community health partner working alongside the ONU HealthWise clinical team fielding calls in the Drug and Health Information Center and helping patients live healthier lives through health and wellness screenings. You could serve area patients via the HealthWise Mobile Clinic or in the on-campus HealthWise Pharmacy. You also could have the opportunity to help a professor with grant-funded research or head up a pharmacy student organization – the opportunities open to you are truly incredible!
At the Raabe College of Pharmacy, we don't just educate pharmacists; we educate compassionate caregivers and committed leaders. Upon graduation, you'll have the confidence to blaze new trails and help people in ways you never imagined.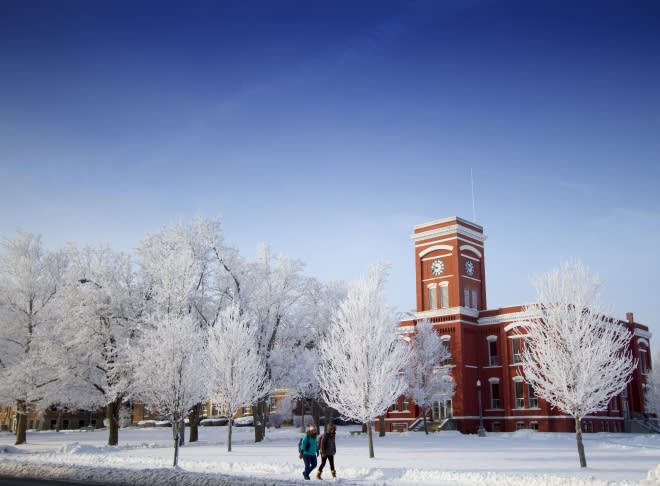 Make an impact
Our academic program is rigorous. Expect to work hard and be challenged. But there's no need to stress – because we offer a supportive and non-competitive environment. Your professors, fellow pharmacy students, and ONU alumni will become your friends and family. They will help you succeed and open doors for you.
Find a match
In year six of pharmacy school, you'll engage in nine rotations – each lasting approximately one month – that give you a chance to practice pharmacy in a variety of settings. You may complete a rotation that you absolutely love, and discover a new area of pharmacy. You may be interested in continuing to learn as a pharmacy resident – you can enter the "match" process. In 2018, ONU students matched at a rate of 75 percent. In the first-round Post Graduate Year 1 (PGY1) residency training, ONU was thirteenth in the nation in a total number of graduates matched. Matched locations include the Cleveland Clinic, The Johns Hopkins Hospital, Nationwide Children's Hospital, Children's Healthcare of Atlanta and the University of Wisconsin–Madison.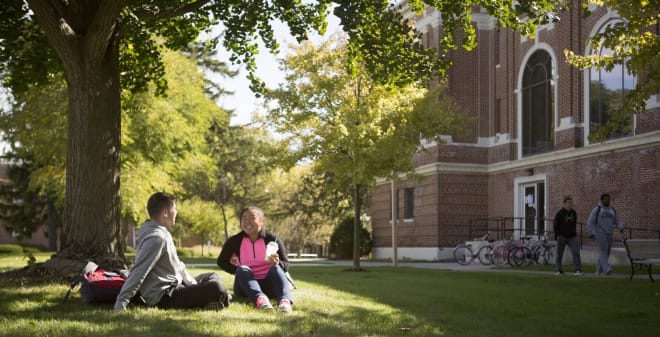 Student Organizations
In the College of Pharmacy, we have a variety of active and award-winning student organizations. Through participation in one or more of these groups, you'll have the opportunity to network, be a leader, make lifelong friends, gain knowledge about your chosen profession, volunteer, travel to regional and national conferences, and more. Click on the headlines below to learn more.
Academy of Managed Care Pharmacy
AMCP's vision is managed care pharmacy improving health care for all by empowering its members to serve society using sound medication management principles and strategies to improve health care for all. Managed care pharmacy principles are based upon the use of scientific evidence to achieve healthy outcomes while making the best use of money spent on medications and their management.
American Society of Consultant Pharmacists
ASCP's mission of the student organization is to educate members in geriatric pharmacotherapy and the unique medication-related needs of seniors and long-term care residents. We are the first ONU organization to include both pharmacy and business majors. Outreach and community services are mostly focused on arthritis education. Student chapter membership is only $20 per year. Internships, Residencies, and Rotations are available to ASCP members.
APhA Academy of Students of Pharmacy
The American Pharmaceutical Association (APhA) is the national professional organization for all pharmacists. The pharmacy student is represented in APhA through the Academy of Students of Pharmacy (ASP), hence the more common designation at ONU is to refer to this membership as being in ASP. In addition, membership in APhA, while a student at ONU, will also include membership in the Ohio Pharmacists Association. Membership is open to all students enrolled in the College of Pharmacy. The organization has regular biweekly meetings and sponsors speakers and health professional programs such as blood pressure screening and poison prevention awareness. The APhA publishes a monthly journal under the title of American Pharmacy.
Christian Pharmacists Fellowship International
Christian Pharmacists Fellowship International (CPFI) is a worldwide, interdenominational ministry of individuals working in all areas of pharmaceutical service and practice. We welcome all Christian pharmacy majors – if you are someone who has a lot of interest in the world of pharmacy then CPFI is for you! CPFI hosts multiple speakers each semester, who share their pharmacy experiences in order to promote growth in members as Christians, pharmacists, and people.
Medicinal Herb Club
The primary purpose of the club is to teach members and the community about the proper use of medicinal plants. The club meets twice monthly. One meeting is devoted to the discussion of a specific medicinal plant and its various activities, which includes information as to how much is known and how extensive the research has been to study that plant's activity. The second monthly meeting is a project meeting in which members learn how to grow a plant and how to prepare that plant for a particular use (such as making a poultice for placing on a surface wound). The Medicinal Herb Club also helps maintain the University's four-campus herb gardens.
National Community Pharmacist Association
The NCPA is the National Community Pharmacist Association representing independent pharmacy practice. NCPA offers its members valuable information on the business and practice of independent pharmacy, the latest developments in legislation and regulations affecting pharmacy practice, practical tools that can be used in everyday practice, and an opportunity to expand their network of pharmacy colleagues. Student membership is open to all students enrolled in the College of Pharmacy. The organization has monthly meetings, often including invited speakers. NCPA Student Chapters give back to their communities through community service. Members are encouraged to participate in NCPA on the national level in addition to the student chapter.
Personalized Medicine Coalition
The purpose of this ONU student PMC chapter is to foster the development and awareness of personalized medicine both educationally and professionally. The organization consists of six sections based on the PMC document "The Case for Personalized Medicine": technology, regulatory policy, payment, health information technology, genetic non-discrimination, and medical education.
Pharmacy Council
Pharmacy Student Council is a group of elected students who represent their various classes within the College of Pharmacy and also includes a pharmacy senator serving on the University Student Senate. The council serves as a liaison between the students and administrations, faculty, and staff concerning issues that affect the College of Pharmacy. It also serves as a unifying council of the various pharmacy organizations. It elects or appoints all student members serving on college committees, such as the Curriculum Committee. The council has sponsored the Pharmacy High School Day on campus for the past several years, a drug fair during Pharmacy Week, the graduating students' composite picture, and the Annual Pharmacy Picnic.
Psychiatric and Neurologic Pharmacists
The primary purpose of this group is to raise awareness about mental health and substance abuse not only on campus but also in Ada and the surrounding communities. CPNP meets monthly to hear from speakers who are experienced pharmacists, psychologists, and trained educators from the National Alliance on Mental Illness (NAMI). CPNP also has teamed with other pharmacy organizations on campus to plan an annual mental health week each April.
Student National Pharmaceutical Association
SNPhA is an educational service association of pharmacy students who are concerned about pharmacy and healthcare-related issues, and the poor minority representation in pharmacy and other health-related professions. The purpose of SNPhA is to plan, organize, coordinate and execute programs geared toward the improvement for the health, educational, and social environment of the community The National Pharmaceutical Association is the parent organization for SNPhA. SNPhA has the following initiatives: HIV/AIDS Initiative - "Remember the Ribbon", Power to End Stroke, Chronic Kidney Disease Initiative – "KEEPSAKE," Clinical Skills Competition, Legislation/Voting/Immigration Initiative, Operation Immunization, Clinical Disease Initiative, and Diabetes Initiative.
Student Society of Health-System Pharmacists
SSHP provides students an opportunity to become knowledgeable about pharmacy practice in health care settings. To do this, SSHP provides information, through speakers and programs, to provide career direction for pharmacy practice in health care settings. Members are encouraged to participate in local, state and national organizations both as a student and upon graduation.
Kappa Epsilon
Kappa Epsilon is a professional fraternity for women in pharmacy. At ONU, Kappa Epsilon strives to unite women in pharmacy and to stimulate a desire for high scholastic achievement. To be eligible, you need to have second-year standing. Kappa Epsilon promotes the profession of pharmacy by having various professional projects, including poison prevention educational shows, blindness screening clinics, CPR training and an array of guest speakers.
Kappa Psi
Kappa Psi conducts a fraternal organization mutually beneficial for members in the advancement of the profession of pharmacy – educationally, fraternally, and socially; striving to instill industry, sobriety, fellowship, and high ideals and to foster scholarship and pharmaceutical research.
Phi Lambda Sigma
Phi Lambda Sigma is an honor society for pharmacy students. Members must be chosen by their peers and must exhibit leadership.
Rho Chi
Rho Chi is a national pharmacy honor society. It is open to all undergraduates in the upper 20% of their class, with at least a B average, and who have completed at least 70% of the scholastic work applicable toward a pharmacy degree.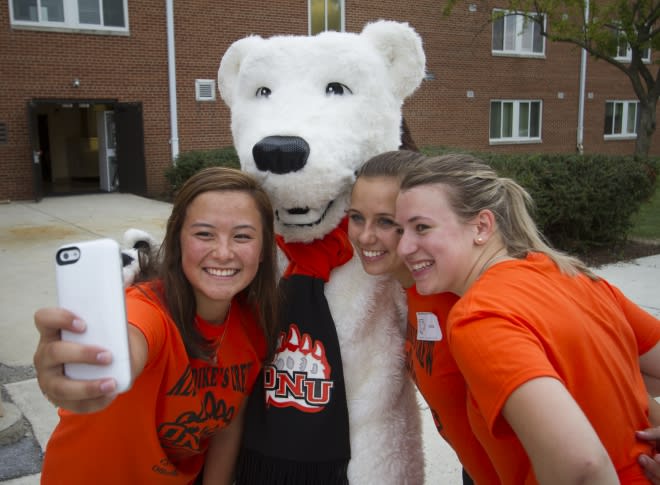 End Game: A Fulfilling Career
Our graduates are making a difference all over the world. Check out where our graduates have ended up.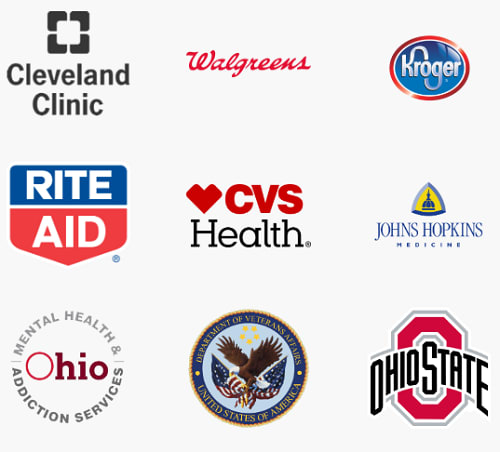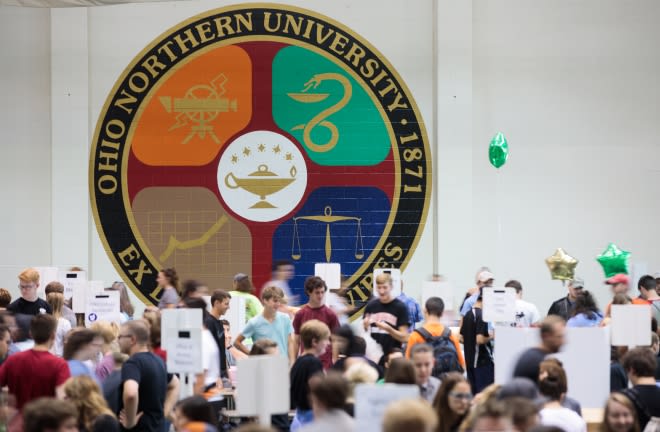 Think Success
Megan Keller PharmD '11
"I love it and there is nowhere else I would rather be," she says. "it's incredibly exciting to be on the cutting edge of medicine and pharmacy. I'm truly thankful for my O.N.U. experiences, both inside and outside the classroom. It takes a special environment to allow students to grow, mature and succeed."
Megan Keller, PharmD '11, is helping to redefine the role of the pharmacist in the healthcare system, and she's loving every minute. Keller is the director of clinical pharmacy services at Doctors Hospital Family Practice in Grove City, Ohio—a family medicine training program for osteopathic physicians. Her role is to integrate pharmaceutical expertise into the total care provided to patients. She accompanies the medical residents on appointments, guides them in drug selection, answers their medication questions, and delivers monthly lectures. She also works directly with patients to facilitate healing. She helps patients manage their disease states, reviews their medications for negative interactions, and educates them about their medications.
Last updated Nov 2020
About the School

Ohio Northern University is an independent, comprehensive University located in the scenic village of Ada, Ohio. The University comprises five colleges: Arts & Sciences, Business Administration, E ... Read More
Ohio Northern University is an independent, comprehensive University located in the scenic village of Ada, Ohio. The University comprises five colleges: Arts & Sciences, Business Administration, Engineering, Pharmacy and Law. Since our inception in 1871, we've been devoted to developing students who are ready to immerse themselves and progress to the next level? in everything they do.
Read less