Bachelor Exercise Physiology
Program Description
As a student in exercise physiology, you'll study how exercise alters the structure and function of the human body. You'll receive a solid foundation in the basic and applied sciences and delve into physiology, anatomy, kinesiology, strength and conditioning, and allied health.
Practical, hands-on experience is woven into our program. Our professors and network of alumni will open doors to incredible opportunities in the field. Our students not only work directly with the coaches and athletes in ONU's athletic department but also land internships at places like the Cleveland Clinic, Akron General Hospital and the Ohio State University Department of Athletics.
From day one, you'll be part of our family. You'll enjoy small classes, a safe campus, and lasting friendships. Our supportive professors will get to know you. They'll guide you every step of the way as you make decisions about your future.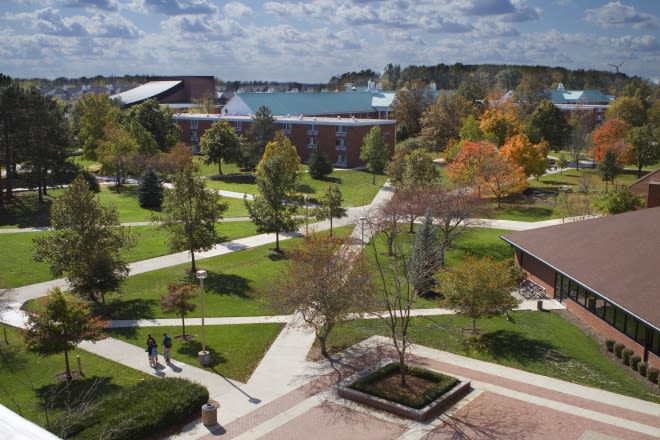 Solid Outcomes
6 Our exercise physiology program is one of only six in Ohio to be accredited by the Commission on Accreditation of Allied Health Education Programs (CAAHEP).
7 Our strength and conditioning concentration is one of seven in Ohio to be recognized by the NSCA as an Education Recognition Program.
90 Our students enjoy a greater than 90 percent acceptance rate into allied health graduate programs and professional programs.
13:1 ONU student to faculty ratio.
Choose A Concentration
Our program gives you the flexibility to explore your interests and to change your mind. You don't have to be 100 percent certain about your future plans. We designed our curriculum to be relevant to many different professional careers. You can choose between two different concentrations: Clinical and Rehabilitation Sciences and Strength and Conditioning / Human Performance.
Clinical and Rehabilitation Sciences
This concentration balances coursework with applied learning (internships and required observational hours) and will prepare you for a variety of allied health professions, including exercise physiology or athletic training. Many of our graduates use this concentration to pursue advanced professional degrees in physical or occupational therapy. Students who know they want to become an athletic trainer can apply for the 3+2 Master of Athletic Training affiliation with multiple universities. This five-year program involves three years at ONU to receive a bachelor's degree in exercise physiology and then two years at another university for a Master of Science in athletic training.
Strength and Conditioning/Human Performance
This concentration offers a challenging curriculum that includes practical and hands-on experience and prepares you for graduate school or a variety of professional careers, including cardiac rehabilitation, corporate or public fitness, or working with a collegiate or professional athletic team. Through a combination of our challenging curriculum and your own hard work, you'll be prepared to sit for national certification exams like those offered by the American College of Sports Medicine (ACSM) and the National Strength and Conditioning Association (NSCA). Certification will set you apart from the competition by ensuring you meet rigorous national standards of practice.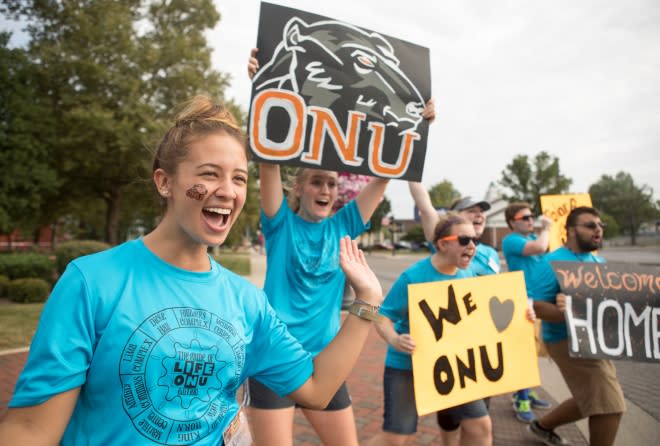 Learning Outcomes
Students in the exercise physiology major will:
Perform common exercise physiology assessments (i.e. aerobic capacity, muscular endurance, muscular strength, flexibility, body composition, heart rate, and blood pressure) on sedentary and trained individuals as evaluated by skill assessments.
Implement exercise prescriptions to improve the exercise capacities of sedentary and trained individuals.
Implement exercise programming and health promotion programs for sedentary and trained individuals.
The following benchmarks will be met to meet national CAAHEP accreditation standards:
Exercise physiology graduates will be professionally and academically prepared for clinical and professional certifications as evaluated by pass rates >70% on national certification exams.
Exercise physiology graduates will be academically prepared for post-secondary and graduate programs and direct entry employment as evaluated by graduate placement rates >70%.
Exercise physiology graduates will be professionally prepared for their chosen exercise physiology-related careers as evaluated by internship preceptor assessments, graduate satisfaction surveys and employer surveys.
>70% of the students enrolled in the exercise physiology program will be retained and graduate with a degree in exercise physiology.
Exercise Physiology majors go on to become a Physical or Occupational Therapist, Cardiopulmonary Rehabilitation professional, Strength and Conditioning professional, Personal Trainer or Fitness professional, Manager of corporate wellness program or Strength coach for university or professional sports team.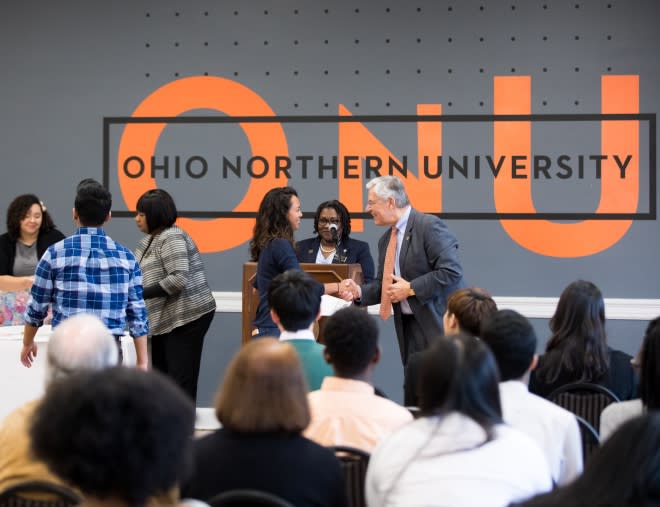 Curriculum
Exercise physiology majors take a core group of 57 credit hours to fulfill CAAHEP accreditation requirements. Students then choose a concentration – either Clinical and Rehabilitation Sciences or Strength and Conditioning/Human Performance – that requires an additional 12 credit hours. Courses include Anatomy and Physiology, Exercise Physiology, Physiology of Aging, Pathophysiology, Sports Nutrition and Supplementation, Exercise Testing and Prescription and Strength and Conditioning.
"It was a great choice for me because of the small setting, friendly atmosphere and numerous opportunities for growth."

Lindsey Inkrott, BS '16
Last updated Nov 2020
About the School

Ohio Northern University is an independent, comprehensive University located in the scenic village of Ada, Ohio. The University comprises five colleges: Arts & Sciences, Business Administration, E ... Read More
Ohio Northern University is an independent, comprehensive University located in the scenic village of Ada, Ohio. The University comprises five colleges: Arts & Sciences, Business Administration, Engineering, Pharmacy and Law. Since our inception in 1871, we've been devoted to developing students who are ready to immerse themselves and progress to the next level? in everything they do.
Read less