BSc Biomedical Engineering
Home ›
BSc ›
BSc Biomedical Engineering
Program Description
Biomedical Engineers are essential to the delivery of modern medical care that improves peoples' health and helps them live longer, happier lives.



Biomedical engineers (BEs) help people by solving medical equipment and healthcare related problems using math, science and engineering principles. They design medical devices and systems and manage the manufacture, sales, and use of this equipment in environments ranging from homes to hospitals.
The BE Program exposes students to these major BE specializations:
Electronic Medical Instrumentation
Medical Imaging and Signal Processing
Biomechanics, Sports Medicine, and Rehabilitation Engineering
Biomaterials, Tissue Engineering and Regenerative Medicine
Artificial Internal Organs
Systems Physiology and Modeling
This broad approach to BE allows students to explore the varied options available to biomedical engineers and postpone selecting a specific career path until their senior year.
BE provides a wide range of career options and is among the fastest growing engineering areas. BEs are instrumental in improving the quality and reducing the cost of healthcare. Cardiac pacemakers, CT scanners, and artificial hips are just a few of the specific products with which BEs deal. Although BE coursework generally focuses on medical device design, development, production, and use, biomedical engineers can apply their board and deep engineering and life science knowledge to a wide range of related problems. For example, several program graduates now work in automotive safety and comfort-related jobs. Others are physicians and lawyers. Some biomedical engineers start their own businesses developing new services or consulting with industry or research centers, while others work for the government developing and ensuring proper regulation of medical equipment.
The Results
The placement rate for M.S.O.E. biomedical engineering graduates was 94% in 2014-15, and graduates enjoyed an average starting salary of $56,440.
Upon graduation, M.S.O.E. BE students have immediately started great careers with companies such as:
Epic Systems
Fenwal, A Fresenius Kabi Company
GE Healthcare
Merge Healthcare
Michael Best & Friedrich LLP
NASA
Nordic Neurolab, Inc
Stryker
The M.S.O.E. BE advantage
The biomedical engineering program at M.S.O.E. distinguishes itself through:
A well-rounded biomedical engineering curriculum that covers all the major specialty areas of biomedical engineering.
A balanced curriculum designed to equally prepare graduates for immediate employment, graduate study or professional (medicine or law) school.
Two junior year laboratory courses that combine material from multiple lecture courses to help students understand how the diverse topics making up biomedical engineering fit together.
An extended (15 month) design experience that simulates industry and follows FDA design requirements and culminates in recommendations, based on business analyses, regarding whether or not designs should be put into production.
Extensive coverage of fundamental math, science and general engineering topics to provide the foundation for biomedical engineering specific coursework and successful careers.
Numerous general education and program electives that make the program compatible with a number of academic minors.
Formal and informal coverage and numerous opportunities practice the organizational, interpersonal, business and communications aspects of engineering.
A quarter, as opposed to semester, based academic calendar that maximizes the number of courses in the program.
Recently completed BE design projects include a continuous blood glucose monitoring system, a knee joint ultrasound phantom, a measurement device for total knee replacement surgeries, and a performance feedback system for competitive rowers.
You may want to consider BE if you
Want to help people by advancing healthcare technology and systems.
Are excited by the idea of creating and working with the latest medical devices and systems.
Enjoy biology and chemistry as well as math and physics
Prefer activities involving equipment and processes rather than direct patient care
Want to help people live happier and healthier lives, but prefer not to pursue a nursing, medical, or another clinical career.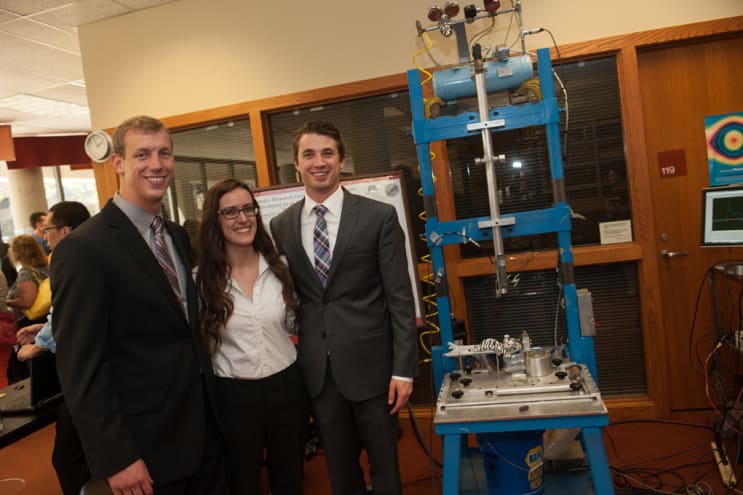 Program Educational Objectives
Program educational objectives are broad statements that describe the career and professional accomplishments that the academic program is preparing the graduates to achieve. The objective of this program is for graduates to attain within a few years of graduation:
Professional careers in the biomedical or related engineering fields,
Graduate study or degrees in biomedical engineering or related engineering or sciences fields, or
Other related professional endeavors such as education or practice in law, medicine, or business or other fields.
Student Outcomes
Student outcomes are narrower statements that describe what students are expected to know and be able to do by the time of graduation. Upon successful completion of the biomedical engineering program, graduates will have:
an ability to apply knowledge of mathematics, science, and engineering
an ability to design and conduct experiments, as well as to analyze and interpret data
an ability to design a system, component, or process to meet desired needs within realistic constraints such as economic, environmental, social, political, ethical, health and safety, manufacturability, and sustainability
an ability to function on multidisciplinary teams
an ability to identify, formulate, and solve engineering problems
an understanding of professional and ethical responsibility
an ability to communicate effectively
the broad education necessary to understand the impact of engineering solutions in a global, economic, environmental, and societal context
a recognition of the need for, and an ability to engage in life-long learning
a knowledge of contemporary issues
an ability to use the techniques, skills, and modern engineering tools necessary for engineering practice
Contact Kayla Maule at maule@MSOE.edu or on Whatsapp at +1 414 573 9883 for more information.
Last updated Jan 2019
About the School
Milwaukee School of Engineering is a private, non-profit university offering bachelor's and master's degrees in engineering, business, mathematics and nursing and an intensive English for Academic Pur ... Read More
Milwaukee School of Engineering is a private, non-profit university offering bachelor's and master's degrees in engineering, business, mathematics and nursing and an intensive English for Academic Purposes program for those looking to improve their English proficiency. At MSOE, you will find a caring community of students and faculty. Together, we are committed to fostering a higher standard of academic programming and research, and personalized service, instruction and guidance.
Read less