Read more about this program on the school's website
Program Description
Physiotherapy plays an essential part in the overall health and well-being of a wide range of patients. Physiotherapists work with a diverse caseload across all healthcare settings, often as part of multidisciplinary teams.
As a student at Bradford, you'll develop the skills you need to take a key role in the management of both acute and long term conditions, helping restore and maintain function and activity and prevention of injury or illness.
The Bradford approach emphasises the integration and application of theory and practice to produce an adaptable, innovative graduate with excellent professional skills who can use a research-based, evaluative, problem-solving approach to physiotherapy practice.
You will develop strong leadership skills enabling you to manage and lead teams often working in emerging roles with new providers.
Professional accreditation
This course is approved by the Chartered Society of Physiotherapy (CSP) and the Health and Care Professions Council (HCPC), the statutory body for Allied Health Professionals. By the end of your studies, you will be eligible to apply for registration with the HCPC and will be eligible to apply for full membership of the Chartered Society of Physiotherapy (CSP).

Rankings
We are ranked 8th in the UK for Physiotherapy in the Complete University Guide 2020.
The Physiotherapy and Sport Rehabilitation team at the University of Bradford has been recognised nationally with a Collaborative Award for Teaching Excellence (CATE) from AdvanceHE, the most prestigious team award available for learning and teaching in Higher Education.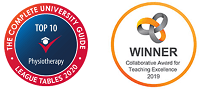 Entry requirements
A-Levels: 136 UCAS tariff points from three full A-levels to include a minimum grade B in Biology, Human Biology, Sport Science or PE. General Studies is not accepted.
Please note that where a science A-level is taken, the University will require applicants to pass the practical element (for A levels awarded from August 2017 onwards).
BTEC Extended Diploma: DDD in a relevant Health, Science or Sport subject. Applied Science BTEC Extended Diploma applicants will require a minimum of one Biology unit at Distinction.
Applicants on Access Programmes: 136 UCAS tariff points from an Access to Higher Education Diploma in Health Professions or Science — at least 12 credits in Biology must be at minimum grade Distinction.
International Baccalaureate requirements: 136 UCAS tariff points from 3 HL subjects at 7,6,5 to include HL Biology at grade 6. Plus HL 3 or SL 4 in Maths and English Language and Literature A or English B.
Plus a minimum of GCSEs with grade C or grade 4, to include English Language, Mathematics, and Biology, Combined Science or Physical Education. Level 2 equivalencies are accepted.
Those applying with an Access course are only required to have GCSE English Language and Mathematics at grade C or grade 4. Level 2 equivalences are accepted in place of GCSE English Language and Mathematics.
Additional entry requirements
As part of the selection process, we interview short-listed candidates prior to making offers.
All places are offered subject to satisfactory occupational health screening, a second reference and a Disclosure and Barring Service (DBS) check.
Evidence of recent relevant study in the last 5 years is required. If you do not meet this requirement you will need to apply for the Human Biology for Practice module.
The occupational health screening
All places are offered subject to satisfactory occupational health screening. This will involve completing an on-line occupational health questionnaire and attendance is required at a medical appointment.
Students on health care programmes must be able to meet the Health and Care Professions Council Standards of Proficiency (2013). Occupational health screening and assessment will consider the students' health and wellbeing and their fitness to study and practice. Progress on the course is dependent on your continued fitness.
This screening process complies with Public Health England requirements for the protection of the public and students and staff working in health and social care.
All offers of places are made subject to satisfactory health clearance and an agreement to undergo appropriate blood tests and immunisations.
The University is obliged to make reasonable adjustments for students with disabilities to enable them to fulfil the required competencies of the programme. Candidates who are concerned about health issues are strongly advised to contact us prior to applying.
The Disclosure and Barring Service (DBS) check
All places are also offered subject to a satisfactory enhanced Disclosure and Barring Service (DBS) (previously known as CRB check) disclosure. This is due to the fact that you may be required to work with children or vulnerable adults on your clinical placement, and will need to demonstrate that you can safely work with these groups upon HCPC registration.
English language requirements
Minimum IELTS 6.5 with no subtest less than 6.0.
If you do not meet the IELTS requirement, you can take a University of Bradford pre-sessional English course.
CIFS entry requirement
If you are an international student and do not meet the entry requirements for direct entry onto this course you may be interested in our Certificate of International Foundation Studies
80 UCAS points or equivalent (see individual country pages for details) plus Maths and Biology or Combined Science qualifications equivalent to GCSE Grade C.
UKVI approved IELTS of 5.5 overall with no sub-test less than 5.5.
In addition, applicants will need to succeed in the selection/interview process for the degree programme.
CIFS modules to be taken
Students study the four core modules plus:
Foundation in Human Biology
And ONE additional module from the following:
Foundation in Chemistry
Introduction to the Social Sciences
Global Business Environment
Foundation Mathematics 2
Progression requirements for the degree programme
An overall average of at least 70% and at least 60% in Foundation in Human Biology and at least 50% in the English Language for Specific Academic Purposes with additional sub-test requirements.
Please note: This course has additional entry requirements of disclosure and barring service check and a health check.
What you will study
Year 1 emphasises practical learning; you will be encouraged to participate in practical sessions both as therapist and model to develop professional skills. The theory is taught in an integrated manner to allow you to link theory and practice. The student-led clinics are another opportunity to put your skills into practice.
In year 2 the emphasis is on the development of more advanced and specialised skills directed toward the common areas of physiotherapy practice. Your research knowledge and skills will be developed in readiness for year 3 modules. There are 'practice preparation' sessions to ensure that you are as well prepared as possible for work-based learning, which at this level consists of three placements totalling 540 hours.
In year 3 the emphasis is on independent learning. You will complete a research module which will offer four options – a literature review, a piece of primary research, a research proposal or an audit of an aspect of the practice. Work-Based Learning placements at this level is worth a total of 60 credits and overall placements contribute a maximum of 46.7% to the overall degree classification.
Please note that for 2019 entry, the module information is subject to change.
First year
Core
Neuromusculoskeletal- Peripheral (PAR4009-E)
Developing and Promoting Health and Wellbeing (PAR4008-B)
People Populations and Contemporary Physiotherapy Practice (PAR4006-D)
Second year
Core
Neurological Practice (PAR5008-B)
Cardiovascular Respiratory Practice (PAR5012-B)
Neuromusculoskeletal- Spinal (PAR5010-B)
Research Methods in Health and Sport (PAR5011-B)
Work-Based Learning 1 (Level 5) (PAR5014-D)
Final year
Core
Evidence-Based Practice (HEA6002-B)
Employability and Professional Development (PAR6007-B)
Work-based Learning 2 (PAR6010-E)
Option
Aspirational Research Proposal (RES6003-B)
Evaluating Service Delivery (PAR6008-B)
Literature Review (RES6004-B)
Primary Research Project (PAR6011-B)
Placement
You will undertake six placements of five weeks duration across a range of clinical areas in years two and three. Prior to commencing placements in year two, there are 'preparation for practice' sessions to ensure that students are as well prepared as possible with regard to the expectations of work-based learning. There is a debrief session back in the University at the end of the placement to support your integration of theory and practice learning.
Your first placement is 'formative', which means it is not credit rated but is marked on a pass/fail basis. This placement will give you the experience of working in health and care settings and allow you to practice the professional and communication skills required to work in such environments before embarking on credit-rated placements later in the second year.
Placement locations are sourced for you by the Faculty. The variety of placements may entail some degree of travel and/or accommodation costs which is typical of physiotherapy education in the UK. However, we expect to be able to source many of our placements in the Bradford/Airedale and Leeds areas.
Placement experience allows you to:
Experience professional clinical environments.
Problem-solve with real people and situations.
Integrate theory into practice.
Learn and improve practical skills.
Consolidate learning from modules.
Begin to use reflection in and on the action.
Experience multi-professional working.
Develop your professional identity and communication skills.
Placement experiences will reflect the diverse nature of the profession and also enable you to work with diverse populations and differing multi-disciplinary teams. You can expect to work in an environment in which you would find a physiotherapist. You must complete a minimum of 1000 hours of placement learning over the three years of the programme.
Placements are assessed with marks contributing to your overall degree classification.
Learning and assessment
A major focus of the course is on problem-solving and clinical reasoning. Some large group teaching utilises the concept of team-based learning (TBL) whereby some knowledge-based content is studied out of class and is then assessed by answering multiple-choice questions individually then as a small group or 'team'.
Lectures are supplemented with small group tutorials and practical sessions to facilitate an active and collaborative approach to learning. Case-based scenarios are used to facilitate the development of clinical reasoning skills. Reflection is embedded at all levels. These skills are ultimately evidenced in the practice setting.
The programme uses a diverse range of assessment strategies that accommodate different learning styles. These include:
some continuous assessment of competency-based clinical skills.
practical assessments that are designed to mirror the clinical environment.
assessments that require you to demonstrate academic writing skills.
a common assessment tool for practice placements used collaboratively with three universities in the region.
Facilities
The purpose-built Faculty of Health Studies building represents a £10 million investment in health at Bradford.
Our state-of-the-art facilities provide learning environments and simulation equipment that mirrors those found in the NHS.
They are designed to provide the closest possible 'real-life' practical experience, under the guidance and supervision of our academic team of experienced healthcare professionals, allowing students to develop their clinical skills ahead of practice placements and employment in the health sector.
Fees, finance and scholarships
Tuition fee
Home/EU: £9,250*
International: £19,850
*Fees going forward have been capped by the Government at £9,250 in October 2017.
Scholarships
Every year we award numerous non-repayable scholarships to UK, EU and international students on the basis of academic excellence, personal circumstances or economic hardship. For full details, visit our scholarships website.
Career support
The University is committed to helping students develop and enhance employability and this is an integral part of many programmes. Specialist support is available throughout the course from Career and Employability Services including help to find part-time work while studying, placements, vacation work and graduate vacancies. Students are encouraged to access this support at an early stage and to use the extensive resources on the Careers website.
Discussing options with specialist advisers helps to clarify plans through exploring options and refining skills of job-hunting. In most of our programmes, there is direct input by Career Development Advisers into the curriculum or through specially arranged workshops.
Career prospects
Physiotherapy is an Allied Health Profession and opens up a range of dynamic and exciting career opportunities in a variety of fields. Most physiotherapists work in the NHS, but opportunities also arise in the private sector, sport, research, education and industry.
Employment statistics
100% of our 2017 graduates in BSc (Hons) Physiotherapy found employment or went on to further study within six months of graduating.*
Salary expectations
The average starting salary for our 2017 BSc (Hons) Physiotherapy graduates was £21,938.*
*These DLHE statistics are derived from annually published data by the Higher Education Statistics Agency (HESA), based on those UK domiciled graduates who are available for employment or further study and whose destinations are known.
Study support
The Faculty of Health Studies has a dedicated student support office. MyBradford, based in our main Richmond Building, can also provide advice on course fees and maintenance grants/loans from the Student Loans Company.
As a student at the Faculty of Health Studies, you are also able to access the University's other student support facilities, including the Academic Skills Advice Service, the Counselling Service and the Disability Service.
Research
There is a growing research base within the Faculty of Health Studies. Many of those who will teach on the programme are research active, publishing and presenting internationally.
There are opportunities for students to engage with this research. The research modules are specifically designed for students to work alongside academic staff to develop vocationally relevant research that has the potential to influence and develop practice in the field, and places students at the forefront of knowledge discovery.
Last updated Mar 2020
About the School
At the University of Bradford, you'll benefit from - and be a part of – teaching and research that harnesses technology for the good of society. You'll learn from academic and industry experts who are ... Read More
At the University of Bradford, you'll benefit from - and be a part of – teaching and research that harnesses technology for the good of society. You'll learn from academic and industry experts who are shaping the future of their sectors in world-class facilities. We've invested millions of pounds in high-tech learning environments, such as our motion capture studio and new School of Management facilities. During your time with us, you can become the very best version of yourself. The University is a place where you can expand your mind and make lifelong friends; where you can grow, learn, experience. Where you can belong, and where we support you every step of the way.
Read less