Advanced Master in Biotechnology & Pharmaceutical Management
Home ›
Master ›
Advanced Master in Biotechnology & Pharmaceutical Management
Program Description
Overview
PROGRAM DURATION: 15 months
DEGREE LEVEL: Advanced Master Course format alternates classroom study with work experience. Program certified by the French National Register of Professional Certifications (RNCP)
ENTRY REQUIREMENTS: Master's degree or Doctorate, Bachelor's degree (with a minimum of 3 years of professional experience)
FULL PROGRAM FEES: € 16,900
PROGRAM LOCATION: Paris
Objectives
All courses are taught in English
Graduates with degrees in pharmacology and the life sciences are finding a challenging and changing landscape when it comes to their careers. Companies are increasingly searching for people who are not only strong technically but can also understand, lead, and manage, different business functions. This requires a broad skillset and a practical mentality, which is becoming harder and harder to find.
The people who enter this program come with a scientific background and already have completed advanced degrees (Ph.D., PharmD, and MSc in biological and chemical sciences). This program allows the participants to develop real-world business skills, develop professional networks, and exchange with senior business professionals who have deep industry experience.
Program objectives
To master and understand how the forces driving science, technology, and business interact in the real world to influence decisions.
To enable graduates to gain practical knowledge and skills in biotechnology management to become more valuable to employers, enhance their career prospects, and develop their core competencies.
To train a highly qualified managerial staff capable of analyzing and appreciating the relationships between technology and productivity along the value chain of the organization.
To develop key analytical thought processes to not just understand the complexities of current situations and challenges, but also how to apply those results in unfamiliar and new circumstances, regardless of what the future may bring.
As participants in the program come from around the globe, it is essential to learn how to work in a multi-ethnic, multi-cultural setting where English is the primary language.
Grenoble Ecole de Management has built its reputation through the education of the world's most creative, talented and ambitious individuals for the nano/biotechnology and high technology industries.
Program
Grenoble Ecole de Management has been offering the Advanced Master in Biotechnology Management since 2002. Since its inception, the school has offered an industry-focused program that truly is interdisciplinary in nature.
The program was designed to respond to the growing need in the biotechnology industry for professionals who are trained in management and decision making.
The curriculum includes essential skills for the successful manager and focuses on the body of knowledge that is unique to the business decisions that exist in the life-science industry.
Students will develop not only the skills they need to effectively manage in technologically complex workplaces but also the vision to become leaders in their fields.
The Biotechnology Management program prepares future leaders by equipping them with skills in:
Given as indicative program. Non-contractual document
Real case innovative project
In teams, the program participants work on a real-world innovative project designed to highlight the current challenges and decisions facing managers and business leaders.
They undertake a feasibility study and market analysis of a subject matter for a period of 6 months. They develop industry contacts and make full use of professional networking opportunities to learn more about their chosen projects. The objective of the simulation is to underscore the relationships among the business functions as well as develop an appreciation of the complexities and challenges of strategic management.
Graduates will be able to analyze and appreciate the relationships between technology and productivity as well as business opportunities along the value chain of the organization within a context of the dynamic and uncertain environment.
They should be prepared to challenge the conventional assumptions and paradigms while actively seeking new technologies and strategies to strengthen the value creating and competitive processes within their organizations.
Employment Statistics
Employment within 2 months (2016): 100%
Jobs with international projects: 76%
Annual salary with bonus after graduation: < 34k€: 25% | 34k€-42k€: 25% | >42k€: 50%
Companies
Graduates of this program are qualified for a wide range of positions with scientific research firms and pharmaceutical companies.
They can advance an existing career or transition to new opportunities in the life science industry. Entrepreneurial and management-level positions are available to Advanced Master's degree holders in the following:
Business development
Product development
Project management
Venture capital
Consulting
Marketing
Investment banking
Last updated Mar 2020
About the School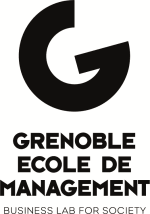 Grenoble Ecole de Management (GEM) has earned both national and international recognition. More than just a school, GEM represents an open-ended laboratory through which 8,000 students and 500 employe ... Read More
Grenoble Ecole de Management (GEM) has earned both national and international recognition. More than just a school, GEM represents an open-ended laboratory through which 8,000 students and 500 employees learn and work every day to solve complex problems and overcome major challenges for business and society.
Read less
Grenoble ,
Medellín ,
Grenoble ,
Tbilisi ,
Berlin ,
Moscow ,
Île-de-France ,
Singapore
+ 7 More
Less