Program Description
Pre-Med timeline
Typical pre-med students will structure their coursework in their first year ( 3 semesters) at UCU to accommodate the required courses.
Pre-Med – 5-Year MD program For High School Graduates
3 Semesters (90 Credit Hours) of PREMED courses taught in St. Kitts over one year and students will be directly admitted to the 1st Year MD-4 program.
Pre-Med Courses: Required minimums credits: 60
Curriculum
Semester 1
Chemistry
Biology
Physics
Mathematics
Medical Terminology
Semester 2
Introduction to Anatomy 1
Introduction to Physiology 1
Introduction to Histology
Introduction to Embryology
Introduction to Cell Biology
Semester 3
Introduction to Anatomy II
Introduction to Physiology II
Medical Ethics
Introduction to Biochemistry/Genetics
Introduction to Pathophysiology
Admission Requirements
The Admissions Committee of UCU gives serious consideration to all candidates showing the potential to meet the rigorous academic requirements of a highly structured curriculum. To be considered for admission to Universal Caribbean University, our Admissions Committee will look at a variety of factors in determining suitability for our program including:
5-Year MD program: GPA of 2.5 or higher is required for high school graduates.
4-Year MD program: Minimum of 60 credit hours of college courses with a GPA of 2.5 or higher in biology, physics, and chemistry.
MCAT is NOT required for admission.
Pre-requisites for the MD program are below.
UCU requires a minimum of 60 credit hours of college courses for admission to the 4-year MD program but strongly recommends that applicants earn a degree from an accredited undergraduate institution.
Application Guide
A completed application for admission into the UCU program contains the following documentation:
A completed UCU application for admission form (all sections must be filled) + application fee $75 non-refundable.
A current resume or Curriculum Vitae.
A Personal Statement:

Should be brief and describe your reason to become a doctor.
Describe how you will be an asset to UCU.

Passport Photos (2).
A criminal background check (cannot be more than 6 months old).
Immunization Records (Hep-B, Measles, Mumps, Rubella, and Influenza cannot be more than 12 months old).
PPD Test for Tuberculosis – PPD test results or chest X-Ray, current within the past 12 months.
All Official transcripts from each undergraduate, graduate, medical, and/or professional school the applicant has attended.

These must be mailed directly from the institution in a sealed envelope.
Unofficial transcripts from the school website may be submitted in order to speed up the process. Screen-shots will not be accepted or considered.
All required documents, if originally in a foreign language, must be accompanied by a notarized English translation.
All transcripts documenting post-secondary course work completed in institutions outside the United States must also be evaluated by an approved international credential evaluation service such as World Education Services or other National Association of Credential Evaluations Services (NACES) member.

Two Letters of Recommendation:

One Academic Official Letter of Recommendation from the school or university you previously attended.
One Professional Official Letter of Recommendation.

MCAT Scores not required for admission.
TOEFL or IELTS Scores Foreign Language students whose instruction was not in English must submit one of the following: Test of English as a Foreign Language (TOEFL).
Selection
Applicants whose credentials are judged to be indicative of the potential for successful completion of the prescribed medical school curriculum and pass the USMLE Step I & II will be invited for an interview by the Admission Committee.
The candidate will have 15 days to make the initial deposit to reserve the seat.
The selection of individual students will not be influenced by political or financial factors.
There would be no gender, racial, cultural or economic discrimination while considering students for admission to Universal Caribbean University.
Note:
The application will NOT be processed if the application fee of $75 is not submitted.
For all payments (application and tuition) please use Paypal or Money order.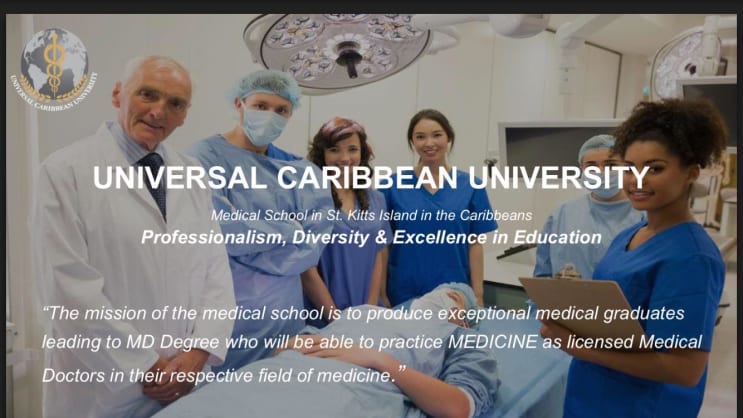 © Universal Caribbean University
Last updated Jul 2020
About the School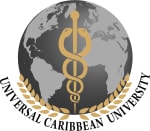 UCU promises to utilize new innovations and high-tech learning tools to educate and train future young doctors, researchers and scientists in a better way for the 21st century.
UCU promises to utilize new innovations and high-tech learning tools to educate and train future young doctors, researchers and scientists in a better way for the 21st century.
Read less